New Short Cuts To Hotter Sex
Hey, Hey, Sweetie Pie!
I'm about to go swimming in the ocean here in California. Before I dash to the waves, if you've received my newsletter, you'll know I'm always doing some super-fun sex projects.
Last summer, I wrote "Come With Me: The 20 Kinds of Male and Female Orgasms." Many of you are expanding your orgasmic potential. Men are most interested in becoming multi-orgasmic and P-Spot orgasms. Women are most interested in orgasms from intercourse and female ejaculation. 
I wrote a series on intercourse techniques in the winter called "Making Whoopee 3.0." This is my contribution to helping women "cross the 'gasm chasm." That is, closing the gap between how easy it is for men to climax from intercourse compared to women. The single biggest coitus technique for which I've gotten the most positive feedback is "Thrust In Time."
Then I came up with the Sex Life Bucket List — a downloadable free PDF that has 48 sexy bedroom ideas so you could explore what you want to learn and try next in your sex life. (And by the way, if you're in a relationship, it's super fun to make the Sex Life Bucket List and compare notes to see what's on your partner's bucket list.)
I just recorded a guided visualization walking you through the entire assessment so you can hear all about each of the sexy ideas. You get it when you download the PDF. It's all free.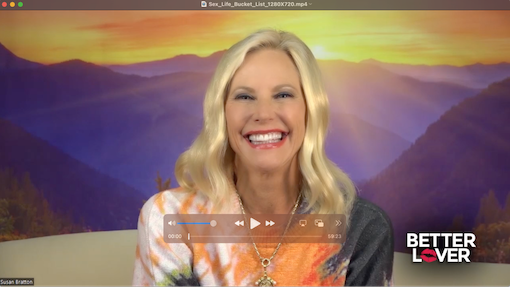 SEX-LIFE-BUCKET-LIST-VISUALIZATION
And in more good news, my team is beginning to release for free all 30 of my Sexual Vitality Summit video interviews on topics ranging from Misdiagnosed Sexual Issues to How To Talk To Your Kids About Sex to Stem Cells for ED to Rewriting Your Libido Story. These will drop every Friday via this newsletter.
Now it's summer again, and I have another fabulous project. I am in the studio recording the Men's Optimization Summit for GAINSWave. I've been a vocal advocate for GAINSWave and the Phoenix Black for years because acoustic wave treatment works! And they've introduced FemiWave for women, which thrills me because it restores function for us ladies!
You will be getting an invitation to the summit when it airs this fall.
The Men's Optimization Summit is giving me a chance to record interviews with luminaries in sports, mindset, health, and relationships. Some of the most valuable takeaways that I've gleaned so far include:
Going on testosterone replacement therapy lowers a man's risk of prostate cancer and heart attack by 30%.
Building muscle is the most critical thing you can do to increase your health span.
The most significant benefit of having a muscle-building practice is that it builds discipline and character, which both result in more overall life satisfaction.
Your gut is the biggest reason your health is not optimal, and it's often because of SIFO and SIBO, which are usually found together in the intestinal tract. SIFO is small intestinal fungal overgrowth (mostly candida), and SIBO is bacterial — harmful bacteria that overtake the good guys. And it's easy to mount a full-tilt assault on them to feel better fast.
Genetic testing is becoming actionable for your personalized approach to health optimization. There is a new test for 16 genetic factors that impact hair loss. When you know your genetics, you take different paths of action for hair restoration. So cool!
You can assess your DNA, so you know what diseases you are most susceptible to, which weight-loss strategies work best for you, and even your biological age compared to your chronological age. I just got mine tested, and I'm biologically 46, even though I'm chronologically 60.
Moreover, you can track the efficacy of your anti-aging and longevity strategies such as fasting and nutrition, senolytics, mindfulness, exercise, and sleep practices on your biological age to see your progress.
Brain supplements are a fast-acting and massively impactful way to instantly improve your working memory and increase your ability to focus on getting work done efficiently. They are called Nootropics, and you'll be hearing more about this from me as I've been floored by how potent these supplements have been for my mental clarity and brain function restoration post-long haul covid.
Peptides! This is a burgeoning area of functional health that sits between supplements and pharmaceuticals. These coded proteins encourage your body to perform specific tasks that support weight loss, muscle building, insulin regulation, tissue healing, sleep, and cognitive function.
The best sex happens when you are healthy and strong.