At a gynecologist appointment last week she remarked on how incredibly healthy my vaginal tissue looked. She sees vaginas all day, every day, and mine was so remarkably pink, soft, and full of vitality that she was compelled to comment.
I told her that I've been putting an estriol/estradiol cream in my vagina daily for many years now and that's what I attribute it to. (That plus excellent nutrition and exercise.)
I also balance the bi-est cream compounded in shea butter with testosterone on my clitoris and labia and sublingual progesterone before bedtime to balance the estrogens.

Twice yearly DUTCH tests (explained in this video) let my doctor know my hormone levels so we can adjust if needed.
Tim recently started testosterone and is loving it. He is getting more frequent erections. His erections are harder. His penis feels better — more sensitivity but not that it makes him overly sensitive. He's putting on muscle. And to me, he seems less grumpy lately.
As I've been saying for a while now, hormones are integral to our sexual vitality and overall health.
I can't imagine a life without sexual health and well-being; without hormones, that just isn't possible.
Bioidentical hormones can benefit people who suffer from a hormonal imbalance or who no longer make the optimal, youthful amount of hormones naturally.
I'm pleased to unveil one of the most important interviews I've ever done. This is with the man FAMOUS for bringing bio-identical hormone replacement to modern-day health enthusiasts. He was the mentor for the Wiley protocol which Suzanne Somers made famous. He was the mentor for Dr. Glenn Wilcox who appears in many of my hormone videos. And he was the mentor for hormone scholar, Dr. Lindsey Berkson, author of Sexy Brain, about which I've written many articles and produced a number of videos.
Dr. Jonathan Wright, a Harvard University graduate and a brilliant man who has written and co-authored over 14 books is the father of bio-identical hormone replacement…
Regardless of your age, sexuality, or current state of sexual vitality, you will want to hear Dr. Wright's advice on why you should consider Bioidentical Hormone Replacement.
Click Here To Watch The Video ⇐ Bioidentical Hormone Replacement Benefits With Dr. Jonathan Wright
PEAK SEXUAL WELL-BEING
We also talk about how Bioidentical Hormone Replacement was already practiced in the Chinese emperor's court way back in the year 1050. Hormones are vital for many cognitive, musculoskeletal, and sexual benefits for longevity and health span..
Dr. Wright also shares his advice on the difference between Bioidentical Hormone Replacement for men and women, the toxins and chemicals destroying our ability to produce hormones, and the best supplements to take to improve natural hormone production.
Click Here To Watch The Video ⇐ Bioidentical Hormone Replacement Benefits With Dr. Jonathan Wright
Here's a FREE Gift I know you'll love.
If you don't want to take exogenous hormones, you can make more of your own nature. This is called endogenous hormone production. And in this interview, I had with famous biohacker Ben Greenfield he explains all the ways you can generate more testosterone yourself… We know that modern men are already experiencing drops in testosterone levels even in their 30s due to endocrine disruptors from plastics.
In the interview, we talk about how men can increase their testosterone levels naturally. These tips and options are super helpful for men to retain their male master hormone.
Click Here To Watch The Video ⇐ Natural Testosterone And Andropause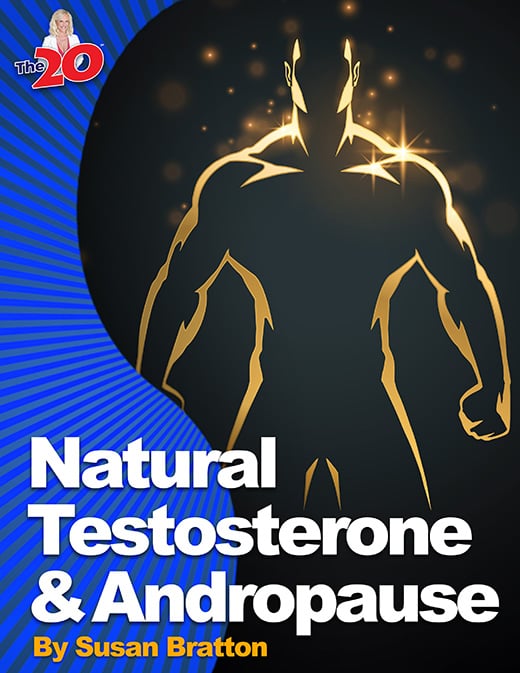 And here is the ONLY testosterone booster supplement I recommend:
SupporT Testosterone Supplement ⇐ Formulated By Urologist Dr. Judson Brandeis