I first learned about Vestibular Bulbs from Sheri Winston, author of the best book on female anatomy ever written.
Here's an excerpt from an interview Dr. Patti did with Sheri where she describes the Vestibular Bulbs. The best way to engorge her vestibular bulbs is to stroke them with organic avocado or coconut oil (something edible that can be used safely around her vulval area).
They are underneath her pubic hair between her slit and her legs where the green arrows designate in the picture immediately below: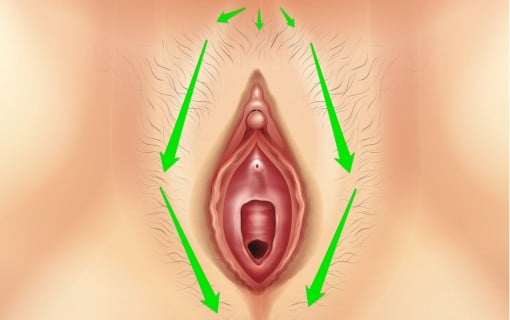 Start from the outer edges. Massage more down than up, especially in the beginning. Go with, not against the nap of her pubic hair.
Try all kinds of strokes from small circles, to pats, to light kneading. Roll your fingers across the top of her mound, her mons venus. Ask her for feedback and see what feels good to her. Spend a considerable amount of time there as you are awakening that erectile tissue. Each time you give her a vestibular bulb massage it will begin to engorge faster and more fully.
The ultimate goal is to have the tissue all around the opening to her vagina be so engorged that the tissue seems almost gelatinous. When you can wiggle her pudendum like jelly and it easily moves up and down and all around instead of being "stuck" to her body, you've done a thorough job.
Then you can move toward the center further and start engorging the hood of her clitoris and her clitoral shaft before you begin your Expanded Orgasm date.
Do you want to download this brochure explaining What Is Expanded Orgasm?"
If so, click below. It's a fast read and a whole new way to make a woman have really long orgasms.