"Susan Bratton is one of my favorite relationships experts." — John Gray, New York Times Best-Selling Author, Men Are From Mars and Women Are From Venus
"Ask Susan Anything" <=   Join My Newsletter, Reply To Any Email With Your Question And I'll Get Back To You.
Susan Bratton is a champion and advocate for every man and woman who desires a passionate relationship.
"Firstly I am so impressed with you and your level of support. It is just the real difference in your program to anything else I have ever purchased.

Secondly, my partner texted me at work yesterday to tell me how much she wanted me!! That hadn't happened for a long time.

I took my time enjoyed every level of love making. As you taught me, I didn't focus on the outcome (a big mistake of mine in the past). While not at the two-hour plus level you're at, I was delighted with 1.5 hours of lovemaking. Plus the sexy and loving messages today I have been getting from my partner. Feel we are turning a corner.

I know you help thousands of men like myself. I wanted to write as I feel you have been in my corner and coached me to get to where the life I crave seems possible and not a dream. 

So many thanks, Susan." — Kind Regards, Stephen
Considered the "Dear Abby of Hot Sex" to fans around the world, Susan's fresh approach to sex techniques and bedroom communication skills help millions of people—of all ages and across the gender spectrum—transform sex into passion.
An author, award-winning speaker and serial entrepreneur, Susan's straight-forward lovemaking advice is rooted in her personal experience of watching her marital intimacy wither as she and her husband pursued dynamic careers. When her relationship hit a crisis point, Susan made a fierce commitment to do whatever it took to hold her family together and revive the passion in her marriage. Watch this video where she shares her very personal story.
Today, she and her husband have the kind of dream relationship most people stopped believing was even possible—until they discover her practical tips.
After 15 years and over 30k hours of research, practice, teaching, and testing, Susan distilled the six simple essentials that ignite passionate lovemaking into her latest #1 international best-selling book, Sexual Soulmates.
Beloved for speaking from the heart and shooting from the hip…she's written over 20 books and programs including, Sexual Soulmates, Relationship Magic, The Passion Patch, 30 Romance Tricks That Work Like Magic and Revive Her Drive. She has thousands of fans who devour her Better Lover videos. Watch Susan Bratton's Personal Story of Why She Became A Sex Expert.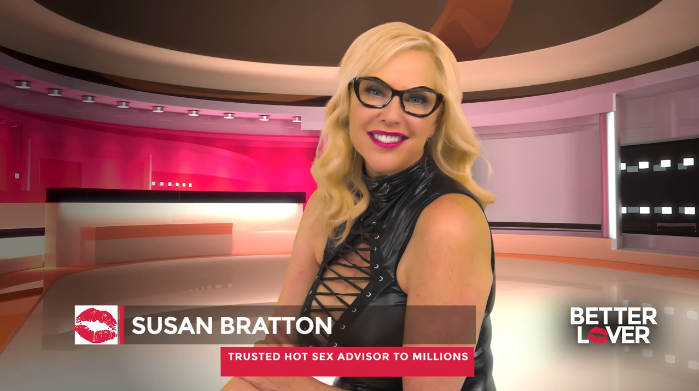 Susan Bratton publishes the work of other highly respected sexuality educators including Dr. Patricia Taylor's Expand Her Orgasm Tonight and Seduction Trilogy programs; Tallulah Sulis' Female Liquid Orgasm and Keep Her Coming programs; Jim Benson's Multi-Orgasmic Lover for Men and her Steamy Sex Ed® Video Collection curated with over  200 heart-connected lovemaking techniques.
Susan is known for her compassion and fearlessness in teaching the fundamental techniques and communication skills that make for crazy-good sex. And who doesn't want a little more of that?
She distills these basics into simple practices that millions of her fans and followers use to get on an upward pleasure spiral that lasts a lifetime.
Perhaps what's most impressive are the more than one thousand deeply personal thank you notes she's received from fans worldwide for her positive contribution to their sex lives.
It might surprise you to know that most people want to have sex all through their lives. Much to her delight she discovered that eighty year-olds are some of the most sexually active people in the world. Susan views sexuality as a key to personal growth – a primal part of who we are.
When people put attention on their sexuality, they do more than deepen their relationship — they achieve an extraordinary level of confidence, creativity, empowerment and joy.
Susan has a whole-hearted commitment to shame-free and frequent sexual pleasure she believes is every man and woman's birthright:
"After 22 years of marriage, I know from experience that deep, passionate intimacy with my partner is priceless: a priority that tops my list of must-haves alongside good health and the love of family and friends. I have made it my mission to aid anyone who wants the kind of lovemaking that improves with age."
A serial entrepreneur who was named a Silicon Valley "Woman of Influence," and AdAge "Top 10 Internet Pioneer," Susan and her company, Personal Life Media, Inc. been featured in The New York Times and appeared on the TODAY Show, ABC, CBS, CNBC, CW, Fox, and NBC. 
She lives on beautiful Mt. Tamalpais in Marin and on the beach in Encinitas, California with her husband and business partner Tim. They've been in love for 26 years and counting and have a beautiful daughter in her 20's.
"When I first became aware of you and what you are doing I was mildly interested because of my own struggles with women. I have come to realize how much you are contributing to me personally as well as our society. You are helping men and women by opening the door to a real discussion of our sexual relationships with one another. Thank you so very much. And thanks to all of the people who are with you in being part of this very important conversation about our personal, sexual growth." —Truth P.
"I was skeptical and now I'm fully convinced of your sincerity and desire to help others. I've been blown away by so many of things you've had to say in general about living a more fulfilled life. Thank You." — Bob S.
"You impress me so much with your ability to describe such a variety of exquisite erotic sensations so eloquently and precisely and appreciatively for us men. I think your calling is to be a connoisseur of the erotic female experience. The ability you have developed to feel so much and so articulately describe its shades and contours is something amazing to behold." — Tony, Campbell, CA
"You are the new standard bearer for making sexuality a relaxing, common topic." — David, Sebastopol
"Susan is CEO of Personal Life Media, an online media and advocacy platform dedicated to greater sexual and relationship fulfillment through education and empowerment. Her company's success story is phenomenal and they're growing faster than horny goat weed, or Apple stock at its most virile. " ― Matthew Taylor
"I get bombarded with people like you trying to educate and influence my sex life online. But I want to tell you I respect you and your counsel more than any one other of those people. And I thank you personally for all your effort even though you don't know me at all." ― William James
"I have to agree with the millions of others that she is the Albert Einstein of all topics concerning male and female health and sex." — Steve Lloyd


Susan,  I've received your emails for several months and I'm so thankful that you do what you do and that I stumbled across your great work. I just want to say that I think you're a remarkable human being with an amazing story of difficulty, overcoming, and wildly succeeding…with love. You touch so many peoples lives in positive ways, including mine. Your courage, vast knowledge, communication (SO important!), and indomitable spirit are endearing.  Please know that you're making a positive impact and making the world a better place, particularly my little corner of the world. — Troy
Your material has been massively instrumental in my personal life. By spending a lot of time learning from you and your content and applying the principles with a lot of love and care in intimate times with my girlfriend, we've taken her from struggling to orgasm ONCE (and then done) from oral to being able to orgasm 4+ times in the space of 10-15 minutes from penetration alone. It's an amazing feeling, and I look forward to growing even more in the future! Thanks. — P. Smith
All information from Susan Bratton, Personal Life Media, The20, and all of our collective brands' advice are personal opinions. Our advice is not intended or implied to be a substitute for professional medical advice, diagnosis or treatment and is for general information purposes only. Always seek consultation from your doctor.