Have you heard of a "Sacred Spot Massage?"
It's also called a "Goddess Massage."
It's a beautiful gift for any woman to receive. And anyone can learn to give their woman this profoundly healing and sensually awakening experience.
Guys, this is a wonderful gift you can give to your partner. Learn it and give this experience to her. She'll love you for it.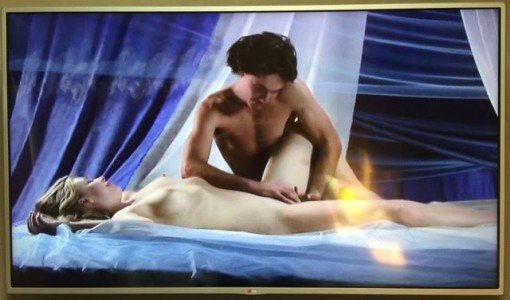 Get On The VIP LIST ⇐ Jump Ahead of The Line (Going on SALE 60% discount very soon) (Heart-connected, sensual, passionate lovemaking videos)
WHAT IS A GODDESS MASSAGE?
I recently had a Goddess Massage, which is a full body massage that includes orgasms if you want them.
I wanted them.
There is a sexual healing modality called, "Sacred Spot Release."
Essentially, a massage therapist —either male or female —trained in the art of G-Spot acupressure, relaxes you,  and gives you a genital massage.
This acupressure and stimulation of the G-Area can release a lot of emotions for a woman.
Massaging this area up inside her vagina can be a profoundly healing experience. But at first can produce tears or other emotional releasing behaviors.
We store emotions like shame, upset, fear, grief… in the tissue in around our genitals.
For men, the prostate is similar.
HOW DOES THIS HEAL SEXUALITY?
As the emotions release out of the area through experienced touching, palpations and pressure, a woman can release any painful sexual experiences she may have had in the past. With slow, tender ministrations, the area will heal, allowing her sexual power and confidence to emerge.
I've been emotionally processing about sexual and emotional abuse I sustained as a child. It rears its head every decade or so and I realize how much that old trauma still runs my reactions to my life. So I re-examine the experience and how it's affecting me at various stages of my life.
MY GODDESS MASSAGE DESCRIBED
This time around a friend told me about  a Goddess Massage expert.
I booked an appointment. The expert showed up with a foot bath and massage table and here's what happened…
He had me sit in a chair and put my feet in an electric foot bath with warm water. As it bubbled and relaxed me, set up his massage table. Then he sad beside me and talked to me. "What's been going on?" "How are you feeling about your Goddess Massage?" "Is there anything you want to ask or tell me?"
We chatted and he dried off my feet and helped me on to the table face down.  He ran his hands up and down the whole of my body which was draped in a towel.
His touch felt great… Nurturing and kinda sexy…
He used organic coconut oil and soon had my neck, back, butt, legs and feet relaxed. At first it felt a little foreign to have him rubbing my ass. He asked if I liked my butt rubbed and I said, Yes. He could feel my hesitation. It was just me getting used to him touching me. As I relaxed, he slid his well-oiled fingers down my butt cheeks and gently massaged my labia from behind. He melted me into the table as he told me how sweet I was, how nice and strong my body was, and how he was fine with me emotionally. He let me know it was safe for me to just let myself go.
HOW I ACTIVELY ADDRESSED MY SEXUAL WOUNDING
So I thought a lot about the abuse I suffered. I felt sorry for the little, defenseless girl who was probed and punched. I tried to imagine who I was before those horrible experiences that occurred to me for a decade.
I thought about how my body is ok. How I am ok. How my abuser was worse off than being born into the circumstances that created his meanness, his sexual deviant behavior. I forgave him again. No sense being bitter if you can let it go. I keep letting it go.
I asked to massage my adrenals. It is the nervous system that holds the trauma. He beamed love from his hands into my adrenals as I breathed vitality into them.
He kept reminding me to breathe throughout the massage.
Tears flowed but they were the tears of relief.
I'm fine. I'm ok. I'm letting go the upset.
Once he felt I'd processed my grief enough for the little girl who never deserved to be sexually violated, beaten, and disrespected he had me flip over onto my back.
I had some water and laid back down.
WHEN IT STARTED TO FEEL SENSUAL
He then started on my front. He oiled my tummy, my breasts, my genitals… He stroked my sternum and then started a rhythm from my breasts to my tummy to my genitals — up and down — down and up. With each successive path becoming more sensual.
He reminded me to breathe.
He opened my legs and propped them on pillows.
And he fully massaged my vulva, starting as a professional, from the outside and working his way slowly in.
He asked if it was ok to enter my vagina with one finger.
I said yes. It felt good… His touch felt safe…
Never for a second did I feel like he was trying to do anything other than give my body the pleasuring loving orgasmic release that reboots a woman's nervous system.
He performed all kinds of moves on my pussy.
(The more strokes you know, the more sensual healing you can provide when you give your Goddess a massage.)
He reapplied lube when needed.
He opened me.
I opened myself to him.
WHAT WAS HIS G-SPOT TECHNIQUE?
And he spent a lot of time massaging my G-Spot in ways that only trained professionals or lovers who have studied vulva stroking and erotic massage techniques know how to do.
Your typical dude just sticks his fingers in and treats it like a penis. Friction. In and out. Out and in. Using the same old piston motion he learned watching porn…
A guy who has studied the G-Spot and "She-Jaculation" (female ejaculation) will go so far as to use the come hither, or windshield wiper moves.
But he knew what he was doing.
He had worked on a lot of women's G-Areas.
He knew the correct pressure to create that melting feeling that only comes with G-Area touch.
As he stroked and pressed I let go.
No, I didn't squirt.
But I still got all the benefits of a Sacred Spot massage.
I processed my emotions. He rubbed them away.
Yes, I had some orgasms.
But that wasn't "the goal."
The goal was to let this marvelous man support me in working through my past tragedies that keep hindering my life in sneaky ways.
HOW DO I HAVE THIS EXPERIENCE MYSELF?
Teach your boyfriend or husband how to do this for you.
Looking back on the experience, it is very similar to what my husband does to me. He learned all these techniques from Steamy Sex Ed®, Expand Her Orgasm Tonight and Female Liquid Orgasm.
My Steamy Sex Ed® Video Collection shows you how to do a Sacred Massage.
Volume 1 lets you watch or follow along with a one hour sensual massage.
That gets her all relaxed and open to your touch.
Volume 3 teaches you orgasmic genital massage for women.
Between the two you can begin to give your lady —or have your partner give you one if you are a woman —a Goddess Massage.
We only offer the Steamy Sex Ed® Video Collection a few times a year.
Sign up here and you'll be notified when we have a sale on the videos.
Steamy Sex Ed Early Notification ⇐ Experience Incredibly Hot Passion. Get On The VIP List (Heart-connected, sensual, passionate lovemaking videos)
Being on the VIP List gives you one day advanced access to the sale price.
And since we sell out of the DVD's each time we offer them, it gives you a chance to make sure you get a copy.
Being able to be a woman's sexual healer only takes knowing about 20 massage techniques and having time together exploring how she needs her G-Area touched to feel the release.
You can definitely ejaculate with this kind of massage. But it's not in any way required. Nor does the actual squirting impact the release that is possible when your urethral sponge area is stimulated. Squirting doesn't "make it better." Squirting is just a facet of the release. If it happens, great. If not, you're just not ready nor comfortable enough.
I didn't squirt when he massaged my urethral sponge (G-Spot) and I still had a wonderful experience.
Later that night I had sex with my husband and really let go. I squirted like crazy. That's because I'm comfortable with him.
Every woman should have her pussy massaged regularly… Like a couple times a week if possible!
Between the emotional release and the engorgement of her tissues, Goddess Massages are a great sexual maintenance tool and a beautiful way to bond as a couple.
If you can learn together and also try giving him a prostate massage while you stroke his cock, you two will keep your equipment in good working order.
There is a Genital Massage for men as well as Anal Massage for men as part of the Steamy Sex Ed® Video Collection which includes prostate massage techniques she can do to him.
Pussy and cock massages and G-Spot and prostate massages are no big thing. You can literally do them while you're in bed watching TV together. They are like a neck rub or a foot rub, things you can do to keep yourselves healthy.
The most important thing you can do is educate yourself. Learn some techniques. Watch the Steamy Sex Ed® videos. Get the Expand Her Orgasm Tonight program…. aka "EHOT." EHOT shows you how to do the lube strokes and the opening strokes, the bread & butter stroke and the closing stroke to a vulva massage. The twist on EHOT is that the clitoral stroke you learn actually stretches a woman's orgasm out for minutes instead of seconds.
Or you can try Female Liquid Orgasm. That whole program is devoted to the G-Spot massage and squirting.
The more strokes you learn, the better G-Spot or Prostate healer you will become.
Watch an expert whose techniques you respect. But whatever you do, add to your knowledge. And don't get your ideas from porn. Porn is degrading to women. According to Time Magazine, in a study of behaviors in popular porn, nearly 90% of 304 random scenes contained physical aggression toward women, who nearly always responded neutrally to positively regardless of how painful or debasing. That is because the $97 billion globe porn industry has one gaol: to get men off hard and fast for profit. So please, don't touch your woman like a porn star. Learn healing, loving genital massage techniques from a trusted resource like our programs here at Personal Life Media.
YOU KNOW ME
Listen to what I'm telling you.
Learn some vulva massage techniques.
Steamy Sex Ed®
Expand Her Orgasm Tonight
Female Liquid Orgasm
These are three options for you.
Try one.
And if you need anything just email me.
Questions?
I'm here.
But more women need their pussy's massaged REGULARLY.
And if you can open her, release her, fill her up with orgasms, you will get all the cock appreciation you can imagine.
A turned on woman is turned on to life, turned on to you.
And no, oral doesn't do it.
Fingering is the key.
Your fingers are considerably more articulate than your tongue.
If you are a woman who knows she needs this experience, I can tell you that men generally LOVE to give a woman a Goddess Massage.
Don't be afraid to ask for one.
Teach your guy what you need.
And if you have a partner who has been abused in the past, or is reticent to have passionate intercourse, the Goddess Massage can get her vulva engorged and aroused in a way that is considerably more powerful than any other form of foreplay.
So go forth and massage, lovers!
"I'm 46 and my partner is 50 and we both think of ourselves as pretty experienced, watching Steamy has us finding new ways of pleasuring each other daily in the kind of sex we never imagined possible…" – Al, South Africa
If you want to get the physical DVDs in time for an occasion, you'll have to get on the Early Bird VIP list. It usually takes around a week to ship it in the U.S., so get on the list to make sure you can give this gift to your partner.
Steamy Sex Ed Early Notification ⇐ Experience Incredibly Hot Passion. Get On The VIP List (Heart-connected, sensual, passionate lovemaking videos)