Hey, Hey, Hey, Cutie Pie!
Today I have a sex date story for you, along with some super good articles from this week. Read on!
Trying new sex positions during lovemaking is one of the easiest ways to keep your sex life exciting.
Yesterday we did the "
Reverse Cowgirl
." I straddled my man, facing away. This position was straightforward for me to control the strokes. Some long and deep alternating with short, shallow, and more rapid-fire — taking time to squeeze my vaginal muscles at crucial moments. You can learn more about this by reading my Feline Grind intercourse technique. Prrrr!
Before we assumed this position, I laid back on my guy and gave myself two perfect vibrator orgasms while he pleasured my breasts. This engorged my clitoral structure, giving me a "Clit Boner." (A big one!) That way, intercourse would feel better because I was already warmed up. Watch my video, The Matriarchal View of Sex, which discusses how women need sex instead of how our culture has made sex the way men want it. This will help you become a better lover because you'll see what's been missing from your lovemaking.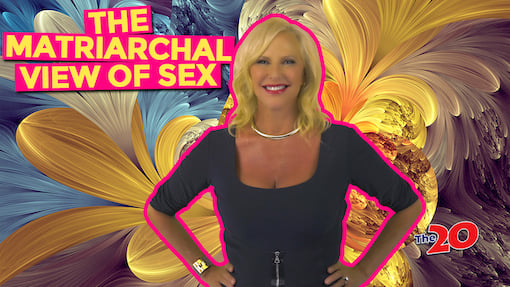 GIVE HER WHAT SHE NEEDS TOO
We began our lovemaking session by kissing while my lover played with my nipples, and I stroked his mancannon.
Then he gave me an external vulva massage to fluff up my outer labia, mons, and lower belly.
Next, I went down on him, and he reciprocated. Then we kissed some more while he used his fingers on me to fluff up my Yoni even more. Manual stimulation is excellent for arousal. If you want more resources about engorgement, fingering, penetration orgasms, and the clit boner, here's an article chock full of awesome links. We did all that before the vibe prep and Reverse Cowgirl.
If you want to orgasm from intercourse without worrying about needing direct clitoral tip stimulation, this foreplay is vital!
The three erectile systems in the vulva need enough blood flow to become erect before penetration. Foreplay, especially nipple and mouth stimulation, is crucial to arouse the erectile tissue of the clitoral, urethral and perineal sponges. Read my article here on the Everted Clitoral Erection. Everted means "from the outside in." When you play with the nipple and lip tissue, it gets the clit hard. A good reason to become a great kisser.
I recommend sweet almond or refined avocado oil as a massage oil and lubricant. It's edible and food grade. You can easily wipe it off with a towel, and it doesn't have any taste. Lubes are FDA Class II controlled substances required to have preservatives in them. 99% of lubes on the market have chemicals in them that leach toxins into your body. I want your sex to flow clean and clear.
We are delicate instruments. We can play each other like violins — moaning our beautiful sounds for each other. Making noises is essential to becoming a sexier partner. If you think you're making noise, double it. I'm sure your partner will get even more turned on, which will turn you on more, creating that upward pleasure spiral I'm always talking about.
The sexiest thing about Reverse Cowgirl for me was feeling my man's hands on my ass — guiding my sliding. My butt is looking so good from the deep squats and deadlifts I've been doing at the gym. I'm getting ready for another photoshoot. I'm calling this one #leggiepalooza. My last one was #boobiepalooza, where I highlighted my breasts. Now I want to focus on my looooong legs. It's essential to keep ourselves strong and healthy to feel desirable. That's why I love to send you my String Bikini photos and why I give away free String Bikinis because women naturally love to look beautiful unless it's been shamed out of us. I want to support lovers in enjoying lingerie and being sexy together.
My guy loved seeing my strong back and watching himself glide in and out of me. The POV was a real turn-on for him.
Next time we do this, I imagine he'll have his GoPro mounted on his head.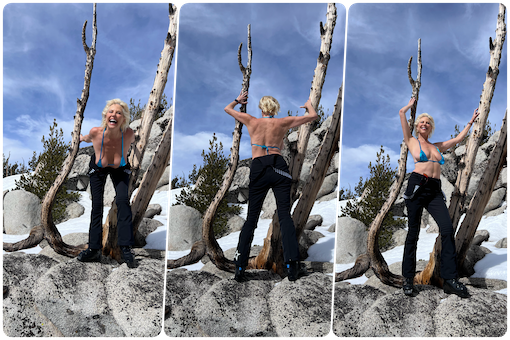 RIDE 'EM COWGIRL
If you try
Reverse Cowgirl
, email me and tell me your story. I love hearing from you! Now scroll down and read all the articles we wrote for your pleasure this week. And have a wonderful day!