Click here for the index of all 15 weeks of "Come With Me," the Orgasm Challenge. Read on to learn how to use fantasy to create spectacular orgasmic experiences, as well as mindgasms… the touchless orgasm… the Think Off and why you'd want to try orgasm denial as a way to enhance pleasure.
🏳️‍🌈 The information in this article supports expression across the gender spectrum. There are only two sexes, biologically. XX and XY. This week's orgasms are all good for penis and vulva owners alike.
Kandi's Fantasy Orgasm Experience
Kandi had a sex-life-long dream of experiencing intercourse and anal sex simultaneously with two men. She liked anal sex and wanted to experience being filled up by two penises at the same time. She had an inkling it would be more than double the pleasure.
For the last couple years, she'd been in a relationship with a couple, Jeff and Sara. She was mostly the girlfriend of the husband Jeff and they had a fantastic sex life. Sometimes they had threesomes with Sara. But Sara really wanted her own lover to play with while Jeff and Kandi were doing their thing. Jeff and Kandi were so infatuated with each other that Sara just wanted them to enjoy themselves without having to worry about if she was happy. Wouldn't you know it… the universe provided a wonderful fourth for their pod in Bryan. Bryan had been divorced a few times and wasn't looking for another parter to move into his house. But he wanted new experiences and had always loved women and nurtured his sex life through his years.
Kandi, Jeff, Sara and Bryan had a very happy polyamorous relationship. Sure, they hit edges they had to work through. But they had so much fun together, cooking, eating, walking, riding bikes, snuggling, sharing their lives and having great sex in every configuration that all the road bumps were opportunities to grow and expand their love and consciousness.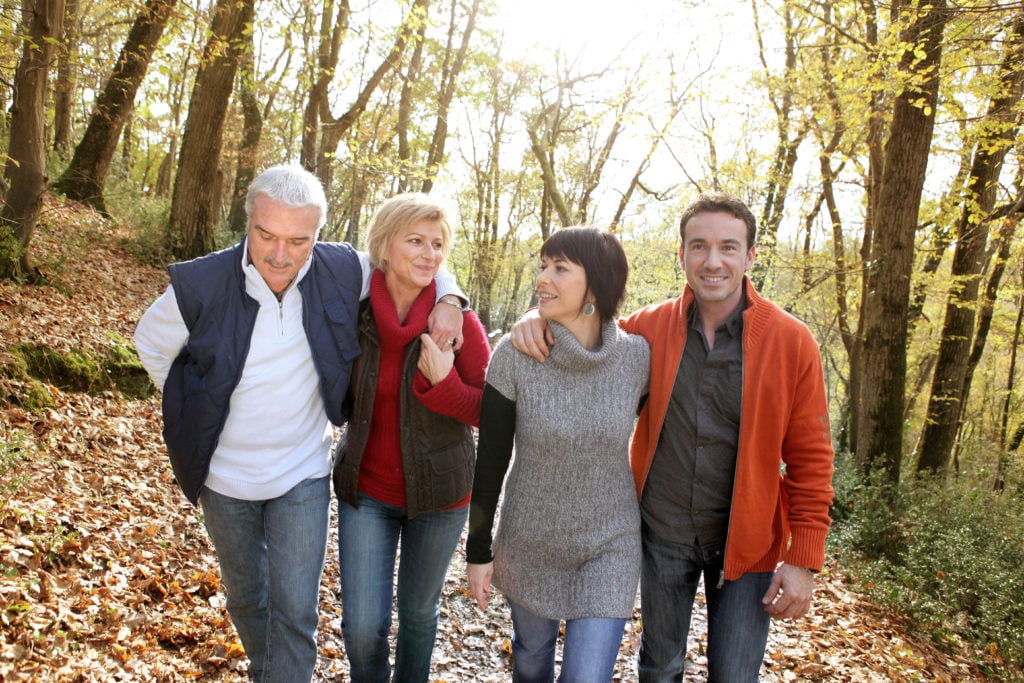 So six months into their fulfilling polyamorous quad pod, when Kandi asked for her fantasy of having Double Penetration aka DP, everyone was on board with fulfilling her fantasy. Everyone contributed to the experience in their unique ways:
The day before their DP date night, Sara walked them verbally through what the experience might be like, what to watch out for, and ideas that would make it really good for Kandi. Because Kandi was the center of this fantasy, everyone was on deck to support her pleasure. Jeff, Sara and Bryan knew that the giving of fantasy pleasure was as much fun as the receiving.
Sara suggested they start off the experience with a long, luxurious Yoni* massage, "Because everything good starts with a pussy massage." Then she recommended the cowgirl sex position where Bryan was on the bottom and he would be the man in her vagina. He was the kind of guy who could stay hard a long time, even with a lot of extraneous things happening. He and Kandi had been intimate many times before, so they were already comfortable with each other.
Cowgirl with Kandi on top gave Jeff the opportunity to slide in behind her doggie style. This position was a good way to navigate entry into her back door.
Sara made sure Jeff knew that he needed to first start by playing with her bum, then her anus, then slipping one finger inside with lots of lube reapplied throughout. He used a tight-fitting glove to avoid getting e coli and other bacteria on his hands. Then he removed it whenever he needed that hand for other touching and places. They kept a trash can next to the bed. Jeff went through three or four gloves during the scene.
Then when she was ready, he could slowly enter her. Getting the tip of his penis in and over the corona (the flared ridge at the tip of the glans of the penis, just above the shaft) takes a little push before it clears the sphincter. Sara knew it might feel a little pushy at first and she wanted Kandi to know in advance so she didn't worry. Relaxation is the key to a great anal sex experience.
Sara also supported Kandi by explaining that she could rinse her rectum with a soft bulb douche before the date so she didn't have to worry about any poo coming out. And she let the guys know they had to be super careful not to get anything — hands, penises, etc. — anywhere near Kandi's vagina if it had been near her ass. That way Kandi could relax, knowing there wasn't going to be any cross contamination to worry about. Talking through all these things in advance makes everyone relax.
Next Sara explained that though Kandi is always in charge of thrusting pace and depth, that at some point she should relax and surrender and let the guys take control. That way she can just feel all the sensation. There would be a point where the keys to the trunk were handed over to Jeff. He would set the rhythm of the penetration and Bryan would follow.
Pro Tip: Whether you're being doubly penetrated in your mouth and vagina or your ass and vagina, the person in the mouth or ass is the pace setter. You always work a two-man experience by following the slower paced man. The two men need to synchronize their strokes so that the woman receiving feels the strokes simultaneously so it's not too cacophonous and she can relax into the pleasure more deeply.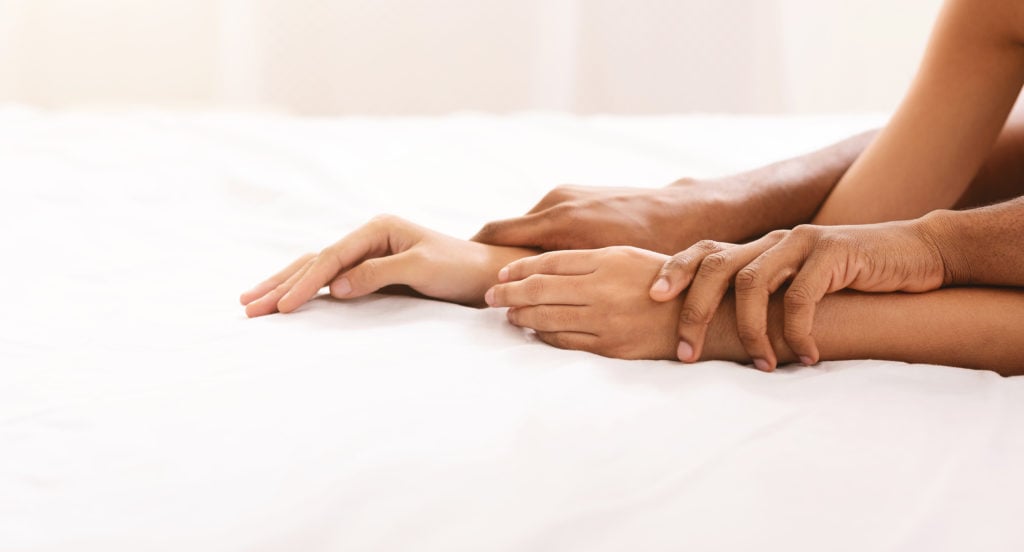 Bryan was underneath, and Sara suggested that he encourage Kandi verbally as much as possible throughout the experience. Bryan had a deep voice that was sexy when he was verbally adoring his women. His sensual coaching added a lot of erotic pleasure to everyone's experience. That's why Sara specifically encouraged him to reassure and inspire Kandi to take all the pleasure she could.
With Sara's verbal preamble, everyone had a good sense of what would transpire. Everyone was on the same page. They had some clarifying conversations and looked forward to the next night and the DP Date.
The next night, Kandi and Sara were in gorgeous lingerie outfits and sexy heels. The room was warm. The
Unlock Additional Members Only Content
Please login or register for a Free Membership to view this content.
were laid down. Candles were lit. Sexy music was fired up. The water pitcher was filled. Stacks of towels were around. The lube was cleaned off and in reach. Everyone was excited — but not nervous –because of the detailed conversation the day prior.
They started with a Yoni massage.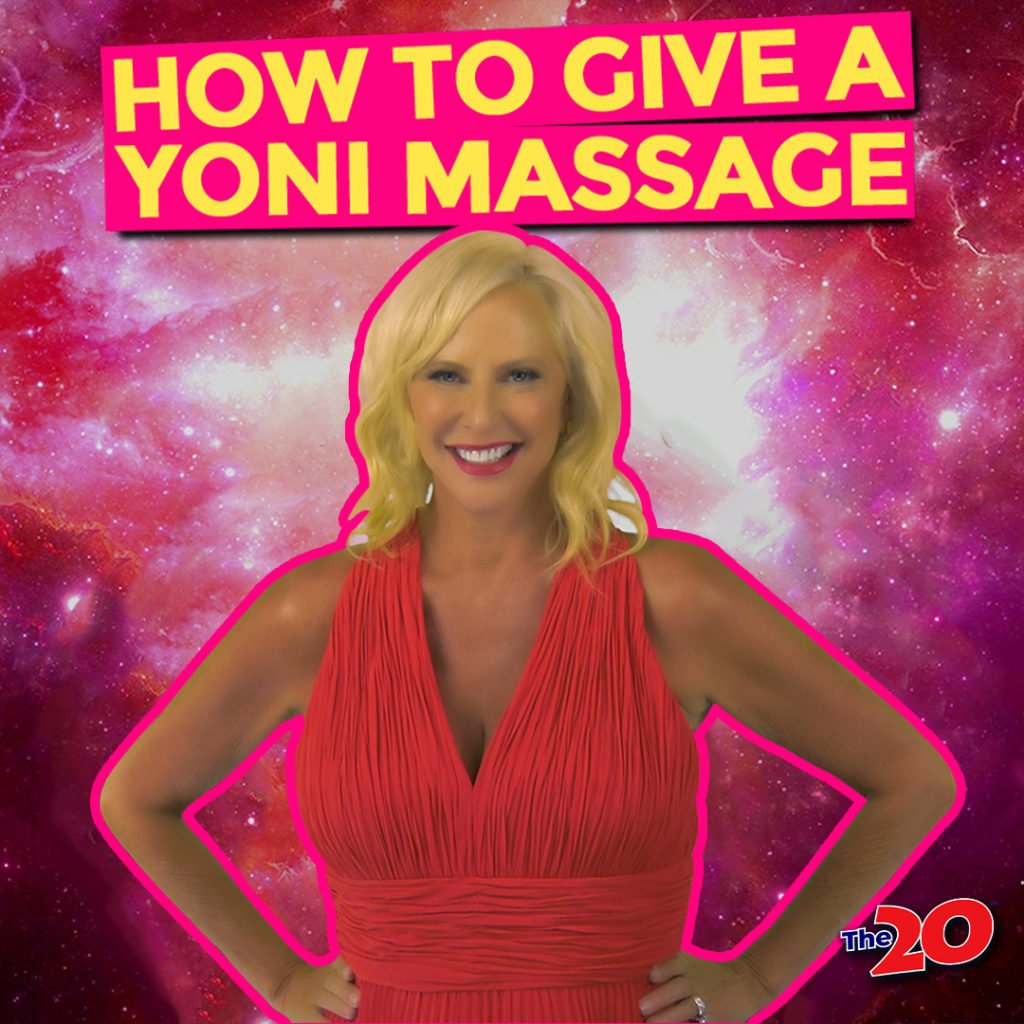 Kandi laid down, Jeff went to work getting her all lubed up and aroused. His job was to give her a bunch of orgasms and engorge her entire vulva with lots of blood flow. He got her clit to pop into a little erection. She started getting very wet and grinding her hips around. She was already so turned on thinking about how loved she was and how much her poly pod adored her that she was able to relax and melt into the pleasure. She had been waiting for decades for this moment. Her first DP. She just took her pleasure and came and moaned a lot.
As Jeff was working on her vagina and G-Spot, Bryan was up at her head, kissing her deeply and pleasuring her breasts. Sara was telling them all how sexy they were, what a loving "family" they were, and how Kandi was going to feel better and better as time went on.
Sara was touching and loving the other three. Even though she wasn't the one "getting done," she was adding tons of value verbally and physically everywhere she saw an opportunity. Need more lube? Here you go. Tickling balls. Petting heads. Kissing cheeks. Sara was the glue that kept everyone in their hearts and bodies, instead of in their heads worrying.
Kandi was a total champ. When she had enough engorgement and orgasms from her pussy rub and she was turned on enough to want to get on top of Bryan she signaled to Jeff. Jeff needed to stretch his legs by that time. So they got up and Sara fluffed up Bryan's cock and got it nice and hard while Kandi had some water.
Once he was lying down, lube was applied and Kandi slid down on Bryan. They started making love. They kissed. Kandi writhed on top of Bryan. That alone was a sexy scene. Jeff joined in and started playing with Kandi's ass. She began moaning even louder. She knew what was coming and she wanted it… she wanted it for over twenty years. Her FANTASY was coming to life!
Jeff did just what they had discussed. He slowly warmed Kandi's ass up and when she was ready, he pushed just the tip in. Ohhhhh! Kandi was surprised at the feeling even though she new what it was going to be like. Everything was ok. No! More than ok. Incredible! She felt more filled than she'd ever felt in her life.
Bryan was kissing Kandi and verbally encouraging her. "That's a good girl. Take both those cocks. You are getting just what you wanted and what you deserve. You're so sexy. We love you so much. There you go. Yeah, you want it a little deeper?" And Bryan would arch his hips to give Kandi just a little more of himself as Jeff was working from the back.
Sara was telling them all how sexy they were. How gorgeous they looked. How happy she was that Kandi was having her fantasy realized. She was petting them, touching them, loving them, encouraging them…
They went on for a while, Kandi just feeling how good it felt to be made love to by her three partners. It just felt so right, so safe and so sexy. She started really riding Bryan. God love Bryan, he hung in there without coming. Pretty soon Kandi was getting a little out of her mind with pleasure. The pitch of her voice went up. She was moaning like crazy.
Then WHOOSH! She had a giant orgasm and let go a liter of female ejaculate all over Bryan and his cock. Bryan's cock popped right out of Kandi's vagina. It was so wet and slippery even Sara couldn't get it to go back inside. Jeff kept going, kept pumping into Kandi until she was wobbly-kneed and need to take a break.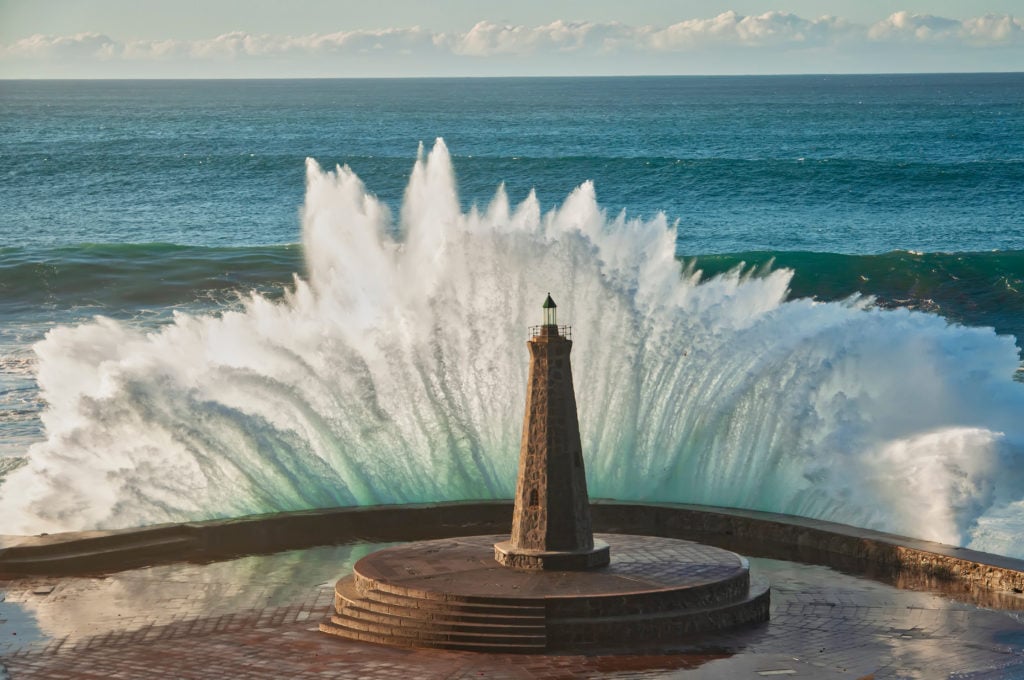 After a short rest, they all jumped into the shower to maintain their cleanly way of being together. After their showers, they all met back in the nest and hugged and loved on each other.
Kandi's fantasy DP was a total hit! Bryan had never felt anyone gush on him like Kandi did that night. Kandi got her DP experience, facilitated by Sara's plans and Jeff's anal skills. It was a total success. They felt so good about themselves and each other. This was an inspiring fantasy come to life.
Now they are thinking up other fantasies to share and try out with each other.
Note: What you see on porn is egregiously outrageously dangerous. They show guys going from ass to vagina and even to mouth. DO NOT DO THIS. You must not ever put a penis that has been in an ass anywhere else. Rimming is also ill advised. Do not "eat ass." It is full of bacteria. Keep your fingers clean, your hands clean and be super careful.
The Case for Fantasy Orgasms
As you can see by Kandi's gigantic explosion, Fantasy Orgasms can make epic experiences. So many people are afraid to ask for their fantasies. But if you have vulnerability and the love of partners, you can co-create once-in-a-lifetime sexual memories. And if not now, when?
Now here's another interesting orgasm category in case a foursome is a little much for you!
Erotic Hypnosis and Think Off's
Unlock Additional Members Only Content
Please login or register for a Free Membership to view this content.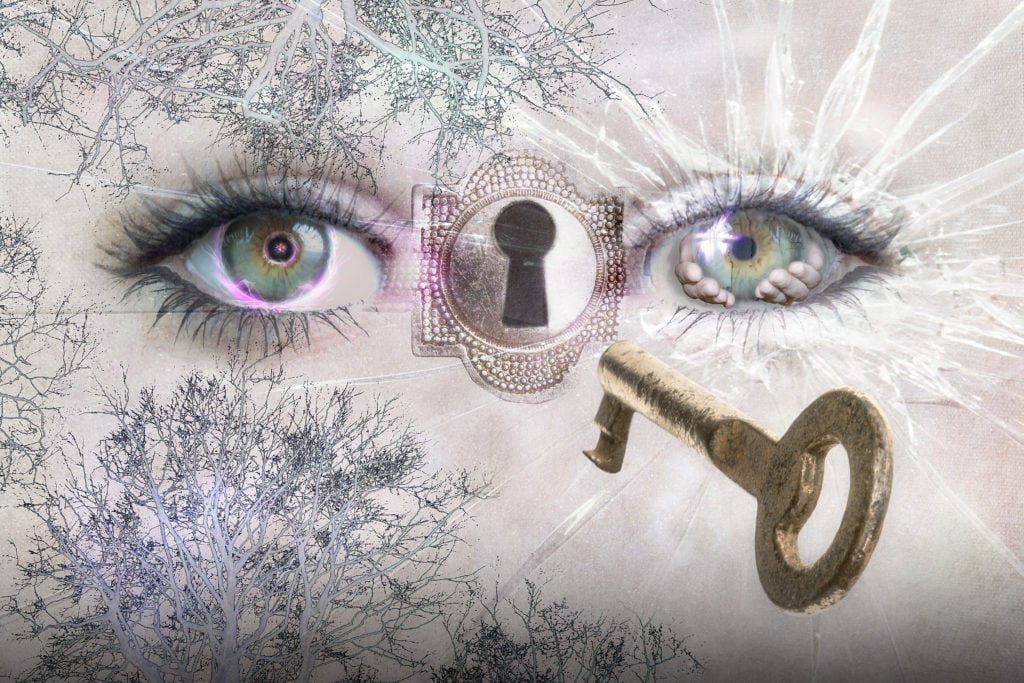 Unlock Additional Members Only Content
Please login or register for a Free Membership to view this content.
For long distance couples or lovers who have physical disabilities of various sorts, Erotic Hypnosis can be a great source of fun and pleasure. Think Off's are another way to give orgasms remotely over the phone. These fall into the dirty talk and orgasm by command category of creating fantasy that turns women on so much that that orgasm from listening to you talk to them. Like every orgasm, these are simply learned skills available to anyone who fancies trying.
Here are my recommendations for online programs from trusted resources if you want to learn any of these techniques:
Unlock Additional Members Only Content
Please login or register for a Free Membership to view this content.
Orgasm Denial
Orgasm Denial is commonly associated with Dominant/submissive power play, but it's available to every person any time. It simply means pushing out the moment of climax so that tension and pleasure build, resulting in a more powerful orgasm when you do have it.
Edging is the most common way to play with orgasm denial. When you take yourself or a partner close to orgasm but don't give them quite enough stimulation for them to crest over into the climax, their body strains to get the incremental sensation, thereby driving their climactic set point higher. Edging works well for penis owners who want to push out the "Point of No Return" to achieve male multiple-orgasms.
If you're using Orgasm Denial as a method for creating stronger orgasms, I suggest you instead consider taking up an Expanded Orgasm practice. The extended massive orgasms that come from this practice will go further toward increasing the power of your orgasmic response than will orgasm denial.

If you're using Orgasm Denial as a power play, this can be a fun addition to tantalize your partner.
*Yoni is the Tantric Sex word for a woman's genitals. Whereas the vagina is just the canal and the vulva is technically the outer part of a woman's genital systems, the Yoni (Yo-Knee) means all the parts of a woman's erotic pleasure system in her pelvis. The male equivalent is the Lingam for a man's penis.
Watch this video on How To Give A Yoni Massage Step-by-Step to start doing the #1 technique that improves female orgasmic capacity.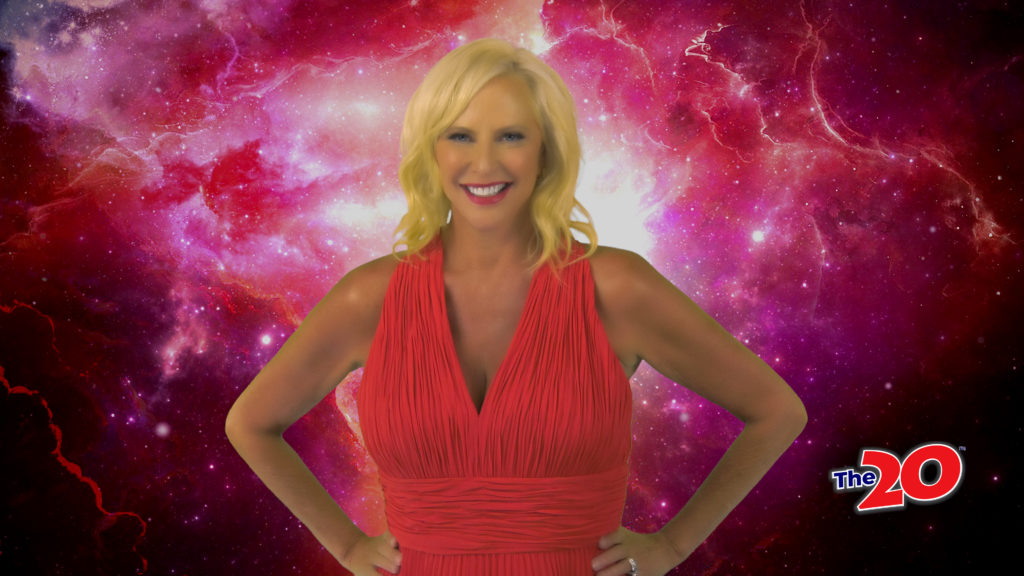 Bookmark this index link to my "20 Kinds of Orgasms" Challenge and try them all.