10 Safe Ways To Be Dominant In Bed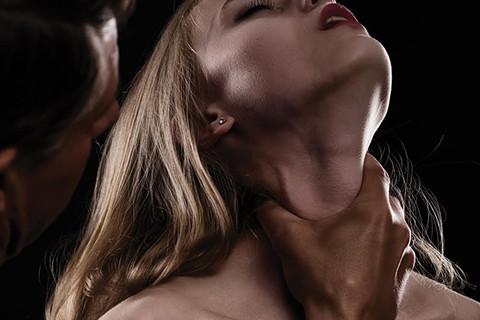 Jolts her into an unrelenting surge of accelerated orgasmic ecstasy…
How to do the "choke hold"  CORRECTLY.
Done right, this jolts her into an unrelenting surge of accelerated orgasmic ecstasy…
In this week's "Sex Positions for Stamina" article, I mentioned that when she's in Cowgirl positions such as, The Clip, The Amazon and The Waterfall, you can reach up and grab her neck.
Here is an excellent step-by-step way to safely do the erotic choke hold without hurting her in any way.
How to do the "choke hold" CORRECTLY <==HOT! Masculine Sexual Dominance
CORRECT CHOKE HOLD
See how he's not blocking her airway?
The soft part of his hand is resting lightly on the front of her windpipe so she can always breathe.
He's squeezing the erectile tissue on the sides of her neck.
When she's bouncing up and down on you getting herself off… For the first of what could be many, many orgasms… the last thing you want to do is slow her down or make her stop!
Stimulating her breasts and nipples, holding her neck in one hand and grabbing her hair at the base of her neck while she's on top are masculine ways that you can turn her on even more.
Once you have her breasts engorged with blood from fondling them thoroughly, you can start working her nipples. Nipplegasms will open her Yoni even more to you.
You can pull her head down to you and deep kiss her too.
Telling her how beautiful she is and how much she loves your cock can also heighten her arousal.
"Yeah, you love my cock inside you, don't you, baby?"
"You're such a hot and sexy mama. I love our intimacy so much. Ride me, baby! Go ahead. Let yourself go. That's a girl. Oh yeah, you know you love it."
While positions can make a big difference, the truth is that if you tend to climax too early, a sex position alone probably won't resolve the issue.
Fortunately, you can reprogram your body to last as long as you want, without even having to think about it!
I've teamed up with international men's Tantric sexuality trainer, Jim Benson. He has a technique called the ME Breath.
It's a body-based stamina technique ANY guy can easily learn.
You never have to hold back again!
Jim's ME Breath is a combination of a certain way of breathing to slow down your arousal… combined with a specific method of contracting your PC muscle at just the right time to diffuse the urge to ejaculate… while you are doing a relaxing kind of thrust. (She will get off on this thrust!)
She can't even tell you are doing the ME Breath because you do it WHILE you're making love.
If you can drive a car or swing a golf club, you can lock this ME Breath into your body for everlasting stamina.
These three things ― the squeeze, the breathe and the thrust ― come together to form the ME Breath.
(Don't try to figure this out on your own… you'll make yourself come faster! There's a TRICK to it.)
Instead of slowing down, pulling out, or having to gyrate when what she really wants is to be pumped, you CAN just learn the ME Breath.
The ME Breath lets you regulate your own arousal so you can give her any kind of stimulation from your penis she needs in the moment.
Even if you come within a minute or two of being inside her, the ME Breath will increase your stamina more and more over time. And you can practice the ME Breath when you masturbate to get really good at it for when you do penetrate her.
Jim's program, Multi-Orgasmic Lover for Men shows you how to do each step (squeeze/breathe/thrust) and then combine them together into the ME Breath.
Watch five short videos averaging 7 minutes long and you can last as long as she wants you to.
This program has been WILDLY popular. Men are realizing it's not just what you do to her, but what you can do to manage your own body and your own sexuality that is in your control.
We are taking it OFF the market and bringing it out again next year with even more men's sexual leadership techniques. It already comes with Energy Cock, Chi Breath, the Wild at Heart techniques and the Jet Pack Accelerator techniques… Basically Multi-Orgasmic Lover for Men is an online, audio and video program that teaches you advanced sexual mastery techniques.
And you get ALL these techniques during this sale PLUS you will get all the new techniques we are adding when we relaunch the program at a higher price next year.
Take advantage of this final sale at 50% off and you will be grandfathered in for ALL future updates.
If you are already a Multi-Orgasmic Lover for Men customer, you are going to get all these new techniques at no extra charge too.
After this sale —which ends October 24th, 2016 —you will no longer be able to get the program until we bring it out again at a higher price.
The price of Multi-Orgasmic Lover for Men is going UP next year.
The program is being taken off the market until next year.
Lock in the sale price now AND receive all the new material when we release them next year without paying a single dime ever again.
Details For Ordering Multi-Orgasmic Lover for Men <== Don't Miss Out on The Lowest Price for ALL The Current and Future Techniques
Using these sex positions can help you last a bit longer in bed, but they won't change the fact that your body's natural habit is to ejaculate quickly.
Fortunately, we have figured out how to overcome premature ejaculation. I'd like you to try this body-based, natural technique you can do in ANY sex position without having to slow down, pull out, think about your grandmother or whatever other lame things you're doing to last that take your attention away from your woman in the throes of passion ===> Learn to Completely Control Your Ejaculation Now
Note: We are taking the ME Breath off the market at the end of this sale. It's been a wildly popular program and we are adding even more techniques.
Get it now before this sale is over and you'll automatically LOCK IN all the new techniques next year when they debut.