Nirvana and The Super 8 Sex Position Pictures
Did you know that certain sex positions help you last longer during lovemaking?
He can go back and forth from soft and slow to deep and rhythmic thrusting over and over until you're completely satisfied… without coming too fast.
Gals, I'm copying you on this because these two stamina sex positions ―Nirvana and The Super 8 ―are ones where you can open and receive and let him take you into bliss …while making it easier for your guy to direct all his attention on you… instead of focusing on "trying not to come too fast."
If he's a "quick trigger," make sure you read this whole article because he may need to incorporate the ME Breath into these sex positions to last as long as you need him to…
With the combination of these positions and his ME Breath stamina technique, you can both completely relax and surrender yourself to your pleasure for as long as you need… He doesn't need to hold back, he can actually gas and brake his arousal just with the ME Breath…
So you can have as many orgasms with him as possible.
Many women never get a chance to achieve their orgasmic potential because their guy is lacking in endurance… 85% of men struggle with premature ejaculation.
With this stamina technique (the ME Breath) and these two sex positions, he can go back and forth from soft and slow to deep and rhythmic thrusting over and over until you're completely satisfied.
New sex positions keep sex interesting. And these are optimized for taking your time to get all warmed up and turned on. Rushing just cheats you both of well-deserved intimate time together.
Every exquisite stroke melting her around his manhood…
The main position that most couples have sex in ―the missionary position ―is actually pretty bad for sexual stamina unless you know what I'm about to tell you.
Give one of these two positions a try: Nirvana and The Super 8. But do it with the following advice about gyrating.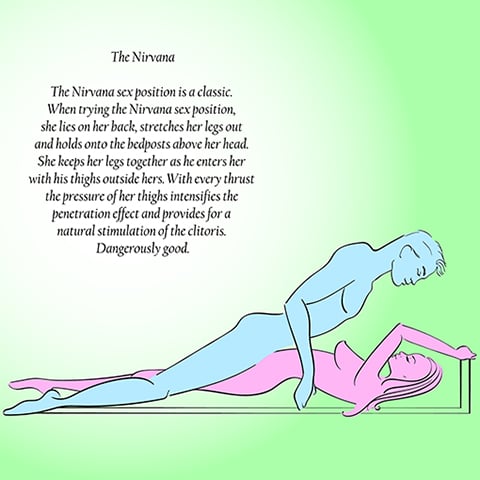 GYRATE WHEN IT FEELS TOO GOOD
The "Gyrating" Missionary
The reason the traditional missionary position is NOT good for stamina is twofold:
1) The entire penis shaft of his penis is stimulated, from the back to the front. That means he's getting closer and closer to ejaculation with every stroke.
2) On the flip side, neither her clitoris nor her g-spot is being stimulated because he is just moving in and out of her.
That means he's heading towards ejaculation QUICKLY while she's moving towards orgasm SLOWLY.
One way to get into a long rhythm is to use a "gyrating" missionary variation.
To start, use a lot of lubrication. This lessens the friction on his penis making it easier for him to last.
I recommend edible organic oil ―like grapeseed, coconut and avocado instead of a lube full of chemicals.
Before he enters her, he can tap and slide his penis across her clitoris and all around her vulva lightly until he feels her reaching for more.
When she invites him in, he starts slowly.
He gives her short strokes at first until she accommodates him and wants him all the way in.
Take your time.
Look in each other's eyes.
Breathe with each other.
Kiss.
As he slides in and out of her and begins to feel his ejaculation rising, have him begin to shift his weight slightly forward ―UP a bit on her vulva. Her legs can be open, closed, or lifted.
His legs are inside hers if you do the Super 8 and outside her legs if you are in the Nirvana position.
Now, instead of him only pumping in and out, he can also gyrate in circles, making contact with her G-Area (the ceiling of her vaginal canal) and up toward her clitoris with the base of his penis where it meets his body.
It helps if he trims back his pubic hair so that he doesn't scratch her delicate tissues.
This gyration directly stimulates her clitoris, while only stimulating the base of his penis, which is his least sensitive area.
Make sure you don't gyrate too hard.
Communicate what feels good.
When she's well engorged, she may like more of a grinding than gyrating stroke. Every woman is different every single time she makes love, so he must ask her for feedback on speed and pressure.
As always, ask her for feedback with a multiple choice response:
Would you like it harder or softer?
Faster or slower? Or whatever makes sense in that moment.
When you give her a choice she doesn't have to think as hard and can stay in her highly aroused state from his penetration.
Alternate between the pumping and gyrating while also using Jim Benson's ME Breath technique.
Here's the Super 8: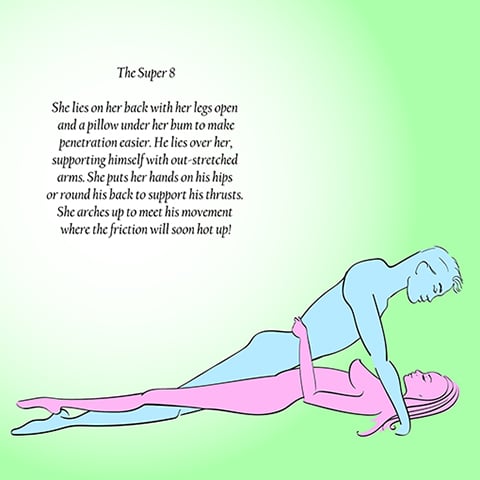 TURBOCHARGE YOUR STAMINA
While this gyrating strategy can make a big difference, the truth is that if you tend to climax too early, a sex position alone probably won't resolve the issue.
Fortunately, you can reprogram your body to last as long as you want, without even having to think about it!
Jim's ME Breath technique combines a certain way of breathing to slow down your arousal… with a specific method of contracting your PC muscle at just the right time… while you are doing a relaxing kind of thrust.
If you can drive a car or swing a golf club, you can lock this ME Breath into your body for everlasting stamina.
These three things ― the squeeze, the breathe and the thrust ― come together to form the ME Breath. (Don't try to figure this out on your own… you'll make yourself come faster! There's a TRICK to it.)
Instead of slowing down, pulling out, or having to gyrate when what she really wants is to be pumped, you CAN just learn the ME Breath.
The ME Breath slows down your urge to ejaculate so you can give her any kind of stimulation she needs in the moment.
Jim's program, Multi-Orgasmic Lover for Men shows you how to do each step (squeeze/breathe/thrust) and then combine them together into the ME Breath.
Watch five short videos averaging 7 minutes long to learn the ME Breath and then you can last as long as she wants you to in ANY sex position.
The Multi-Orgasmic Lover for Men program which teaches you the ME Breath has been WILDLY popular. Men are realizing it's not just what you do to her, but what you can do to manage your own body, your own sexuality that is in your control.
Because it's been so popular, we are investing more into the program. We are taking it OFF the market after this sale that ends October 24th, 2016. Jim is adding a bunch of more sexual mastery techniques to Multi-Orgasmic Lover for Men and we are relaunching it next year.
Take advantage of this final sale at 50% off and you will be grandfathered in for ALL future updates.
After this sale, the price of Multi-Orgasmic Lover for Men is going UP.
Last chance to lock in the sale price now and receive all the new materials when we release them next year ==> Without paying a single dime ever again.
If you are already a Multi-Orgasmic Lover for Men customer, you will receive all the new techniques too.
Multi-Orgasmic Lover for Men is going OFF the market. Get your copy NOW before this final sale is over.
Come When She Wants You To ⇒ The ME Breath For Everlasting Stamina
Using these sex positions can help you last a bit longer in bed, but they won't change the fact that your body's natural habit is to ejaculate quickly.
Fortunately, Jim has figured out how to overcome premature ejaculation. I'd like to share with you this body-based, natural technique you can do in ANY sex position without having to slow down, pull out, think about your grandmother or whatever other lame things you're doing to last that take your attention away from your woman in the throes of passion: