Wide Opened, Standing Wheelbarrow and Doggy Sex Position Pictures
Here are three stamina sex positions including Wide Opened, The Standing Wheelbarrow and good old Doggy inside.
In any given lovemaking session, switch from one of the gyrating missionary positions to one of the cowgirl positions to one of these doggy style positions I've shared with you this week… but rest in between.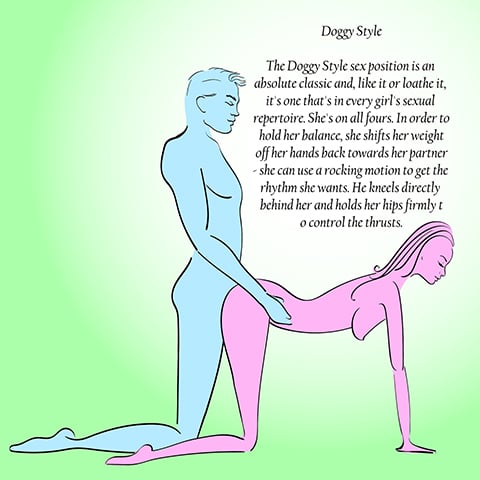 DOGGY STYLE
Between positions, give her some hugs and tell her three things you love about her.
Shower her with affection and then get her up into the next position before she comes down from her arousal ladder.
A lot of couples feel like they have to hop on, climax and hop off.
But I've found that resting between positions gives you a chance to build energy back up for another position.
I like to try 3, 4, and even 5 different positions in one… erotic lovemaking session.
Switching it up gives you a little time to regroup and when you move her body around the bed for her into each position, she'll think you're so manly and hot.
She can use her vibrator very easily in doggy if you stack pillows under her to prop her up.
Make sure she's fully engorged before you have this much intercourse, or it could hurt her pretty pussy. Be gentle at first and warm her up. Then you can go at it in these three different ways.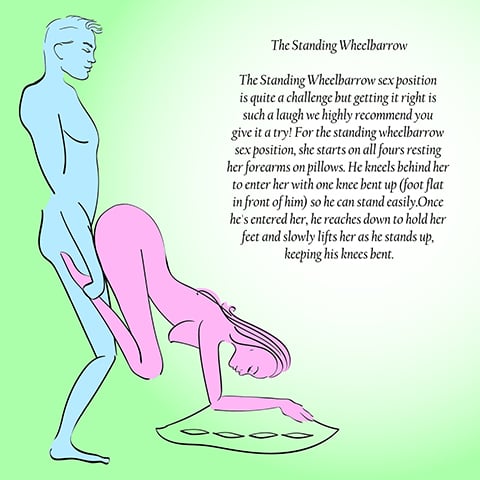 THE STANDING WHEELBARROW
While positions can make a big difference, the truth is that if you tend to climax too early, a sex position alone probably won't resolve the issue.
Fortunately, you can reprogram your body to last as long as you want, without even having to think about it!
I've teamed up with international men's Tantric sexuality trainer, Jim Benson on a body-based stamina technique ANY guy can easily learn.
It's called, the ME Breath.
The ME Breath is a natural way to never worry again about premature ejaculation.
You learn the ME Breath like you learn how to swing a golf club or drive a car. By watching 5 short videos averaging 7 minutes in length you can lock this skill into your body for everlasting stamina.
Jim's ME Breath combines a certain way of breathing to slow down your arousal with a specific method of contracting your PC muscle at just the right time, while doing a relaxing kind of thrust.
These three things ― the squeeze, the breathe and the thrust ― come together to form the ME Breath. (Don't try to figure this out on your own… you'll make yourself come faster! There's a TRICK to it.)
Jim's program, Multi-Orgasmic Lover for Men shows you how to do each step (squeeze/breathe/thrust) and then combine them together into the ME Breath.
You do the ME Breath right while you're making love to her.
You can be thrusting in and out in Doggy…
And the minute you feel your arousal climbing toward ejaculation…
You just start to do the ME Breath
And it slows your squirting system way down…
So you can just keep giving her the thrusts that feel good to her…
Without worrying about if you'll come too fast.
If you ever feel like you need more endurance in the bedroom I want you to buy this program before October 24, 2016.
Try it for 60 days.
I am 1000% behind the effectiveness of this all-natural, body-based stamina technique.
85% of men and their partners suffer from his premature ejaculation needlessly.
The ME Breath works.
BUT.
The Multi-Orgasmic Lover for Men program that shows you how to do the ME Breath has has been WILDLY popular.
So Jim and I are adding even more techniques to it and we are raising the price.
We are taking it OFF the market at the end of this sale and adding a bunch of more masculine sexual performance techniques to it. Then we are re-launching it next year at a higher price.
Take advantage of this final sale at 50% off and you will be grandfathered in for ALL future updates.
After this sale, the price of Multi-Orgasmic Lover for Men is going UP.
Men are realizing it's not just what you do to her, but WHAT YOU CAN DO to manage your own body, your own sexuality that is in your control.
Lock in the best sale price before you can't buy it until next year at a higher cost. You will have to pay every month to own the program if you wait.
Don't Wait ==>Try Multi-Orgasmic Lover for Men and the ME Breath for 60 Days
All customers will receive future material when we release them next year without paying a single dime ever again.
Doggy Style
Doggy style is one of the best positions for G-Spot stimulation because of the thrusting angle.
Some men last a lot longer in doggy style. On the other hand, it backfires for other guys.
Because you can stroke her G-Area with your pumping means this is one of the best positions for making her come.
It's also very easy for her (or you) to reach around and stimulate her clitoris or for her to use a vibrator.
Another great position for her to use her vibrator or stimulate herself while you penetrate her is The Wide Opened.
You can fill her up with your manhood and play with her breasts while she gets herself off.
You can also rock her back and forth on your penis and control the stimulation so you can last longer.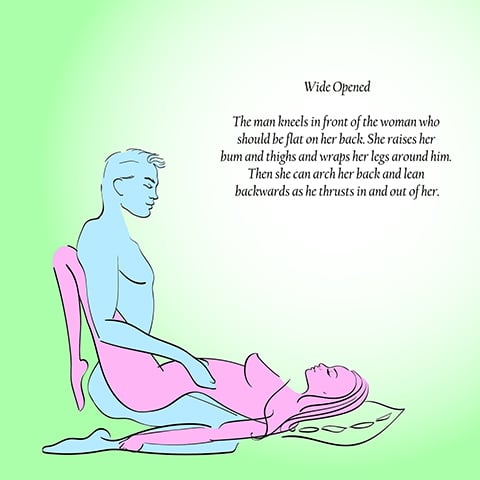 BOOST YOUR STAMINA
While these positions can make a big difference, the truth is that if you tend to come too early, these positions probably won't resolve the issue.
Using these sex positions can help you last a bit longer in bed, but they won't change the fact that your body's natural habit is to ejaculate quickly.
Fortunately, you can reprogram your body to function differently. You can recode your "orgasm habits" so you simply last a lot longer, without even having to think about it!
Instead of slowing down, pulling out, or having to gyrate when what she really wants is to be pumped, you CAN just learn the ME Breath.
The ME Breath slows down your urge to ejaculate so you can give her any kind of stimulation she needs in the moment.
Then the sky is the limit and sex will just keep getting better and more orgasmic.
Oh, and inside Multi-Orgasmic Lover for Men, in addition to the ME Breath, Jim will teach you how to become a multi-orgasmic man.
Once you calm down your premature ejaculatory response, you can add in the ability to have full-body orgasms without ejaculating.
Every man is capable of having multiple energy orgasms. You start with the ME Breath as the foundation.
Each time she sees you come, it's going to trigger another orgasm for her too.
Multi-Orgasmic Lover for Men starts with the ME Breath, then you learn a series of incredible high-performing sexual techniques that put you in an elite category of lovers.
Get ready to take yourselves to a whole new level of your orgasmic potential just by starting with the ME Breath.
Learn About The ME Breath <== Click Here
Jim Benson helps guys who have erectile issues or sexual issues through his program, Multi-Orgasmic Lover for Men.
He's a man you can trust. His experience is deep. And he's a stand up guy who lives to serve other men in their quest to be fully sexual beings.
Jim knows pretty much all there is to know about men's erectile health and he can help you learn easy ways to have more stamina and last longer during lovemaking.
===> Lock In The Sale Price Before It Ends To Improve Your Sexual Stamina