Avoid The Seven Dumbest Relationship Mistakes
Here are seven ways to make love really work according to Carolyn N. Bushong, author of, "The 7 Dumbest Relationship Mistakes Smart People Make."
Stop forcing intimacy and start letting love evolve.
Stop expecting your mate to read your mind and start communicating exactly what you feel and want.
Stop playing the martyr and start refusing to be abused.
Stop assuming you're always right and start opening your mind.
Stop rescuing your mate and control your own life.
Stop taking your mate for granted and start respecting your love.
Stop letting passion die and vow to keep falling in love again and again.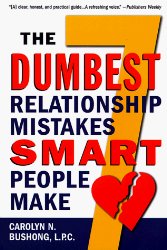 BE SMART
When I read this list I realize that the two things a couple can focus on are honest, vulnerable communication and remembering to stay romantically connected as a couple.
It's horrifying when you realize how much of what you say is not your truth. And it's liberating to begin speaking your truth, especially to your partner.
HONESTY
Brad Blanton's book, Practicing Radical Honesty, will illuminate the trance you're living under and being radically honest isn't as scary as it sounds. Baby steps, my friend.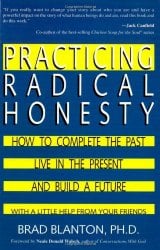 Once you become truly honest with each other and stop walking on eggshells, you relationship will be much more interesting and intimate. The hardest part about being honest is admitting our own foibles such as pettiness, jealousy, insecurity and those other deadly feelings that pluck at our core fears. Our core fears came from our childhood experiences and we can rise above them once we become aware that they are creating reactions that don't jibe with how we want to be in the world with our partner and in general. Core fears are feelings of inadequacy, rejection, insignificance, abandonment and other feelings we hate to feel. Once we realize we can sustain the sensation of those fears, that they are triggers and we, along with our partner, can get right with them, the benefits of honest relating supplant and minimize those fears. Honesty is the salve for our existential wounds. So open up, be vulnerable and own your fears. That's all they are… just feelings. And your partner can help you see clear of them once you identify them. So move toward being as honest as you can and watch your relationship become much more rewarding and supportive.
ROMANCE
Romance is the action of focusing on making her feel your love — both emotional and physical —because this feeling strengthens the bond between lovers, connecting you together through your hearts. Romancing your partner is a gift you give yourself too. Keeping score is fruitless — love is immeasurable. And it doesn't matter if, at first, you do "all the work" of romancing your partner. Keep at it and soon they will be romancing you back. Because romance is simply irresistible.
The more you give, the more you'll get. Start giving freely and you'll see that more of your day is love-filled, sweet and happy. Teach your partner how to love you back in ways you most enjoy. Romantic gestures range from subtle flirting to outright seduction to vulnerable declarations of love.
Tell your lover explicitly the joy you get from romancing them. That you don't do it to get anything, you do it for the pleasure of seeing them thrill to your advances. This joy you generate will naturally evolve into more opportunities for sexual intimacy.
Get into the present time when you are being romantic. Move toward being right in the moment with your lover, fully present. Try to let go of your absolute plan for a romantic encounter and just go with the flow of their reactions. That way whatever you do will feel natural instead of forced or pre-planned. Leave some space for spontaneity in the creation of your romantic plans.
The 5 PILLARS OF PASSION
There are five kinds of romantic activities that can increase your passion and intimacy.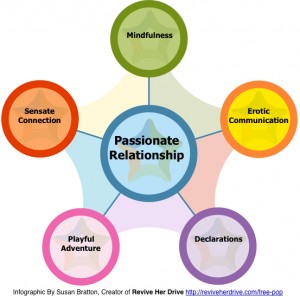 Mindfulness is what I described above about being present with your partner. Rather than letting your mind race ahead, be in the moment.
Sensate connection involves the senses. Feed your lover. Touch her. Play sexy music. Engage your senses to heighten passion. Below is a link to sexy music ideas
Unlock Additional Members Only Content
Please login or register for a Free Membership to view this content.
Erotic communication is straightforward. TELL your partner what you love about them.
Declarations are verbal commitments to your love for each other. They are statements of commitment.
And Playful Adventures are the zest that keeps it fun. Getting out in nature is simply the best way to create a romantic experience that you'll never forget.
Below are links to deeper knowledge about how to keep the romance and passion alive in your relationship:
Make Her Feel Adorable and Irresistibly Sexy
8 Passion Accelerators [Video]
Undeniable Passion: 3 Skills For A Lifetime of Pleasure [Audio]
I hope you'll pick one or two things out of this and ask your partner for what you want.
If you haven't yet done the Relationship Magic workbook, do it now! The book is still only $9.95 for Insider's Club members and it will help you understand what it is you WANT MOST out of your relationship. Once you know, you can tell your partner so they can make you truly happy.