Sexy Story: Surprise Pumping Date!
Karl had the sexiest surprise date the other day…
Kelly, a girlfriend from his past, came over for a visit. Karl is the kind of guy women can't resist. Big, white teeth, lots of hair, a slim belly, a nice tan athletic body and he's truly kind to women. He's basically a babe magnet.
Karl has had sex with over 400 women in his lifetime. They flock to him like bees to nectar. But it wasn't until he found my work that he realized the depth and breadth that sex could take from positions to techniques to toys to fantasy sharing. He said the first 400 were about the same… basically vanilla… and how he's on FIRE!
He even started getting GAINSWave's, P Shots and using The Whopper penis pump. At 64, he wants to keep what he's been so well-endowed with. His sexuality is important to him and he wants to keep honing his skills.
When he heard from Kelly, he was pleased she wanted to visit. She was a perky blonde nurse with big boobs. Karl loves big-breasted blondes most of all, though he worships all women.
Kelly was in a conundrum. Her boyfriend wanted her to give up her young French loverboy and become monogamous to him. She confided to Karl that she wasn't sure she wanted to. As Kelly and Karl got caught up over the last few years since they'd seen each other, Karl started telling Kelly about his "sexual biohacking" efforts.
As a nurse, pumping and GAINSWave and P Shots made scientific sense to her. She was fascinated! She asked Karl if she could see his pump. He offered to demonstrate. She wholeheartedly said yes. She wanted to pump his penis for him.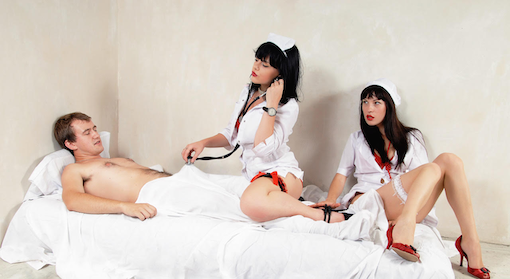 NAUGHTY NURSES RULE!
As she saw his man hammer expanding in the clear cylinder it got her really turned on.
She wanted to control the pump. He let her know the maximum pressure at which she could maintain the vacuum. She popped out her big, luscious globes for him to caress while she was monitoring his pumping.
Pleasuring her breasts and teasing her nipples while his penis got even bigger than usual in the cylinder just sent them into a really sexy space together.
At the 10-minute mark, she released the vacuum. She offered to do the penis massage between the pumping sets. She filled her hands with oil and began to pleasure him. Then she pumped him up again for the second and third sets.
In the end, when he got out the leather strap and put it on, she got even more turned on. There was his big, engorged penis — veins ripping up the shaft, heavy with blood, black leather cock ring making it pulse…
She wanted to stroke it so badly again and seeing that bulging erection was making her mouth water.
They were both really aroused from all this visual excitement and novelty. And though Karl knew that it's best to not ejaculate right after a pumping session, he gave himself the hall pass to just have an incredible climax.
He loved that Kelly was supportive of his sexual biohacking and she had so much fun with him.
That is the first "pumping sex date" any of my fans have shared with me.
Couples tell me frequently that they do their self-care together in bed — He pumps and she does her VFit Gold. What I love the most about having a pumping sex date is that it normalizes sexual self-care for men. And it turns the pump into a pleasure toy. Because pumping is massively pleasurable for men. They not only get to expand their engorgement capacity, but they get to be worshipped for the beauty of their member.
Not only that but I have been really enjoying pumping my vulva and clitoris with the lady pumps. It brings a level of engorgement I can't get any other way.
The more genitals you see, the more you realize their exquisite beauty and incredible variety. Just thinking about how our genitals have this massive capacity for expansion and pleasure, for lubrication and ejaculation, for resetting our nervous system, and for bringing us so close to each other that we become one is truly a miracle. A miracle that you, appreciate above most people walking around in their vanilla worlds.
If you want to support your partner in the #selfcaredownthere of pumping or you want to personally find out more about it and all the other treatments I mentioned, I explain it all in my Pump Guide ebook. It's been downloaded 50,000 times and I published a new 2nd edition so it's freshly updated with all the new gear including the red light therapy sleeve and the extender traction device.
Pumping Guide ⇐ It's here for you.
Sending you rainbow sparkles of variety and joy today. The more you know the more joy you experience. 
Funny story on this pic. I'm wearing a pink diamond kitty collar. When our daughter was little I had gone to a Burning Man party and wore it. Then took it off with my costume and threw it in the back seat of the car. Later my daughter saw it and said, Mom, there's a kitty collar in the car! And we don't even have a kitty!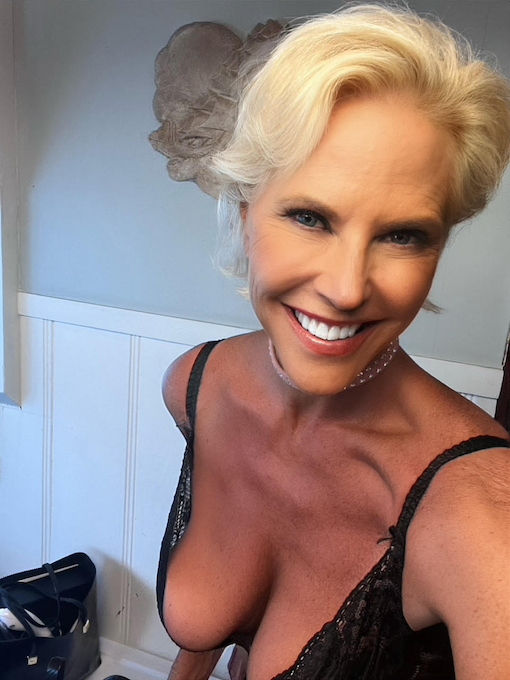 There's my VFit Gold in my briefcase behind me in this pic! And yes, I got my hair cut short because I shed a whole bunch of hair during a stressful time recently. Everything is good now and it's growing back because I'm using my red light hat. Red light is the bomb! Read my story about how I use two penis pump cylinder red light sleeves — one on each arm — to tighten the skin; my VFit in my vagina and my red light hat on my head most mornings.