Here are three ways you can both come better, harder, and more often during penetrative sex that I want you to try. These penetration orgasm techniques are part of my Making Whoopee 3.0 series of orgasmic intercourse skills.
Penetration Orgasm Techniques During Intercourse
When we think about orgasm, we often assume women achieve climax by stimulating the clitoris and men through penile pleasuring. However, there are more than twenty different paths to orgasm for both genders. We are massively multi-orgasmic creatures from erotic hypnosis of the touchless orgasm using only verbal commands — to the "core-gasm" generated from a belly massage.
Orgasms are a learnable skill. As you mature, you can add to your orgasmic repertoire. Men can develop the capacity to have male-multiple orgasms, prostate orgasms, and many others. Women can begin to enjoy female ejaculation, cervical orgasms from intercourse, and many others. Men and women are equally orgasmic. Men have as many orgasms as women because both sexes have the same parts arranged differently in our genital systems. Gender has no bearing on orgasmic capacity. Everyone across the gender spectrum has the same orgasmic opportunity for pleasure.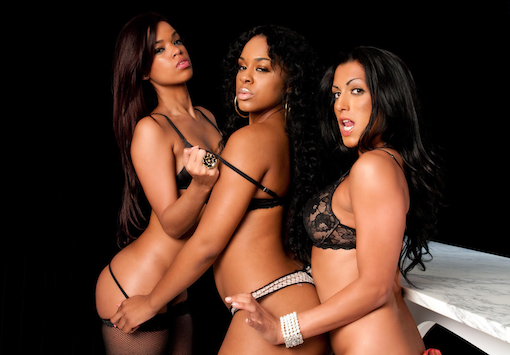 FUN IN THREES
Yes, we humans can figure out how to make babies naturally… but for sexual pleasure, we must gain the knowledge and skills to transform having sex into making love. We must be taught how to achieve the kinds of climactic pleasure states of which we are all divinely capable. Understanding what's possible is the first step. The twenty types of orgasms that the male and female person can enjoy fall into three categories:
Locations to stimulate
Physical and mental techniques
Tools, toys, and objects
Most orgasms can be experienced through solo pleasure and do not require a partner. Some of the easiest are those that leverage tools, toys, and objects. Sex tech is a burgeoning category of devices that use new materials, data tracking, haptics, and bio-feedback to heighten sensation for even more intensity and duration of orgasmic feeling.
LOCATIONS TO STIMULATE
The category of locations to stimulate include orgasms from breast and nipple stimulation, the female G-Spot (technically called the urethral sponge) and P-Spot (the male prostate), buttocks/perineal/anal, cervical and intercourse, and neck/mouth/throat. During intercourse, for example, she can be on top while he pleases her nipples, and they kiss while they are having intercourse.
PHYSICAL AND MENTAL TECHNIQUES
Physical and mental penetration orgasm techniques include Expanded Orgasms, edging, energy orgasms, female ejaculatory orgasms (a blend of style and location), the $1 million point from Taoist sexual practices, erotic hypnosis, and myriad forms of fantasy and role play. Dirty talk, especially verbal encouragement, is another powerful mental technique that increases orgasmic frequency and intensity. Expanded Orgasms are a clitoral stroking practice that stacks orgasms that get longer and more intense as you use the five-stroke physical technique. The Expanded Orgasm practice is perfect for helping women learn to orgasm from intercourse without direct clitoral stimulation.
TOYS, TOOLS, AND OBJECTS
Toys, tools, and objects offer physical gear that amplifies orgasmic magnitude and recurrence. Few couples integrate vibrators and penis rings into their lovemaking. This is one of the easiest ways to intensify pleasure together. Some penis rings, such as the Atom Plus Lux from Hot Octopuss, vibrate his perineal area and her clitoral area simultaneously for enhancing simultaneous orgasm. The NŌS from Fun Factory can be used as a self-pleasuring vibrator or during penetrative sex around the base of a penis.
In cowgirl sex positions where the woman is on top, she can vary the thrust and grind to take herself to new heights of orgasmic bliss with the combination of penetration and vibration. And when she's resonating with orgasmic pleasure, it transfers to her lover like a tuning fork. He vibrates with more turn-on from seeing her enjoying herself. Pleasure is a gift you co-create.
Objects also include everything from sexy lingerie and high heels to paddles and floggers for spankings to other impact toys. Blindfolds and handcuffs, sex furniture, and items such as G-Spot wands are all accouterments that heighten desire. Great sex is a lifelong reward that ripens with maturity. Learning the Expanded Orgasm, P-Spot orgasm, Female Ejaculation, introducing toys into lovemaking, honing your sensual verbal skills, thinking up new things for your pleasure, or feeding your sex life with your partner is accretive.
EROTIC PLAYDATES
Make a list of the ideas you want to pursue. Plan your erotic playdates so you can look forward to the fun times ahead. Get your lover-space set up for the experience: warm lighting or candles, sexy music, soft towels, healthy lubricants. Remember, the first time you try something, it can only improve with practice. Keep your laughs high and expectations low. Memories are made from not just the hits but also the misses. When you begin as beginners together, trying new orgasms, you generate that teenage "feels like the first time" new relationship energy. Variety keeps bedroom boredom at bay. Talking about trying new things fuels your desire as much as actually doing them. Passion in the bedroom transforms into a passion for life. Your sexual vitality is part of your overall vitality. Living a sexually vital life is an enriching way of being.
Make your intercourse hotter. Try a sex toy, some verbal commands, and stimulating simultaneous locations the next time you make love.