"When I see lust in her face."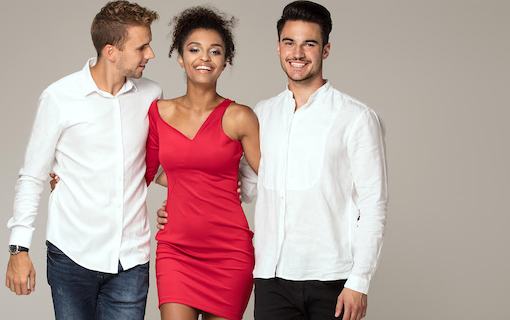 Sloane got a great email from a guy who listened to her podcast interview about the threesomes she's had with her husband and boyfriend. His wife is interested in this experience, and he requested her Empowerment of Threesome audio. ⇐ Here's free access for you, so you don't have to pay for it.
He described his wife's sexual blossoming… "I love it when she opens up about her fantasies. Nothing turns me on more than when I see the lust in her face and when I satisfy her sexually. I want to take her to new orgasmic heights because I love her and because it turns me on as well.
We talked about it before we tried anal for the first time, and I think I was more into it than she was. However, when she saw how the idea turned me on, she decided to give it a try. We both read about it, bought a couple of toys and lube, and then tried it. At first, she wasn't convinced, but she kept researching and would ask me to try again. We got a little better after every attempt. Now she loves both vaginal and anal sex.
Because of this new phase of our sexuality, she is more willing to explore other things, and I think that's when she started to be open about the possibility of an MFM threesome. She was the one who brought it up. However, she also worries about what other people might think of her if they discover her fantasies. I've told her that what matters most is that we love each other and that we trust each other, and that there's nothing better than to try new things together. Anyway, lately, she's been reading about female orgasms, and she tells me what positions she wants to try and how she wants to be touched. I just want to give her pleasure the same way that she gives me joy."
TWO GUYS AND A GIRL FUN
This couple is doing everything right. They explore together, communicate well, and are committed to each other's pleasure. And most importantly, they realize that great experiences come with practice.
When you try a new sex technique, you are still learning. The misses can be as fun and memorable as the hits. And great sex takes practice together. Like any skill, the more you try, the better you get.
People think sex should just work perfectly the first time they try it. That is not the case at all. It takes many tries to have extraordinary experiences. It takes roughly six months for new partners to start getting good together with consistent effort.
Learning how to have an Expanded Orgasm practice requires ten or twenty DO dates that can have a bit of frustration with moments of glory that give you a glimpse of what is possible. Learning how to give and receive blended orgasms takes coordination that comes from doing. Allowing yourself the bliss of female ejaculation takes a level of trust, relaxation, and hydration that doesn't happen the first time or few you try. Integrating new sex toys into lovemaking can be challenging by turning them on and off in the dark.
When couples learn new skills together, it keeps your sex life exciting. Great memories come from your mistakes as much as the pleasure you create. I thank you for being one of those lovers who want to keep getting better. I celebrate you today.
And remember, your private life is your secret pleasure… what you do behind closed doors is for your joy and nobody else's business.