Click here for the index of all 15 weeks of "Come With Me," the Orgasm Challenge. Read on to learn how to orgasm simultaneously.
🏳️‍🌈 The information in this article supports expression across the gender spectrum. There are only two sexes, biologically. XX and XY. Read the section that supports your physical equipment: penis or vulva.
Why Isn't Female Ejaculation The Default Orgasm?
I've been teaching women and their lovers how to ejaculate since founding Personal Life Media, Inc. 15 years ago. We've helped thousands of people experience the bliss of releasing their divine nectar through our Female Liquid Orgasm video training. I've written 683 articles on this website about female ejaculation: how to do it, problems encountered, myths and misunderstandings and advanced pleasuring techniques. And here's what I can add to the conversation about female ejaculation….
Why is it that when a couple has sex, they don't focus equally on HER ejaculation?
Why is the default that he will ejaculate, but there's not equal emphasis on her ejaculation? All women can ejaculate. It's one of the most, if not THE MOST satisfying of all orgasmic types. Why is "sex" intercourse and everything else considered foreplay or additional to penetration? Let me break this down and give you a reset on your new approach to sex in the 21st century. There are three types of female ejaculation preparation strategies which I'll also outline below. This will help you get the kind of stimulation you need to ejaculate when you want to — including every time you have sex if you prefer that.
I've always said, female ejaculation is the most rebooting of all orgasms for your nervous system. The release a woman experiences letting the liquid go is very much like the release of a male's ejaculation. So why wouldn't a woman want that same release during sex?
The only reason female ejaculation isn't a standard part of sex is that we haven't been socialized to believe this is normal. Female ejaculation is as normal as male ejaculation. Both sexes ejaculate and urinate from the urethral canal. We simply need to adjust our mindset to understand that women's ejaculation is as important and fundamental as men's ejaculate. Ejaculation in women is not urine. Ejaculation in men is not urine. The urethra can switch between ejaculation and urination automatically. In the female this function is handled by the bladder. In the male, by the prostate.

Ejaculation and orgasm are separate systems in the body. And though contractions push out the ejaculate in both males and females, you do not always have an orgasm at the same time you ejaculate. When men learn now to separate ejaculation from orgasm, they can go on to become multi-orgasmic men. Orgasms are a feeling in the body. They do not require ejaculation.
Some women naturally ejaculate, where with others, it's simply a learned sexual skill. Ejaculation is an exquisite pleasure that all lovers deserve to have as much as they want. There are three types of squirters.
Three Types of Squirters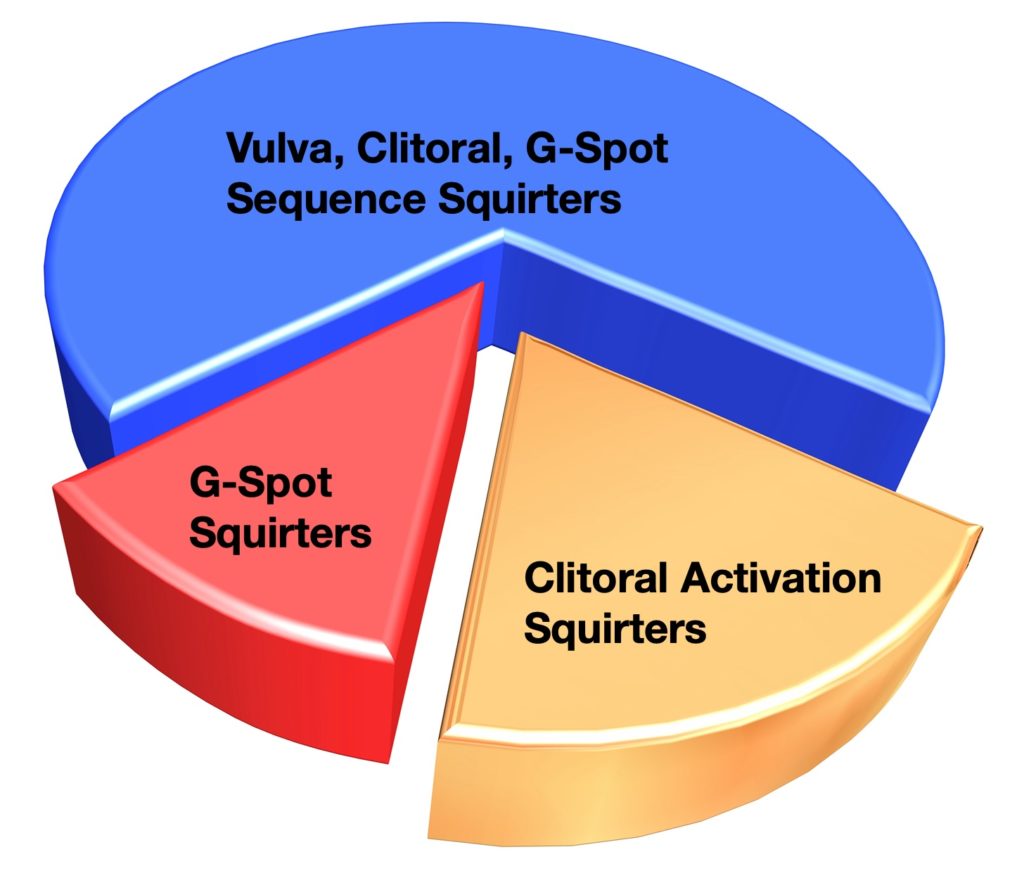 Type #1 "G-Spot Squirters"
The first type of squirter is the woman who can ejaculate with G-Spot stimulation. This category also includes the woman who ejaculates easily from intercourse where the penis is stimulating the G-Spot during penetration. These women are also the easiest to make squirt from fingering. Many adult stars who include squirting in their repertoire are G-Spot squirters. Their vulvas tends to be very responsive without as much warm up as the other two kinds of squirters. They also require less relaxation and feelings of safety than the other two kinds of squirters.
Type #2 "Clitoral Activation Squirters"
The second type of squirter is the woman who needs both clitoral activation as well as G-Spot pleasuring to squirt. They take a little longer to make squirt and often need more of a warm up and feelings of being safe and having privacy. Toggling between the G-Spot and clitoral stimulation helps release the fluid, once they are warmed up. These women need more verbal encouragement than the G-Spot squirters.
Type #3 "Sequence Squirters"
The third type of squirter is the woman who needs the full stack of stimulation:
✅ First they need to feel safe and comfortable.
✅ They need privacy.
✅ They need a waterproof covering so they can let go of their fluid without worrying they will make a mess.
✅ They need a relaxing vulva massage before touching their clitoris or going inside their vestibule or vagina.
✅ They need a variety of fingering techniques.
If you pay special attention to the tissue of their mons pubis, it will improve the ease of their fluid release. The tissue under the mons can be stiff. When it's massaged, it can become gelatinous and then the plasma can run down into the Skenes Glands into the urethra for more fluid volume. Rubbing the belly also helps with fluid volume. The more fluid she expresses, the more release she feels. Being hydrated helps immeasurably.
The Vulva, Clitoris, G-Spot Sequence squirters need their clitoris to be stimulated to orgasm a few times before their G-Spot becomes engorged. They need their G-Spot slowly and lovingly awakened. Pressure to perform sets them back or makes it impossible for them to release their fluid. They are much more likely to require a lot of variation of fingering techniques than the other two types. Variety helps them mount the arousal ladder. You can learn all of the best fingering techniques for maximum squirting both solo and for couples in Female Liquid Orgasm.
"I never enter a woman with my penis until she has squirted."

Says all the most enlightened male lovers.
Squirting Tools
G-Spot wands and vibrators are a vital part of your pleasure preparedness. Whether you are solo pleasuring to ejaculate, or you have a partner who wants to prioritize your ejaculations too, wands and vibrators are essential. The G-Spot can require a lot of pressure once it's warmed up. This can get tiring for the giver. Having two good tools increases sexual satisfaction and helps release the ejaculate.
Wands are not mechanical and do not vibrate. They are made out of steel or glass. It's imperative to know how to use these tools correctly or you can hurt your partner. My G-Spot Toy Guide comes with an explicit video showing you exactly how to use a wand for maximum pleasure. If you use a steel wand (my favorite), warm it in the sink in water before inserting it so the warmth feels extra pleasurable.
There are G-Spot vibrators that can be used on the clitoral structure and the G-Spot. The two best are the Kurve and the Duo. The Kurve is good for couples and solo pleasure. I call the Kurve my Binge'gasm toy. The Duo is best for solo play so you can get it positioned exactly in the right spot to make yourself squirt. The Duo will fit an average range of women. Read my measurement information in this article to make sure it will fit you. If it does, get it. It's unbelievable.
What Would Sex Be Like If She Squirted Every Time You Had Sex Too?
Imagine the sexual satisfaction of a woman who had multiple squirting orgasms before she was penetrated? She'd be fully engorged. She'd be velvety soft inside. She'd be totally turned on. Intercourse would feel even better. She could keep coming on her lover's penis.
She'd have the experience to decide when she wanted to release. She wouldn't worry about "making a mess." She'd take squirting as her right to pleasure. She would know it's not pee because she'd get up afterward and pee like a racehorse. She'd help other women know that female ejaculation is as important as male ejaculation. The earth would be better for her pleasure.
She'd never get frustrated that he came and she didn't. She'd scale new heights of orgasmic ecstasy. She'd feel like a sensual goddess. She'd be having better sex than any of her girlfriends. She'd consider her lover to be the best she'd ever had. She'd feel like sex was equal, instead of lop sided. She'd be appreciative of the attention on her pleasure. Any chip on her clitoris' shoulder would be gone forever. She'd be devoted to her lover. She'd train future lovers that this is just the right and fair way for couples to make love. Her partner would get really good at releasing her ejaculate. She'd spend a lot of time figuring out how to have sex more often. She'd be a confident woman. She'd feel calm and loved.
Free Squirting Techniques eBook
Get this free squirting techniques book, "The Truth and Myths About Female Ejaculation."
Bookmark this index link to my "20 Kinds of Orgasms" Challenge and try them all.