I'm big on video chatting for online dating management as well as for having sexy times with your lover(s) when you're apart. If you haven't tried my 8 Sexy Video Chat Dating Games, read this email first, and then make sure you bookmark this page:
VIDEO CHAT
8 Sexy Video Chat Dating Games
I recently talked to a fan who is in a relationship with her husband and she has a boyfriend. I particularly liked Crystal's (name changed for privacy) story for two reasons.
One, she uses online videos to keep her romance alive. Secondly, she's in a relationship with two men, which is less common but just as satisfying for them as the typical throuple relationship of two women and one man. Both are wonderful throuple experiences and often it's easier to find a guy to join a couple than it is to find a woman. These MFM's, which means Male/Female/Male are most often two straight men with a turned-on woman. Though many two-guy-one-girl couples also include men who are bisexual. My point is that you can be straight and pleasure a woman with another straight man. Two guys can develop a nice connection in service to a woman's pleasure.
My job is to expand your orgasmic potential. When I teach you techniques, and communication skills and tell you stories of different sexual constructs, these all give you more possibilities in your own sexual evolution.
Crystal's boyfriend lives in another town so they only get to see each other when they can visit for a weekend or take a trip together. They spend a lot of time on video chat, talking almost every night for a half-hour. Sometimes she and her husband video chat with the boyfriend. Both guys are straight, but when they are together, she loves to have threesomes with both of her men.
She told me about a sexy time she had the other night and I wanted to share it with you. It incorporates many of my teachings.
MFM VIRTUAL THREESOME JOY
Crystal has many solo dates with her boyfriend, but she also loves to have threesomes with her husband and her boyfriend together. Both men are straight, but they don't mind being in the same room making love to the same woman together. They enjoy it. They love giving Crystal double the pleasure and watching her joy and bliss from their ministrations. It makes them feel very sexually empowered and it's extremely hot sex for all of them. The level of surrender Crystal can achieve is unparalleled because it's so sexy to her. She really loves being with two men. A lot of women do. It's more common than you think.
When they play together, they often start off with the husband giving her an erotic vulva massage to get her warmed up. They learned how to give her expanded orgasms from clitoral stroking through our program, Expand Her Orgasm Tonight  The expanded orgasm vulva stroking gets Crystal's erectile tissue engorged. They spend half an hour doing this so she's nice and plumped up with lots of blood flow. The blood flow increases the pleasure for her as much as getting erect increases the pleasure for men. 
She told me all three of them take two FLOW Nitric Oxide supplements before starting. And the guys both take a mini dose — 20 mg of Sildenafil (Viagra) — based on reading my recommendation about how you can take fewer PDE-5 inhibitors when you combine it with FLOW. They like the insurance that the mini-dose and FLOW give them to be able to get hard when she's ready.  Crystal said that her husband is really happy with the mini-dosing because he used to get stuffy sinuses and a headache from Viagra. But now that he's on 1/3 the dose and adds our Nitric Oxide supplement, he avoids the side effects.
While she's getting genital pleasuring from her husband, her boyfriend kisses her and plays with her breasts. My article on the Triskelion Oral Commandments explains that kissing, breast play, and genital stimulation simultaneously help women achieve more orgasms. Nipple stimulation and tongue play get a woman's vagina turned on and lubricated. Crystal is very happy with the increased lubrication she's getting from FLOW. She takes FLOW before sex to increase her wetness AND increase overall blood flow to her vulva for more orgasmic sensation and pleasure.
The men double-team her, which is what she loves. Imagine having four hands and two penises at your disposal? The level of sensation is more than double.
Once she's warmed up and ready for more, they move into different positions. A typical lovemaking session will last a few hours. They will go from her taking turns going down on them, to them penetrating her in multiple places. They always have a lot of fun together and being with them gets her more turned on than anything else she does sexually. She lives for these precious moments when she has both her favorite men all to herself for ecstasy.
But the night I want to tell you about—that Crystal shared with me that prompted this story for you—was the night she used video chat to have a virtual threesome. She used my Orgasmic Breast Massage Master Plan with her husband. (NOTE: When you get the Master Plan, you also get four other steamy sex techniques.)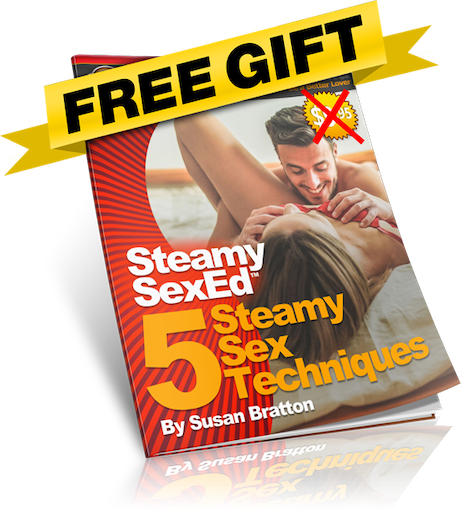 BREAST MASSAGE MASTER PLAN
Crystal's husband laid back on pillows against the headboard. She laid back against him on a pillow. Then he could reach around and rub oil into her breasts and nipples. He slowly warmed her up and pleasured her while they chatted on video with her boyfriend.
Crystal uses a gooseneck hands-free phone holder that attaches to her bedside table. 
She and her boyfriend "shared frames" about the sexiest things they did on their last weekend together. Her husband loved the sexy stories as much as they loved reliving the highlights. Sharing Frames is a sexy bedroom communication skill that Dr. Patti teaches in Expand Her Orgasm Tonight. There are 21 Erotic Playdates or Sandbox Dates in Expand Her Orgasm Tonight. Crystal and her husband have done them all over the course of the last couple of years. Sharing Frames is one of their all-time favorites. They attribute these "couples workshop" ideas to helping them get super good together in bed.
Crystal shared her favorite frame from their last weekend together. She was on her back and her boyfriend was on top of her 69-style. He was licking her from her clitoral hood, all the way down her vestibule to her fourchette — the little bit of tissue below the vagina where her labia join at the bottom. He was doing long, luxurious strokes up and down, slowly. He would stop and circle her clitoris, paying attention to the shaft under the hood as much as the tip of her glans. Then he'd tantalize the opening of her vagina, the introital sphincter or introitus, getting it to open to him.
I use technical words so you get comfortable with them. They are good words and accurate. Once you assimilate them into your conversation, they feel very natural and helpful.
She told me that what really got her off—what made this the #1 frame of the long, sensual weekend—was that while he was luxuriously going down on her, he was simultaneously pleasuring his mouth with her penis. One of Crystal's favorite things about her boyfriend is his ability to really feel what she's feeling. His limbic connection to her is almost as good as her husband's feelings. And she's been married for years to him.
Crystal was able to totally relax and let her boyfriend play with her like a maestro. She also shared how she could peek up behind her a little and watch him in the mirror of her bedroom closet.
As her husband pleasured her breasts, she shared the "scene" that turned her on so much.
Then her boyfriend shared his favorite frame.
They were in the living room in front of the fire and Crystal was going down on him. She was going very deep. She read Sloane's ebook, The Blow Job Secret along with the Irrumatio and How To Overcome The Gag Reflex. She knew how to give herself orgasms going down on her boy toy.
She was coming and her saliva was very lubricated, similar to the precum that men exhibit when they begin to get aroused. As she was having a mouthgasm, she slid her boyfriend's manhood out and turned and came up to kiss him. She had this very viscous, clear saliva all over her mouth and chin and as she kissed him, he could feel her orgasm in her mouth. More saliva came out and it totally turned him on. It was surrendered, abandoned, and a little bit "dirty." That was his favorite moment of the whole weekend. The one he kept returning to in his mind.
Get All Four Books for $9.95 At This Special Link

THE BLOW JOB SECRET BOOKS
The combination of having her two lovers' attention, the breast massage that got her wet, and sharing their favorite frames was a fantastic video threesome. Everyone got turned on and had a great time. Her boyfriend loved hearing what he did that got her so aroused. And she loved him acknowledging that one of the edgiest things she did all weekend was his favorite.
Too many times, a woman does something "extra dirty" and her partner contracts out of their own shame. This dissuades a woman from pushing out her boundaries to try new things because she doesn't want to be slut-shamed by her partner.
Crystal's boyfriend encourages her to play full out and sharing frames is a great way to get your partner to know how much you like things they are doing.
You can easily use fantasy as well as frame sharing on sexy video dates with just one other person or with all your lovers. Every moment we generate turn on is a peak life moment. Video dates can be super, duper hot!
The 21 Erotic Dates in Expand Her Orgasm Tonight aka "EHOT," are absolutely incredible. Dr. Patti has led workshops for 20 years and these techniques are her best for helping you become an incredible lover.
I highly recommend you get EHOT and start spicing up your Sex Life with couples exercises. In addition to the clitoral stroking technique that saved my marriage and helped me become orgasmic from intercourse, the twenty one dates will make you outstanding lovers together.
EROTIC DATES
21 Erotic Dates in Expand Her Orgasm Tonight ⟸ Get This Now
Try video chat dating and send me your stories!
Thank you, "Crystal," for the long, wonderfully explicit share you allowed me to write up. Without your stories, I wouldn't be the sexpert I am. I love to see how our programs give you permission and skills to have the most satisfying sex lives of all your friends. And kudos to Crystal's husband and boyfriend for being sophisticated lovers, able to see the benefits of pleasuring a turned-on woman together. Yay!