Top 10 Things Women Wish Men Did (In Bed)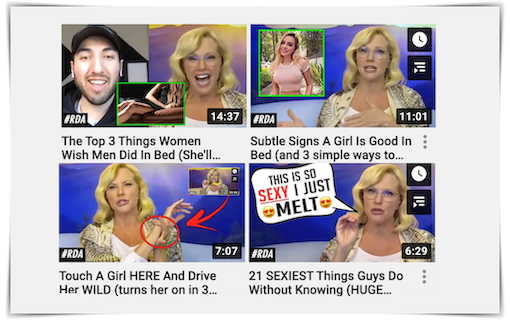 What does the feminine secretly want from the masculine in the bedroom?
Here are the top 10 things that a guy can do to help a woman enjoy intimacy more, want more frequent intimacy, and feel extremely satisfied with the connection.
These ten things will ignite your lovemaking:
Manscape
Yup. Good grooming tops the list of things women want more of from their men. Here are the two shavers I recommend that keep the skin smooth as silk when you use them as a two-step process. Works for all genders.
Includes good dental hygiene and trimming of hair and nails.
Hold Us
Arousal begins with relaxation. We need to let go of our racing thoughts and relax in our bodies. Use my Soulmate Embrace hug to get her on the escalator to arousal. "This is how I've dreamed of being held… says every woman ever."
Slow Down
Guys are way ahead of us arousal-wise. We need him to slow down and bring us along. I always say, "Slow down. Now go even more slowly. And now, slow down some more." If we feel rushed, which we do, it suppresses our arousal. Once you get going, you can move faster. It's at the beginning when we need time to get engorged, so our genitals have the blood flow that we need to feel desire and pleasure.
Sensual Massage
Women crave full-body touch. Before we can feel lust in our loins, we need to feel the touch on our skin. Long, luxurious strokes down our back, along our thighs, a little foot rub to calm our nervous systems is the pre-foreplay that allows our desire to blossom. Then an orgasmic breast massage as we lay back against your chest, followed by a Yoni (lady parts) massage to bring blood flow to our clitoral, urethral, and perineal spongy tissue, gives us a lady erection. We can't achieve our orgasmic potential if we don't have a lady erection.
Pillow Talk
Women appreciate verbal encouragement. In my free ebook Dirty Talk, I give you five ways to talk dirty without being dirty. I tell you exactly what to say, and you can personalize at will. Just having five or six phrases can accelerate her turn-on by a factor of a thousand.
Variety
The #1 complaint I hear from women of all ages is that they are bored in the bedroom. Sex positions are one of the most fun and most comfortable ways to have an exciting romp. These 7 Stimulating Sex Positions in my free illustrated guide combine both novelty and erogenous zone stimulation sure to whomp the bedroom boredom.
The bonus of the masculine directing their woman about working a sex position, picking them up, and moving their bodies, establishes polarity — the magnetism of opposite attraction. And when you move her body, you channel her emotions. This is masculine sexual leadership at its best.
G-Spot Pleasuring
The urethral sponge at the top of the vaginal canal is a repository of emotion. Stroking the area allows women to release emotion. If orgasms reboot the nervous system, G-Spot pleasuring turbocharges that reboot. We have a whole program on how to do this in a safe and rejuvenating way. More women these days want this experience.
Incorporate Toys
For over a decade, I've conducted primary research on sexual attitudes. A surprising fact that couples consistently report is that one of their "worst" skills in the bedroom is "incorporating pleasure toys during lovemaking." With so many excellent products available now, why wouldn't you use toys to add pleasure when you're together? Because you have outdated thinking that if you have to use a toy you are not good enough. Wrong-o!
See the toys I recommend, because I've tested them all.
Stop leaving pleasure on the table. Add, increment, and accelerate sensation during lovemaking with pleasure toys.
And if you haven't seen my G-Spot Toy Guide, here's the link. You will get an option to watch an explicit video showing HOW to use my recommended budget and luxury G-Spot pleasuring toys. Everyone has videos about the toys, but no-one except me shows you how to use them for maximum ease and pleasure.
Give Her Orgasms From Penetration
The #1 thing women struggle with is having an orgasm during intercourse without additional clitoral stimulation. And how long is a woman going to want penetration if she doesn't climax? About ten years for me. I was done with sex until I learned HOW to orgasm from intercourse. Penetration orgasms are a learned skill. ALL women can do it. She just needs certain conditions to be met. My free video series explains what needs to be in place for a woman to have multiple orgasms from intercourse without external clitoral stimulation or toys.
Last, As Long As She Wants You To
Whereas women struggle to come from intercourse, men struggle not to ejaculate too fast. A sad twist of fate that we have this "orgasm gap." However, my intercourse technique called, Thrust In Time is a sex position that helps him have stamina and gets her coming from penetration at the same time. This is an ancient Taoist sexual practice I updated for the 21st-century couple.
Thanks go to my friend Patrick James of Raw Dating, who interviewed me on his YouTube channel and asked me this question. Here's the full interview.