Late-To-The-Party writes, "I'm a 40-year-old virgin with a new boyfriend. How do I lose my virginity if I've never even managed to insert a tampon?"
Why it's best to take him with you on a tour of your lady parts. Here's how.
Get On The VIP List For Early Access To Our Steamy Sex Ed® Video Collection ⇐ Steamy, Hot, And Passionate Sex Techniques
You'll get one-day advanced notice before other people for a chance to purchase my Steamy Sex Ed® Video Collection before all our 60%-off sale copies are snatched up by lovers who want to add more hot, sex techniques to their skill set.
Hi, Susan.
I've enjoyed your emails for a while now, although they've mostly been theoretical for me. Maybe call it promising research? Anyway, thanks for the work you do!
I'm writing hoping you can help — I don't know where to turn (every GYN visit ever for me has been… pretty awful).
I'm in my early 40s and, the way life has gone, I have never had sex. I now have a sweet and adoring boyfriend who is so loving (and patient). We have tons of fun together, get along well, and enjoy an excellent, sensual, physical connection.
He knows my situation and, though surprised, has been very sweet about it. We've been creative. Still, I know penetration is essential for him (and I'd like to experience that, too!).
I'm pretty nervous about it, though (honestly, I've never even had success inserting a tampon!), especially given what seems (to my inexperienced self) like his _incredible_ girth.
I don't feel ready physically (and maybe not in other ways? I don't know how to know) and don't know how to get there. I'm generally in good shape and take care of myself — eat clean, adequate sleep, vitamins, exercise, etc. — although I feel pretty clueless in this department. You seem like you can help?
Grateful for any advice or suggestions,
Late to the party
Dear Late-To-The-Party,
Many older virgins feel very alone and unusual because people don't realize how many older virgins there are. It's quite common to be in your forties and not have had penetrative intercourse yet. So, the first thing I want you to know is that you are just fine, and losing your virginity is not only very easy but can and should be a delightfully memorable experience when you follow my advice.
I created a video called How To Lose Your Virginity. I suggest you and your partner watch it together and discuss what each of you noticed, what appealed, and what isn't necessary for you. Then be willing when it happens to just be in the moment, without goals. Use this video advice as ideas and guidelines.
Secondly, you and your boyfriend would learn so much about having pleasurable, loving sexuality if you watched our Steamy Sex Ed® Video Collection together.
This series of 8 videos and/or DVDs show you over 200+ lovemaking techniques. The more techniques you know, the more confident you are in the moment.
Watching relatable couples tastefully demonstrate sexual pleasuring ideas will get you off on an excellent sexual relationship. Don't let the blind-lead-the-blind, especially when making up for lost time.
We have a Valentine's Day sales event coming up. Usually, all eight videos of Steamy is $520, but during our pre-Valentine's Day promotion, you can score a copy of Steamy for $197 — payment options are available. Get on the notification list here to be informed of when the sale starts. We allocate 500 copies for sale, and you'll get first dibs at a copy when you're on this VIP list.
Get On The VIP List For Steamy Sex Ed® ⇐ Steamy, Hot, And Passionate Sex Techniques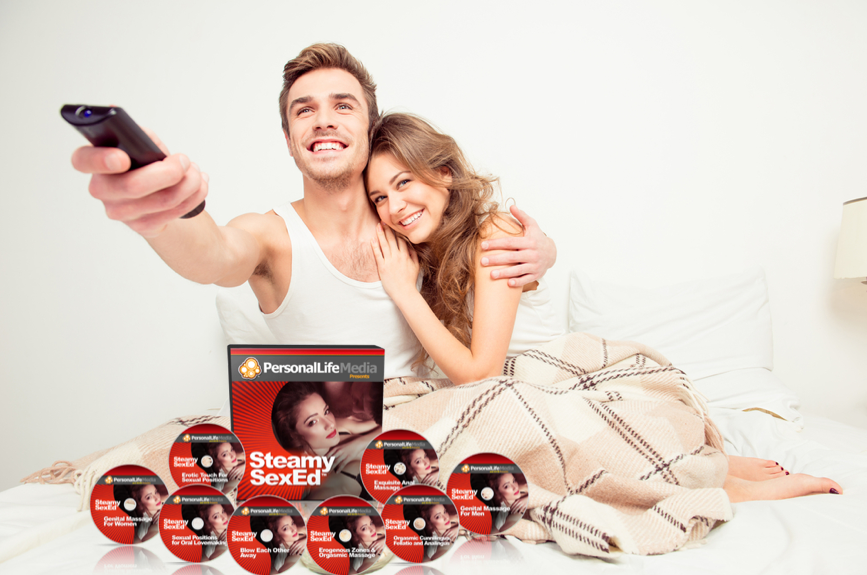 TOUR YOUR LADY PARTS TOGETHER
Finally, I'd recommend you get a mirror and flashlight and take a tour of your vulva. Have your boyfriend hold the mirror and flashlight. And together, find each part of your vulva.
Note: You'll locate the entrance to your vagina while doing this. That is where you will later insert a tampon at your time of the month. I suggest coating the tampon with some Kathy's Healing Lotion before inserting so it's smooth and glides in without stressing you out.
The mirror and lighting will help you get over the shame that we women (and many men) feel about our genitals. Doing it together will give him the map to your genitals so that he's more comfortable before your first time.
The first time you do this little exercise together, put on sweet music, make sure you feel comfortable, connect with your hearts, and look in each other's eyes before beginning. Have your partner put one hand on your heart and one cupping your genitals. Have him thank you for this intimate vulnerability. And thank him for doing this with you.
Identify each part. Have your partner touch each area as you locate it. (Make sure he washes his hands well first, and has trimmed his nails and used an emery board beforehand to file down any sharp edges on his nails.)
FIND YOUR:
Mons Pubis — the fatty tissue above your pubic hair
Outer Labia — the Labia Majora, covered by pubic hair along each side of your genital opening
Inner Labia — the smaller, inside lips, Labia Majora
Clitoral Hood — runs from the top where the labia meet and covers the clitoral tip and shaft.
Clitoral Shaft — you may not be able to feel much until you are aroused, but it is under the hood and goes from the tip into the body up toward the mons — it will feel like a little penis as you get more stimulation
Urethral Opening — this is where your pee comes out, find it and you'll see the spongy tissue that is the 2nd G-Spot surrounding the opening swell as you become aroused.
2nd G-Spot — the external G-Spot is the end of the urethral sponge that surrounds the urethral opening
Introitus — the opening of the vagina, which is a circular sphincter muscle
1st G-Spot — up inside the top of the opening of the vaginal canal, it pokes out as you get aroused
Fourchette — where the labia meet at the bottom of your vaginal opening
Perineum — the area between your fourchette and anus
Anus — below the genital area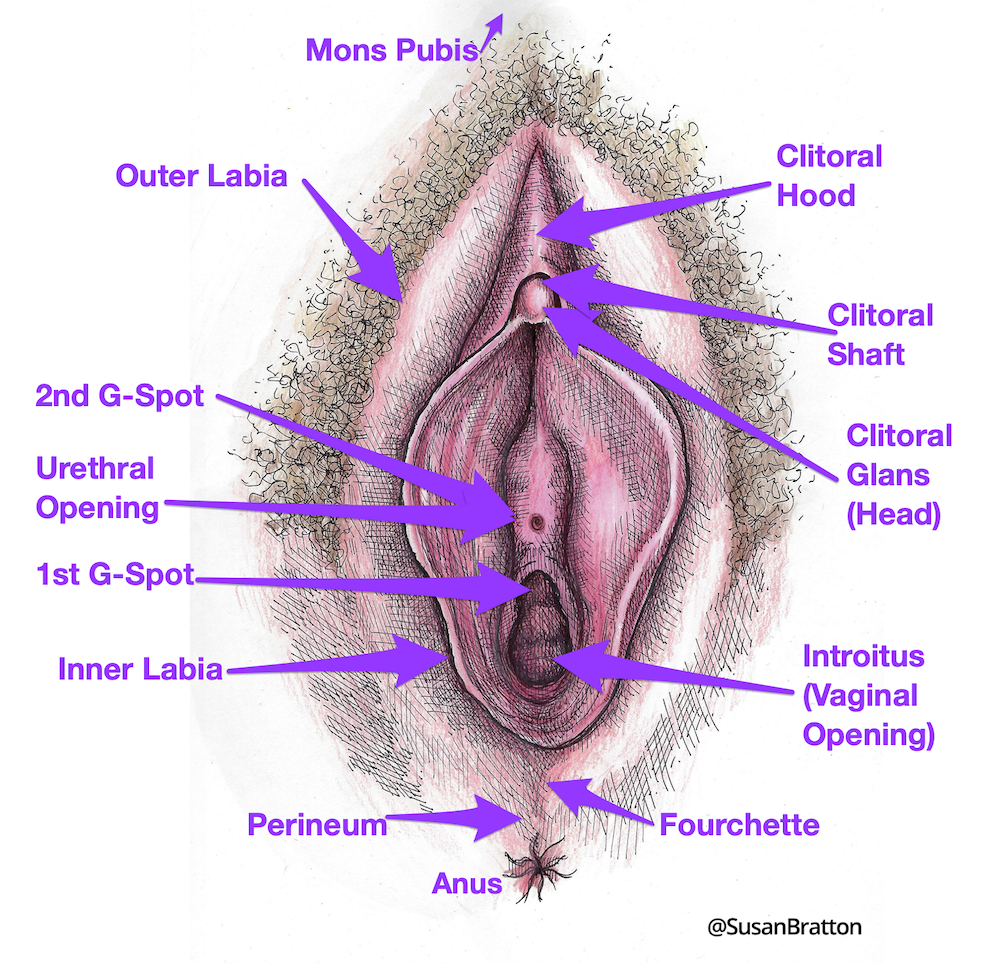 Your vagina can accommodate his penis easily, even if it's girthy. The marvelous skin stretches when it's well oiled and stimulated before penetration. Read my many articles on engorgement and genital massage. Take your time. Don't have him penetrate before you want him inside.
Have him spend a lot of time massaging, kneading, and touching all the parts of your genitals. At some point, you will want to invite him in.
You can also have your guy give you a tour of his penis, scrotum, and perineum. Use oil and rub it for your pleasure, without any goals.
Savor these sweet moments and move at a pace that feels right.
Let me know if you have any questions after watching the Virginity and Steamy videos.
Have a wonderful first time!