Here's a video I made about how you can train your man to become a better lover.
This is part of my series on Sexual Soulmates Strategies for women.
If you've been following me for a while now, you know men and women must train each other to become phenomenal in bed.
Nobody is born a fantastic lover. That's where Sexual Soulmates techniques come in.
It's perfect for lovers who want to put sexy training hats on and learn new ways of giving each other maximum pleasure.
Check Out My Video Here ⇐ Do This On Your Next Sexual Date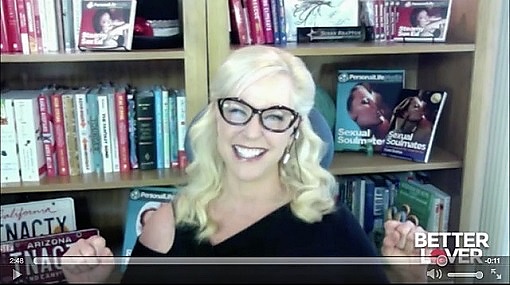 SEXUAL SOULMATES
Some of the concepts that will change your sex life forever include:
• The #1 rule of the sexual soulmate is "presence."
• How to set up your space to surrender to pleasure together.
• How to get anything cleared, physically or emotionally, before lovemaking.
• Why giving your partner lots of feedback so he knows he's doing a good job is vital.
• Ways to make a man feel like he's getting what he needs from sex.
• The importance of being held and holding each other… Allowing yourselves to syncopate your breathing and hearts.
• And why erotic playdates help you grow as lovers, and the sex keeps improving.
Sexual Soulmates Strategies For Women ⇐ Do This On Your Next Sexual Date
I also want to give you my NEW book, The Soulmate Embrace, for FREE.
It's all about the perfect way to hold your partner and create a personal loverspace.
Time slows down to a complete stop, and your relationship heals and grows with each passing second you hold each other this way.
Download The Soulmate Embrace Book For FREE Here ⇐ Easy And Simple Technique Melts Lovers In Each Other's Arms