Let's talk about Tribulus Terrestris.
It's the 2nd botanical we included in our DESIRE Libido Trio supplements.
This attractive herbal has been used in traditional medicine to help with various sexual health uses, including libido, arousal, lubrication, orgasm intensity, and blood flow to the genitals.
It works synergistically with our Nitric Oxide supplement, FLOW.
Its origin is from Ayurvedic medicine from ancient Indian civilizations and TCM Traditional Chinese Medicine.
Tribulus has also been shown to promote healthy blood glucose and blood pressure levels. It also may have a positive effect on those with anxiety and depression. Tribulus has also positively impacted pain, arthritis, inflammation, and autoimmune conditions.
We put a whole daily serving of Tribulus right in our excellent multivitamin and multi-mineral.

You can support your health, immune system, AND your sex drive at the same time.
DESIRE with Tribulus is part of a 90-day libido vitamin trio that can be cycled each quarter for maximum health and intimate vitality—made for mid-life couples to take together.
Click Here For The Desire Libido Trio ⇐ Daily Supplement For Overall Health.
TRIBULUS POWER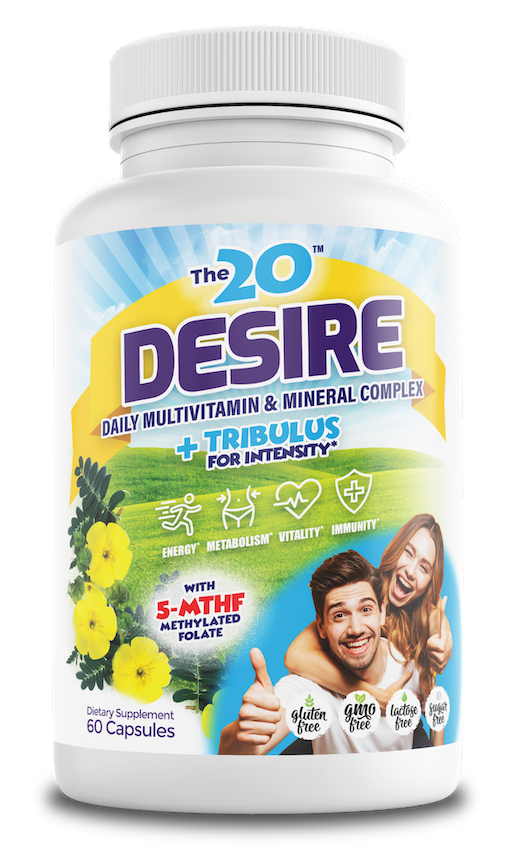 DESIRE with Tribulus contains 100% of recommended USDA vitamins and minerals.
From A—Zinc. Get 100% of the recommended daily allowance of vitamins and minerals with 300mg of Tribulus Terrestris for natural libido balancing. Tribulus is also used to help people with urinary problems, kidney stones, painful urination, psoriasis, kidney disorders, E.D., and more.
DESIRE with Tribulus has all the essentials with B-Complex featuring B1, B2, B3, B5, B6, B7, B9, and B12, and Vitamins A, C, D3, E, and K1, plus Iodine for thyroid support, Iron for red blood cells, and minerals including Boron for hormone management, Chromium, Copper, Magnesium, Manganese, Molybdenum, Selenium, and Zinc.
Click Here For The Desire Libido Trio ⇐ Daily Supplement For Overall Health.