How to cope with the current reality… by calming your heart and nervous system.
How are you doing today?
You have been on my mind. Actually, you have been in my heart.
Today I have four "Embodied Intimacy" techniques in this newsletter that you can use. Each has a Solo Tip if you don't currently have a partner.
4 EMBODIED INTIMACY SKILLS
It takes a concerted effort to cope with the intensity of the world right now.
Did you hear that new term… Doom-scrolling? Where you can't stop scrolling social media.
I've been doom-scrolling these last four months as I recover from coronavirus. I'm getting better… but it's very slow. Thanks to Tim, Sloane, Dr. Patti, Tallulah, Jim, our fantastic customer care, and the whole team here at PLM and The20. They've been keeping our company moving forward.
We have some new products in the works. We are formulating a new energy bar for libido and a new organic lube for you. It will be months before we have them, but we are always thinking about how to optimize your intimacy.
Right now, I can support you by giving you skills that will make your intimate connections more satisfying.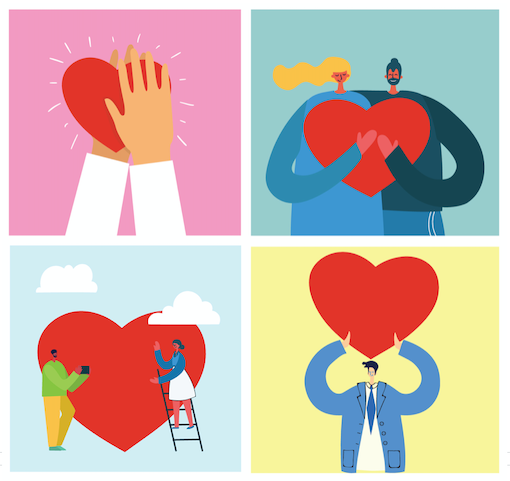 That is my gift to you today… Four ideas you can use.
With over 400,000 global readers of my newsletter, I have to think about what will help singles and couples experience a more pleasurable life.
✓ For example, one gentleman from India tells me he's going crazy from not being able to date and have sex. He's going to ask his neighbor lady if she wants to hook up during shelter-in-place.
✓Another couple I talked to is rekindling their intimacy after a decade of a sexless marriage. I'm cheering them on because I know it's more than possible.
✓Another gentleman proudly sent me pics of the progress he's making with The Whopper pump during the quarantine.
✓And I've been encouraging a 68-year-old woman to try online dating again after she gave up in frustration. Facebook's new AI (Artificial Intelligence technology) is going to take dating to a whole new level of discovery for people with similar interests.
If you're single or an open couple, now is the time to get chatting with folks online. There's not much pressure to meet in person right now. So take advantage of the space you have now to commune safely over video chat technology.
Here are my 6 Sexy Video Chat Games and Discussion Topics for Online Dating.
Now more than ever, it is time to CONNECT deeply with others. Collectively, we can support each other through challenges.
If you are lucky enough to have a partner, here are some techniques I highly recommend that are part of the Six Essentials To Connected Sex from my Sexual Soulmates book.
These are what I call "Embodied Intimacy" techniques.
Embodied means "of the body." These techniques leverage your senses: visual, touch, and limbic connection. They also calm your heart and nervous system.
Most of us need a more nurturing, heart-connected kind of intimacy right now. We need to experience each other's humanity. We need to tether our hearts, so we don't feel we are flying through time solo. We need to ground each other.
Here are four aspects of Embodied Intimacy you can practice. Each has a Solo Tip if you don't currently have a partner.
LOOK INTO EACH OTHER'S EYES
Your eyes truly are the windows to your soul.
Too often, we don't take a beat and actually look into each other's eyes. We live parallelly instead of in sync.
Some people are "eye shy." Others love to gaze into their lover's soul.
Solo Tip: Look into the mirror and take yourself in for a few minutes. Notice the essential YOU, who you have always been, and who you truly are. Look at yourself with love and appreciation for being alive and a loving person.
For couples, I'm not suggesting you sit on meditation pillows and practice eye-gazing, although if you do, it's a direct way to jack into each other's limbic brain. That's a bit much for most people, especially if one of you is eye-shy. I suggest you begin by looking at each other across the dinner table. Get present and truly LOOK at your partner. See them. Be seen.
Next, start playing with eye contact during intimacy. Look into each other's eyes as you're kissing. Another perfect time to lock eyes is at the moment of peak pleasure. The wondrous, soulful connection that occurs in the shared appreciation of your partner in pleasure is indescribable.
TOUCH FOR PASSION
Stroke your partner's face. Their eyelids. Their lips. The back of their neck.
Trace your fingers down their spine. Tiptoe your hands all over their bodies.
Let the movement between the two of you flow as if you are one being.
Hold each other's hands. Give each other melting hugs. Tickle and tease each other. Run your hands up and down your partner's body fully clothed just to awaken their pleasure. And give each other sensual god and goddess massages.
Solo Tip: Give yourself a head-to-toe skin enlivening. Use your hands, a soapy washcloth, a dry skin brush, or lather yourself with some organic avocado butter. Touching your skin all over will calm you down and make you feel good.
Dr. Patti teaches a divine technique called Touching For Rapture. Knowing this one-touch technique transforms your love to a whole new level of mutual satisfaction.
She gives away this technique in her three free pleasure reports.
Touching For Rapture ⇐ Do This To Transform Your Pleasure
SYNCOPATE INTO YOUR HEARTS
Knowing how to slow down and synchronize your heart rates not only expands the limbic bond between you, it also goes a long way toward reducing stress levels on an everyday basis.
Solo Tip: When you are nervous, you can improve your heart rate variability by placing one hand on your heart, one hand on your belly, and making a mental list of the things for which you're grateful.
In the same way, you can synchronize your heart rates and also coordinate your breathing. A tantric practice known as circular breathing is especially helpful for strengthening the bond between sexual soulmates.
You sit close together. In the case of partners where one has higher lung capacity, they breathe more shallowly while the smaller person breathes more deeply. Let's say it's a man and woman and he's bigger. He leads. He breathes her out-breath in, then she breathes his out-breath in. You create a loop of breath and syncopate your breathing. It's incredibly intimate and it focuses you on a single breath. Practice makes perfect.
In addition to the stress-reduction effects, breathing together has a powerful effect on your arousal. The more deeply you breathe into your loins, the more fire you'll feel.
MODULATE YOUR NERVOUS SYSTEM
I've found that being calm first allows me to tap into the fire of desire. That is true for many of us. Some people need to be aroused straight away, but most need to be calmed so that our desire can show up.
Connecting by looking into each other's eyes, connecting hearts and breath, and offering full body touch are all ways in which we co-regulate or self-soothe.
Being especially good to ourselves during this challenging time is vital!
Please email me if you use any or all of these four Embodiment Techniques.
Couples that try new things always have a more satisfying intimate life. Stretch yourself and try one or all of these skills.
And please don't miss the articles below. And there is an invitation to a LIVE YouTube and Facebook interview with me talking about The Feminine Libido. It's free to watch, and it's LIVE!