Been wanting to try the O Shot? PRP Facelift? PRP Hair Restoration? NAD IV's?
Dr. Robyn Benson, a sexual regenerative medicine doctor is having a 3-Day Women's Retreat called, The ART of Radical Self-Care for Women.
A.R.T. (amplify, regenerate, transform) Women's Retreat
Santa Fe March 19-21st, 2020
BREAKTHROUGH TO A NEW YOU!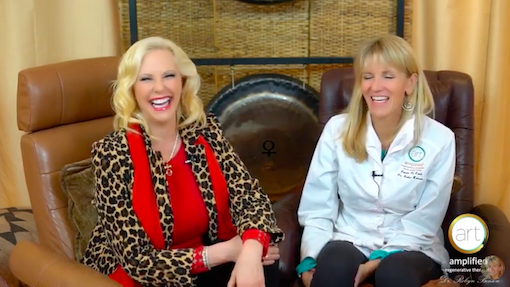 Here's what she has to say about her women's retreat:
The ART of Radical Self Care for Women is a comprehensive, spirited, life-changing retreat designed for women who are ready for a massive shift in their lives.
Your journey will begin with your own Personalized Regeneration Profile and then we will guide you into a way to understand the specifics of your unique body composition, deficiencies, and hormonal needs so you can travel down a lifelong healing path of rejuvenation.
We will offer a variety of ways you can embrace a younger more energetic YOU. Equally important, this retreat will unite you with people and experiences that uplift you to choose to make the rest of your life the best days of your life.
We know you've probably been taking care of EVERYONE around you, never finding the time to carve out for YOU!
Personalized nontoxic solutions to help you heal from the INSIDE OUT!
Focus on the chance to celebrate your body in a youthful, nurturing and regenerative way!
…drop years in just a few days?
Imagine your body's natural healing abilities working for you!
Unlock Additional Members Only Content
Please login or register for a Free Membership to view this content.
The ART of Radical Self Care for Women
Step into our ART LAB (Amplified Regenerative Therapies) at Santa Fe Soul, Center for Optimal Health. Learn about the power of regeneration as we empower you with a proactive lifestyle that renews, restores and revives all parts of who you are.
In this personalized, customized retreat, you will find out what has gotten in the way of your ability to feel and look even better.
For 30 years I have researched and discovered rejuvenation remedies from all corners of the world. My deep purpose continues to inspire me to showcase and demonstrate some of these well-known elixirs, youth therapies, and treatments that are all based on the results I have witnessed with my patients and backed with science.
It is time to take care of yourself!
You will spend time in a peaceful, healing, sacred and safe environment to work on identifying those 'things', big or small, that exhaust you, extinguished your spark, slow your body down, and make you feel energetically drained.
I realize this may not be for everyone, and because it is very comprehensive, I have purposefully limited this event to only 10 women. Our team will be making it extra special for those who are ready to breakthrough, to begin 2020 with the momentum and vision that can be implemented throughout the year, and into the future.
We have a screening process!
If you are interested in stopping those typical erosion patterns that so many of us go through (and heightened these past 2-3 years!), let's talk and decide if you are one of the 10 women ready to begin 2020 with a fresh start. Call my office to schedule a 15-minute call so I can learn about you and see if this retreat is exactly what you have been looking for.
Call Dara, my Office Manager, and schedule with me today!
Office Hours to call – M-F between 8 am – 5 pm MST at 505.474.8555.
Warmly,
Dr. Robyn Benson
ATTENTION ALL MEN:
My Exclusive Men's Regenerative Retreat will be announced for 2020 soon…
WATCH THIS VIDEO! <=how do you apply A.R.T. for Men's Sexual Rejuvenation?