Some guys may not like the idea of surrendering "control" at first, but after you open up the picture, it'll turn into his new erotic fantasy. Learn how to be a dominant woman in bed.
PROBLEM BEING DOMINANT
"I have a problem with being dominant in the bedroom with my husband. I trust him completely, and otherwise, our sex life is great. It is probably mostly a lack of knowledge about acting and what I should do. Anyway, I am open to any suggestions. Thank you so much, Susan." — Megan (not her real name)
Allow me to show you how an intelligent, sassy, classy woman can run the bedroom game and turn him into her love slave for the night.
Click Here To Check Out My Secrets ⇐ Be A Dominant Woman In Bed (Video + Book)
Sonja wrote to me recently that she didn't want a guy to dominate her in the bedroom.

She wanted to be the one in charge.
And she asked me to give her my advice about what to do.
I was so happy to oblige because it's a lot of guys' fantasy to sit back, relax, and focus on receiving erotic pleasure.
It's a different kind of steamy turn-on when you're the one being pampered and pleasured like royalty. And your guy will get a kick out of letting go of all of the control and letting you take over.
Men are sometimes focused on giving their lovers amazing orgasms to put their pleasure on the back burner.
So how about it? Would you like to turn the tables on your man tonight? Would you like to take on the dominant role and give your lover the experience of a lifetime?
Click Here To Check Out My Secrets ⇐ Be A Dominant Woman In Bed (Video + Book)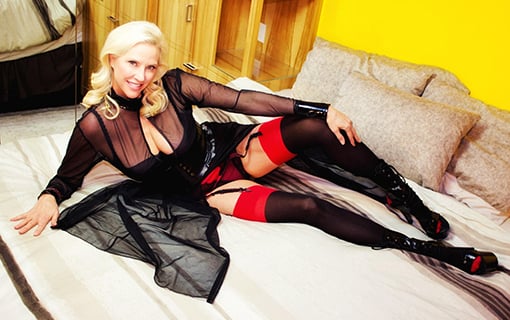 BE A DOMINANT WOMAN IN BED
You can also keep reading for my starter tips. Here are eight simple, sexy steps.
Talk about it with your lover.
Some guys may not like the idea of surrendering "control" at first, but after you open up the idea to him, it'll soon turn into his new erotic fantasy.
Guys LOVE it when you show initiative. It turns him on knowing you want super hot sex just as much as he does. He doesn't have to worry about rejection. And he feels very desired.
Deliver on your promise to dominate him.
He will fantasize about the experience when you let him know you're open to it.
His wild imaginations will linger in his horny little mind while he's at work, or when he's filling up the gas tank, and even when he's paying his taxes.
That's why you absolutely MUST follow through on your promise.
Tease early and tease long.
Start teasing him about it days or maybe even a week before the "big night."
Tease him with all the dirty and sexy things you're going to do to him. Make him fantasize about it even more. Call him at work and tease him. Leave sexy little notes that pop the fantasy back into his head.
Make him think about it all day long. Drive him wild.
This puts you in a dominant space as he can't help but feel aroused yet cannot experience immediate release and climax.
Ask him for what he wants.
Give him the little bit of freedom he has left before you completely dominate him in bed.
Maybe he has his little dominatrix fantasies he's been shy to share. Trust me. He'll have some. And be prepared to hear some kinky and crazy fascinations.
This puts his excitement and arousal on overload, but he must wait and be patient.
Then when the "big night" comes, YOU decide which of his desires and fantasies you'll give to him… and which you've been dreaming up on your own.
Click Here To Check Out My Secrets ⇐ Be A Dominant Woman In Bed (Video + Book)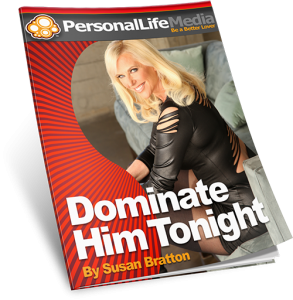 Dress super sexy for him.
If he's the kind of guy who likes to see you in sexy clothes, give him a show he'll never forget.
Please put on your sexiest outfit for him. Get him salivating for you even before you lay a finger on him. And since you'll be running the scenario, tell him…
No touching… YET!
You can even wear your regular clothes on top of your sexy lingerie and strip it all off piece by piece in front of him. Take it slow. Dance a little. Grind yourself against him so slowly you'll see him twitch with pleasure.
Set up everything in the bedroom for him.
This is your Loverspace. And since you're taking the lead this time, make sure he won't even have to think about preparing the scene for you.
You do it for him. Wash him in the shower or tie his wrists to the bedposts as you ready the lights, some candles, sexy music, organic lube, a pitcher of water, and anything you desire to create an erotic atmosphere.
Drown him in pleasure.
Take off his clothes for him. Tease his skin. Tickle him with your fingernails.
Don't hesitate to put your hands on his penis straight away. Guys love it when you go straight for his man-cannon.
Brush your breasts in his face a little bit. Shake your butt in front of him—the works.
You can have him lie down and orally pleasure you from underneath… or behind if you like.
Ride on top of him. Hold him down. Tell him all the things you're going to do to him. Then do it all to him.
Drive him almost to the edge of orgasmic pleasure, then stop when he's practically ready to explode. Hold still if you have to.
Take him near the edge and back. Again and again. Over and over. Until you're ready to give him his release at the very end, the constant skirting near the edge of climax makes his explosive orgasm extra pleasurable for him when you finally allow him to come.
You can even try giving him a prostate massage or use a men's vibrator if he's open to that kind of otherworldly experience.
At the very end of your sex date, when he's spent and drowned in pleasure, go and make him a delicious, filling sandwich.
Your man will LOVE to be fed after some intense lovemaking, which makes it the cherry on top. You've just worn him out completely, and you give him a small meal to help him recover. Poor little thing, hehe.
Then spend the next few minutes sharing favorite frames and experiences about the sex date to ground yourselves back down.
Being dominant in bed doesn't mean you have to go over-the-top with the kinky dominatrix antics… unless that's what you want.
The wonderful experience here is for your man to surrender to the pleasure you're giving him completely…
And for you to take control of your sex life.
Are you excited for your first time dominating your man in bed?
Email me back if you have any good tricks to share!
Click Here To Check Out My Secrets ⇐ Be A Dominant Woman In Bed (Video + Book)