NEW! Finger Vibrator Orgasms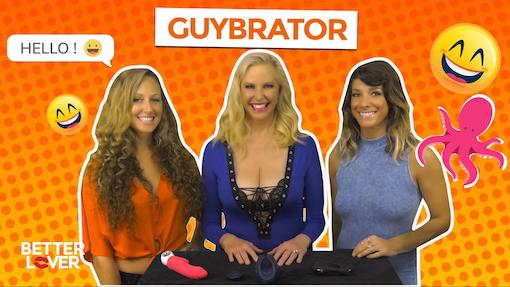 I've been doing a 30-day masturbation "challenge" while traveling in Europe. I'm about halfway through. Here are my results so far.
Why did I want to do a masturbation challenge?
Because I have noticed lately that my desire is lower than it's been. This is natural. We all go through cycles of higher and lower libido. But sex was feeling more like a chore than a need for me lately.
About the same time I was feeling this desire dip, HotOctopuss, the vibrator company that my friend April Lampert works for sent me their newest vibrator to try out.
If you haven't seen my Healthy Sex Toys for Couples Better Lover YouTube video series, you can watch this episode about the Hot Octopuss "Guybrators."
They make a double vibrating cock ring that pleasures him and her simultaneously. And they make a "ride on top" vibrator for men (great for guys with ED issues) where his woman can sit on top of the vibrator while his penis is inside it flaccid, semi hard or hard and they both get the orgasmic pleasure without the need of an erection. The Pulse is also a masturbation sleeve for penises. Have your lover use it on you while you relax and enjoy.
Unlock Additional Members Only Content
Please login or register for a Free Membership to view this content.
THE DIGIT
The DiGiT is an ergonomic finger vibrator. You can vibrate inside and outside your body because it's made of high quality silicone. It has five speeds and five vibrating modes. The buttons are easy to use. It's easy to charge. It's QUIET!!!!! And it will pleasure both male and female bodies equally well.
It slips easily between the penis and vulva during intercourse. If you're partnered with a man, it's great for buzzing his balls while he's riding you. And it has a deep, rumbly vibration.
Vibrating sensation can feel good all over your body including nipples, lips, ears, back of neck and behind the knees. When you're making love, bring the tingles to yourself and your partner all over and see how it increases your fun and pleasure together.
If you're still using a crappy little bullet vibrator DEFINITELY upgrade to this DiGiT. It's the perfect travel vibe as it's very small, discrete and yet strong.
The silicon finish feels wonderful with lube. It has plenty of deep, rumbly power for great orgasms. And I used it for 15 days straight to enliven my entire clitoral structure.
It took about a week of masturbating every day for me to notice that instead of starting from "flaccid," I'd have a bit of erectile tumescence before I even began.
We women have as much erectile tissue as men. But ours is buried inside behind our clitoris, under our labia and inside our vagina. It takes us women a while to get that erectile tissue filled with blood so that we have great orgasmic sensation.
Masturbating every day with this DiGiT has increased my overall desire, produced more natural lubrication and each time I used it, I had better and better orgasms.
Use it or lose it is a truism with regard to your desire and orgasmic function.
I told Tim he was invited to masturbate along side me every day. At first I felt a little inhibited masturbating next to him. We don't do that much.
When he'd get up to make coffee or take a shower, I'd stay in bed and masturbate. I preferred morning masturbation to evening. But as I got used to self-pleasuring in front of him, it became much easier.
One day I sat on a towel in front of a sunny window and let the DiGiT take me into about 5 great orgasms — that was one of my favorite moments. There's something about sunshine that makes me horny. Does sun make you horny too?
I also found that I could actually have a "quickie" with Tim. Normally I don't like them. Tim won't even do a quickie with me because I usually regret it. I need time to get engorged and really like a lot of vulva massage before intercourse.
Using the DiGiT on myself each day engorged my clitoral, urethral and perineal tissue to the point where I actually was ready for intercourse without all the usual warm up. I really liked that!
It's my personal recommendation for every woman that she consider having a number of great sex toys. Instead of that next pair of shoes, get one of these little DiGiTs. It slips in your purse. You can find some fun outdoor places to discretely masturbate. And you will find that you are more turned on generally and more ready for intercourse.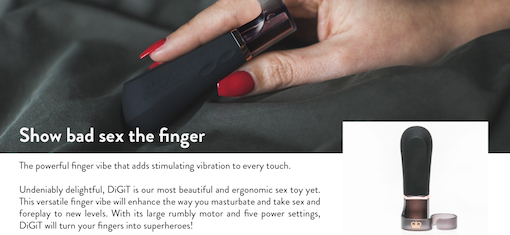 ENGORGE YOURSELF
If you do get the DiGiT and do a 30-day masturbation challenge of your own, let me know your experience.
If you're a guy, you may want to try the Pulse III male masturbation sleeve. Then you can do the 30-day masturbation challenge together.
If you don't have a partner now, act "as if" and get the Pulse III Duo so you manifest a lover to ride on top with you.
There are so many amazing sex toys out there. Don't buy Chinese novelty toys. They are made with toxic materials. Only get the brands I recommend. Trust me, I know all the dirty insider secrets about how sex toy companies cut corners. You DO NOT want to buy even some of the most "famous" brands.
You can trust Hot Octopuss brands. They make the Atom, the Pulse III and now the DiGit. They are great products, made of high-quality materials. The prices are excellent. And I know the company personally so if you ever have any issues you can let me know and I will help you.
Here are the links again:
Unlock Additional Members Only Content
Please login or register for a Free Membership to view this content.
⇐ Male Masturbation with Ride On Top for Your Lover
Remember to email me the results of your 30-day masturbation experience
I'm going to masturbate way, way, way, way WAY more now that I've done this.
One of my favorite things about sex is what Dr. Patti told me over a decade ago… Sex just keeps getting better your whole life long.
It's up to you.