Do you know what Touching for Rapture is? I have a free ebook with an erotic touch technique for you today.
"Touching for Rapture" is the way Dr. Patti begins to explain how a couple can experience ONEness during lovemaking.
You're simultaneously sharing a mutual sensation — both experiencing her side of the pleasure and your side of the pleasure. You're stroking; she's feeling the sensations caused by your stroking. Your next stroke is premeditated — designed even — to take her into more sensation and pleasure. But you are simultaneously touching her for your pleasure. (These roles can be reversed, obviously!)
She feels you feeling her. You're feeling her feeling you. You're both sharing in each other's pleasure.
That's what Touching For Rapture starts to create – the first step on the road to ONEness.
Click Here To Get Dr. Patti's FREE Report ⇐ Touch For Rapture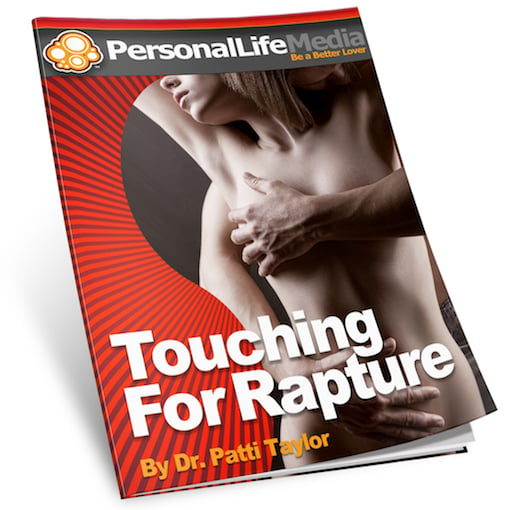 TOUCH THAT MELTS
The touch is first, then your bodies meeting after the Expanded Orgasm date if you segue into lovemaking.
You may have started by looking into each other's eyes, punctuated by moments of deep kissing. Then, you are inside her, and it feels like your bodies are one conjoined energy circuit. That moment when you are making love and connection in your humanity.
My friend Jamie says when she achieves this state with a lover, it feels like" the embodiment of the divinity" to her.
Most people would probably describe this feeling as PASSION.
In my mind, passion is more body-based. That sexual arousal and horniness-through-satisfied feeling range. It's WANT.
Energetic connection comes from opening all your awareness channels to your lover:
Your touch, breath, sight, smell, and sound… your senses open.
Your love, appreciation, history… your emotions open.
Your desire, arousal, turn-on, and willingness to feel how much you want this, your sexuality opens.
You open yourselves on many dimensions to each other. You witness each other's experience and enhance it by giving her what turns her on.
And trying new things you think might send her even higher.
You lead, she follows, in the polarity that makes her open like a flower. And her biofeedback navigates the way for you.
If you are introverted, shy, or inexperienced, this may seem overwhelming until you find your path together. Having this map, I've drawn for you will shine some light on where you two can learn to go together.
And if you are ahead of me on this path, I encourage you to write, share, and shine the light for me.
Because I am an eager pupil in the art of love. I have so much love to give.
Do you?
If so. Please do. Give Love.
Click Here To Get Dr. Patti's FREE Report ⇐ Touch For Rapture