Too many men either don't believe results are possible, or they've used an improperly-sized, cheap imported "novelty toy" that does not come with any instruction, instead of a pump without a proper gauge or release valve.
Then because men are run by testosterone — which gives them a false sense of security and a buffer to pain — they immediately start pumping it up as high as they can stand it, thinking that is going to achieve gains more quickly.
Most often, they pump daily, because they don't understand that pumping requires recovery. So they hurt themselves and quickly abandon the endeavor.
I wrote a complete guide on how to use Penis Pumps the right way, as well as the kind of pumps I personally recommend you to use.
I also included a Penis Pump Q&A which you can read below.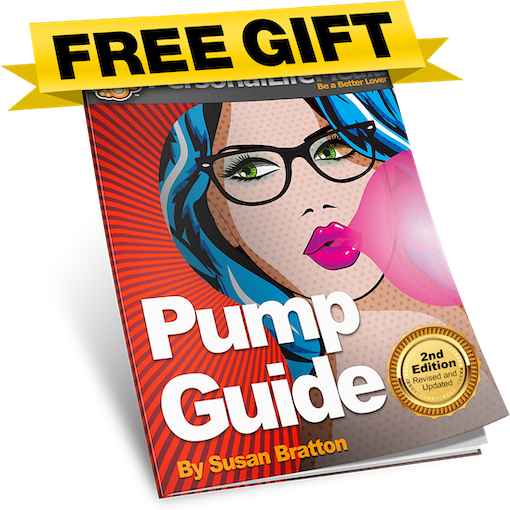 Check Out My FREE Pump Guide Here ⇐ Pumping Works When You Follow This Plan
What are the risks associated with penis pumps and how are they caused?
Pumping following safety guidelines results in excellent effect. When vacuum erection devices (aka "penis pumps") are misused, they can cause bruising, skin stretching and nerve damage that lowers sensation. Most men recover, but some are permanently scarred.
If somebody cannot afford a penis pump, are there items they can use at home that safely offer similar effects?
No. There is no reasonable approximation for a vacuum erection device. Proper pumps are medical devices. The VED is FDA approved for erectile dysfunction. Penis pumps can also enlarge penile dimension and increase blood-carrying capacity in the penis, resulting in a larger penis and firmer, harder erection.
Some men suggest jelquing as an alternative for penile enlargement. Jelquing is a manual stretching of the penile tissue. I do not recommend jelquing, as many men bruise, stretch or hurt their penis by jelquing too hard.
A quality pump is an investment in reversing erectile dysfunction, restore tissue that has atrophied due to lack of intimacy or illness and for penis enlargement.
Can somebody make a homemade DIY penis pump?
I strongly recommend against a DIY pump. I also strongly recommend against cheap Chinese novelty items. They are junk. Years of engineering have gone into high-quality, safe pumps.
Why do people use penis pumps?
For penis enlargement and reversing atrophy and for pulling blood into the penis if you have erectile dysfunction.
How does one properly use a penis pump?
Simply put, pump on a low vacuum pressure to start. Increase the vacuum over a series of weeks. Pump every other day. Rest and recover between pumping days.
For all the specifics and optimization of your pumping success, follow the pumping plan in my free Pump Guide.
What are your recommendations for best penis pumps on the market?
The ONLY ones I recommend are:
Unlock Additional Members Only Content
Please login or register for a Free Membership to view this content.
I stand behind them with my name because of the unique features, quality innovation, and customer care.
These pumps come with a warranty. This brand is a family-owned business helping men for over 25 years. They have telephone customer-support. You can buy the base pump and upgrade to larger cylinders if you're pumping for enlargement; no need to buy a whole new pump. They offer a low-cost plastic and a mid-range metal hand pump or the option of an automatic, hands-free electric pump. You also get the PumpSmart App to track your progress.
These pumps I recommend also have a head enlargement attachment, which many men use in addition to increasing their girth and length. Moreover, the pump cylinders come in sizes to accommodate a micro-penis to a very large penis so that a man can achieve a tight vacuum.
Further, the particular pump I recommend, which we've dubbed, "The Whopper," is designed to increase both girth as well as length. Most pumps increase only girth — the diameter around the penis.
The Whopper increases length because you put both your penis and testicles in the cylinder. The testicles are not harmed by pumping. Nor do the testicles enlarge from pumping. They benefit from increased blood flow. By putting the penis and scrotum in the cylinder, the vacuum pulls on the suspensory ligament, lengthening the penis without causing any damage to the ligament.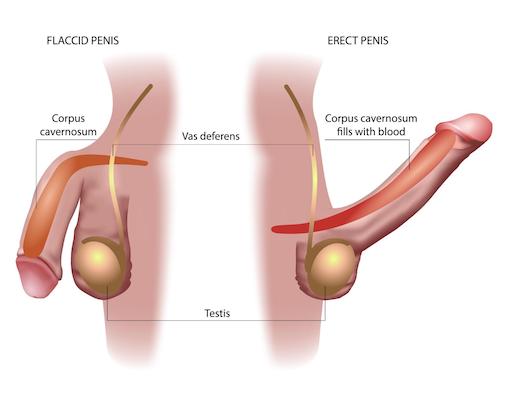 This is a picture of the Premium Whopper. It's an electric system for hands-free pumping. There is also a metal and a plastic low-cost version of the pump available. All the cylinders can be upgraded as you grow in size without having to purchase a new pump itself.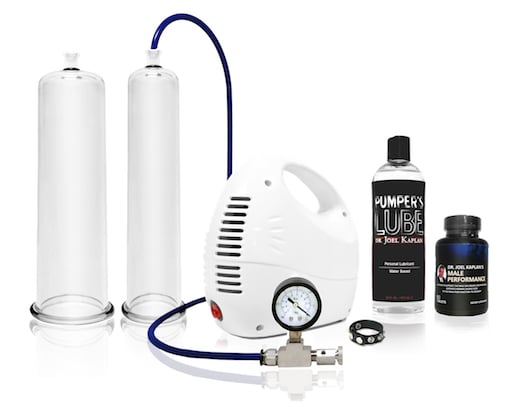 PREMIUM WHOPPER
When men get a surgical penis enlargement, one way the doctor does it is to cut the suspensory ligament. This cutting causes the penis to hang lower, but the man never again gets a hard-on that points out or up again.
Using The Whopper to lengthen the suspensory ligament over time gently allows him to enlarge his penis without losing the straight out or up erection of his penis.
There are two kinds of pumps. One has a flange at the base where it meets your body. That style of pump is for penis enlargement.
The second style pump does not have a flange to accommodate a constriction device (cock ring) sliding down over the pump and onto the base of the penis.
The man pumps blood into his penis and then traps that blood in with a well-fitting constriction ring, or adjustable lasso. He can maintain that erection for a half hour to have penetrative sex.
Venous leaks are the most common type of erectile dysfunction. A venous leak is where the blood can flow into the penis but then flows right back out due to aging or brittle endothelium smooth muscle tissue. The ED cylinder works exceptionally well for both venous leaks, where guys get a little bendy, as well as for difficulting achieving an erection.
Are penis pumps effective?
Wholeheartedly, yes! Penis pumps, when used correctly are impressively effective at both reversing certain types of erectile dysfunction and atrophy as well as increasing overall penile dimension.
The pumps I recommend suggest that the consistent user, following the penis enlargement pumping guidelines as outlined in my 'Pump Guide' may gain 1 to 3 inches in length, and up to 25% in girth as typical in most men.
There are men who have been pumping for years to get bigger and bigger. You can choose to pump the 13-week suggested program, or you can continue pumping to keep increasing size.
Gains are similar to body-building. When you build a bicep, you need to maintain the muscle with exercise. When you pump, you can get to a size you desire and then go into maintenance mode.
Penis pumps also feel good. The sucking of the vacuum is pleasurable.
Check Out My FREE Pump Guide Here ⇐ Pumping Works When You Follow This Plan