Lube makes sex better. You can go longer, feel more pleasure, and limit chafing. I only recommend
organic nut oils
as lubricants. All the manufactured lubes are just icky old chemicals that add to your body's toxic load. And if I wouldn't drink the lube, I wouldn't put it on my genitals.
A reader sent an email recently asking for advice on lubes I recommend. Check out his email and my response below.
Check Out All The Stuff I Love And Recommend⇐ Click Here For My Amazon Store
SLIP SLIDING AWAY
"Susan,

I have been big on using lubes in the past. After reading some things you have said on this subject, I would like to use only natural products and ones that feel great on her skin.

You recommended organic coconut or avocado oil. What other oils are good to use? What are the best ones to use? Which ones are better for the skin and feel the best? Can I buy the oil at any grocery store or where? Can I use these oil anywhere on the body or just some areas?"

— Chester (not his real name)
=========
Dear Chester,
Thank you for requesting specifics on healthy sexual lubrication.
Did you see the recent research about when our skin is dry, it causes higher inflammation in the body? Inflammation is the root of chronic disease. Keeping our skin moist makes us look and feel more youthful in addition to keeping the largest organ and a major detoxification pathway in good health. Especially as we age, the collagen in our skin begins to break down and is a cause of wrinkles.
Every day for the last month I've been alternating between Kathy's Healing Lotion, an all nature 100% organic lotion, and either the Health and Beauty Grade Non-Organic Hobe's Avocado Oil, Mother Nature's Essentials Organic Coconut Oil or Viva Organics Sweet Almond Oil morning and night. (links below)
In addition, Tim has been adding Organixx Collagen and Bone Broth to our morning smoothies. By regenerating moisture in my dermis — including my vulva — from the inside out and outside in, my skin is beginning to rebound and become more elastic and plump again. Organixx is clean-sourced from pasture-raised, organically fed, non-hormone cows in Argentina.
Unlock Additional Members Only Content
Please login or register for a Free Membership to view this content.
Here is a link to my Amazon store where all of these exact lubes I use and recommend can be found for your convenience. Believe me, I've tested MANY products to find the most emollient, highest quality, most absorbing, non-greasy, non-staining oils, and lotion.
Check Out My Amazon Store ⇐ Lubes, Oils, And More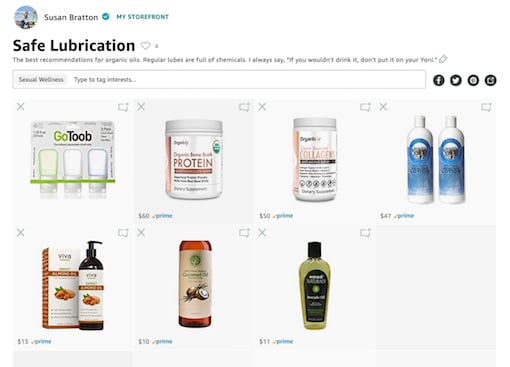 The avocado oil I have in my Amazon store is the thickest of the three. The coconut is the lightest. The sweet almond has a medium viscosity. The avocado oil I recommend is "health and beauty grade," but not organic. I am testing a new organic avocado oil source that may replace the Hobe as my preferred choice. But the glide on this oil is sublime for intercourse so I make an exception.
The sweet almond and coconut are both organic. The coconut is distilled so it stays liquid, as does the sweet almond. The sweet almond is a tiny bit more viscous. They are similar. I'm drawn more to the coconut personally as it's also anti-bacterial. The label on the coconut falls right off after your greasy hands have used it. Bad design, but Mother Nature's is the most lovely organic coconut oil I've tried and I've tried them all. Most coconut oil has little particles that get gummy when they react to the proteins in a woman's vaginal secretions. Mother Nature's oil hardly ever has that effect on me throughout my cycle.
Every woman likes different viscosities, so it's nice to try all three. Luckily they are reasonably priced, so you can test the full range. I also transfer the three oils into GooToobs for traveling and bedside use. The GooToobs delivers one perfect squirt of oil right into your palm. They are easy to hold even when you're elbows-deep in lube. Even better, these silicone squeeze bottles are BPA, PC, and Phthalate-free. These are 3-ounce travel containers so you can carry them through US security. And the GooToobs do not ever leak. This is our lube-to-go kit for hot hotel sex.
You can use these oils all over your bodies and just wipe off the excess when you give each other oral pleasure. As I always say, if you wouldn't put it in your mouth, don't put it in your genitals. Plus, starting out with a full-body oil massage is both divine foreplay and increases oxytocin right at the beginning of lovemaking.
Here Is The Link To All These Items ⇐ Click Here For My Amazon Store
Don't miss the inexpensive sparkly jewelry while you're there. It's nice to balance a romantic gift with a sexually-oriented gift when you surprise a woman. She feels equally adored and sexually desired. This helps her feel more aroused toward you.
If you need a waterproof sheet, the one I use is also in the store. We throw it on TOP of our bedding and then put a fitted sheet on top of the waterproof sheet. Then we just throw it right into the laundry basket and hop into bed when we're done.
The pubic grooming tools Tim and I use are also in the store. Keeping yourself manscaped increases her pleasure. Women say the #1 thing they want in a lover is good grooming, the #2 is emotional connection and presence.
You might want to throw one of those cheap mood-lighting bulbs in your cart. I love how the orange glow makes me look more beautiful, which increases my comfort with letting go and just enjoying myself in all kinds of positions.
My favorite vibrators are NOT on Amazon except for the Sex Swing and Stand. The Swing and Stand I recommend are on this video series with April and Amy and in my Amazon store.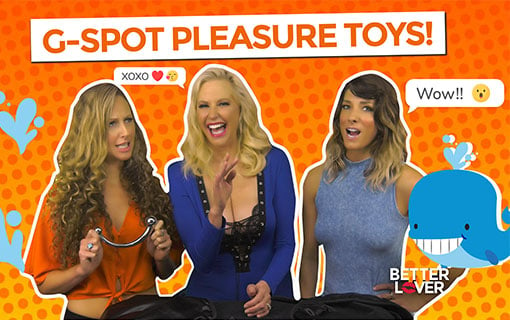 The links to all those toys featured in the video series are: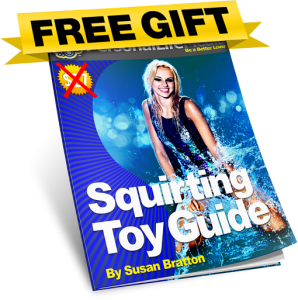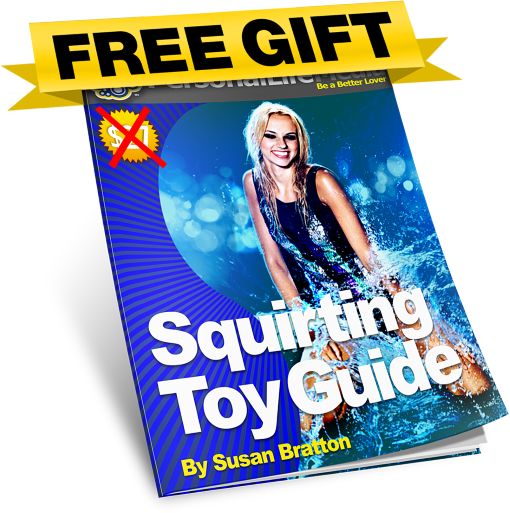 Squirting Toy Guide And How To Video: https://personallifemedia.com/g-spot-toy-special/
Unlock Additional Members Only Content
Please login or register for a Free Membership to view this content.
The nJoy Pure Wand is my favorite G-Spot pleasuring tool. Make sure you watch my G-Spot series with Serene Martinez while you're over at YouTube.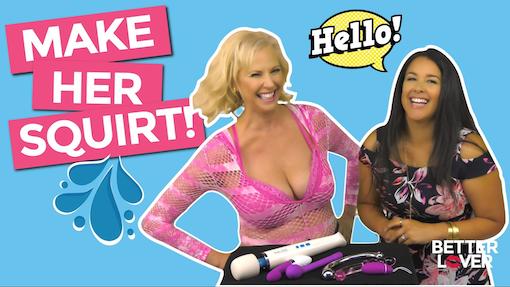 Thanks so much for taking great care of your woman. I can tell you are a wonderful lover by the detail you bring to important subjects like sexual lubrication.
If you have additional questions, just reply to this email. And when you try the lubes, let me know what you and your lady liked the best. As I said, her personal preference might differ from mine. "Different strokes for different folks."
Here Is The Link To All These Items ⇐ Click Here For My Amazon Store