If you're a man who wants bigger, harder, firmer erections more easily, there is nothing that I could recommend more than getting a
Unlock Additional Members Only Content
Please login or register for a Free Membership to view this content.
.
There are juices, pills, teas, creams, pumps, body-based stamina techniques, and of course… surgery.
But GAINSWave is different.
A GAINSWave treatment is an acoustic wave that breaks up the plaque inside your penile blood vessels while stimulating new tissue growth. When you have plaque built up, it stops you from getting massive and long-lasting erections. GAINSWave treatments can also help with "venous leak." This is the most common kind of ED… where you can get blood in, but you can't stay hard.
GAINSWave is perfectly safe and doesn't require any form of invasive procedure or surgery.
Here's a video I made about it.
Watch My YouTube Video Here ⇐ Why You Should Think About Getting GAINSWave Treatments
LIVING LARGE
Not only does it clean out the gunk in your junk, GAINSWave also causes your body to call on growth factors and stem cells to add more penile tissue and blood capacity.
And as we all know, better blood flow means better erections and stamina.
A friend of mine said…
"GAINSWave is like botox for men, except it gets the wrinkles out of your penis."
Check Out My GAINSWave Video Here ⇐ Think About Getting GAINSWave Treatments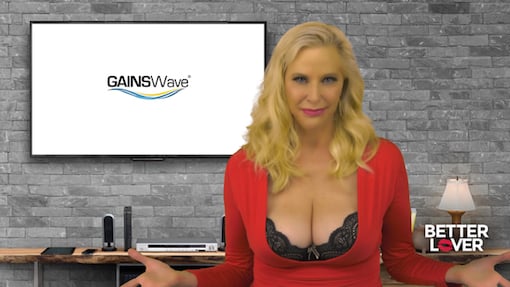 I also want to give you a special link that gives you a directory of trusted, licensed, and available GAINSWave treatment centers near your area.
In fact, I've even had Tim go through GAINSWave himself, and I couldn't be any more happy with the results.
Check Out The GAINSWave Directory Here ⇐ Link is Under The Description
Note: I want guys to know they can trust this treatment. Last week we had over 1,000 guys participate in our live Webinar. When great procedures are available, I want you to be the first to know.
Please, I need you to subscribe to my Better Lover YouTube Channel. It's free. You just sign up with your email. Subscribing signals to YouTube that my videos are valuable and helps me grow. I really appreciate it.


The links I mention in the video can be found under the video. Click "SHOW MORE" on the left on your computer. Or click the little TRIANGLE on the right on your phone and it will expand to show the links and transcript.  
Check Out GAINSWave Treatment Centers In Your Area ⇐ The Link is In The Description Below The Video