Hello Susan,

I recently joined the Personal Life Media site and have found many helpful articles in the few days I've been a member. I've been considering purchasing a Penis pump but I've seen so many different types and prices and I'm concerned about which ONE is a good product that actually will help me. I see you endorse a specific penis pump system and I'm definitely leaning towards that pump since I've read your articles and info about that particular pump.
Hi Peter,
Thanks for writing. You asked a lot of great questions.
Unlock Additional Members Only Content
Please login or register for a Free Membership to view this content.
are the ONLY brand I recommend for a number of reasons including:
Quality of construction and warranty
Cylinders can be added as your penis grows
They answer phones to support their customers
Doctors use this brand
The Whopper is the only pump designed to increase girth AND LENGTH
Family business run by people who truly care
I do have a couple of questions though regarding pumping. I'm 65 years old and in the past few years my penis has definitely shrunk somewhat. I'm guessing that could come from not using it like I used too and age.
This is called penile atrophy. It happens to everyone as we age and when you don't have frequent intercourse and fellatio. Pumping will help reverse this atrophy considerably. It's one of the main benefits of pumping!
My question is, my penis in a flaccid state is smaller, probably about 2 inches.
What is your penis side erect? If it's under 2″ erect, you can get the small 1.75″ cylinder — just click the add to cart button. Then click the item description. Then click the drop down menu and change the cylinder sizes to 1.75″ and 3″. See images below to guide you.
But if your penis over 4" erect, the standard set of two cylinders that come with The Whopper will work perfectly for you.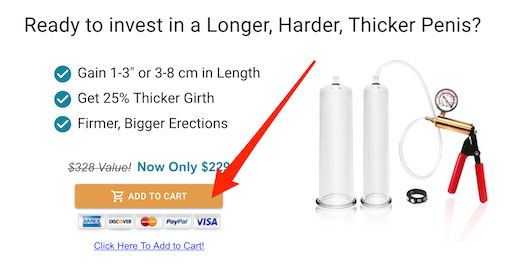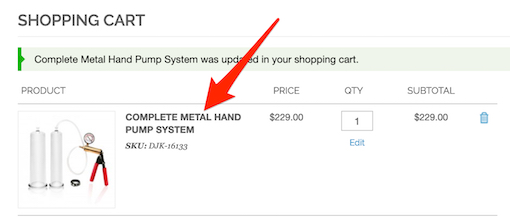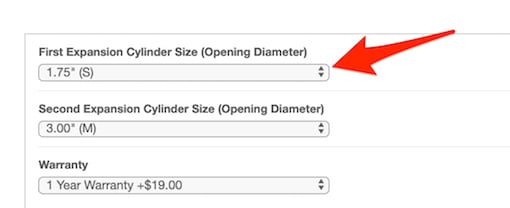 The sleeve at the base of the pump will I be able to get enough of my penis thru the sleeve and into the cylinder so I can get the proper pump I need for results.
There is no sleeve required for these cylinders. Sleeves are for poorly fitting devices. Sleeves block blood flow. The whole idea of pumping is to increase blood flow and blood carrying capacity. The Whopper fits around the base of your penis and scrotum. You put the whole package in their flaccid and then pump.
I suppose once I pump for a few months my penis will increase in length when its flaccid.
The length of your penis when flaccid may increase from pumping, but the idea is to increase the overall dimensions when erect. This is where you'll notice the majority of the gains.
Even men with 8, 9 and 10" penises look small when flaccid. Flaccid size is of no consequence. Read more about flaccid versus erect in my free report called, Pump Guide.
The other question is, should I have an erection when I start the pumping process? I ask that because I do have some erection problems and I know that's probably from age plus I take a few prescription drugs and my doctor told me that she was sure the drugs weren't being kind to my erections.
Pump flaccid. Pump up your penis in the cylinder and hold it for 10 minutes. Deflate. Massage to erection if possible. Pump up and hold again. Follow the directions in my pump guide EXACTLY as I outline them. Do not deviate from my recommendation or you may hurt yourself, not get the gains you want and waste your time.
Prescription medications can definitely impact erectile performance. I'd love to see you reverse any symptoms for which you're taking medications by working systemically on your nutrition and exercise.
For example, blood pressure medication and diabetes medications impact erections. BOTH are symptoms of poor nutrition and lack of exercise, not diseases.
There are supplements on The Whopper page that you can add to increase erectile performance. I suggest you take them along with the pump. They increase blood flow and recovery time.
This is a major reason I've been considering a pump, in fact the doctor even suggested it. I want the pump for helping with ED plus hoping to increase the length and girth of my penis. Most times now I use a cock ring to get hard and stay fairly hard.
You can use The Whopper to pump up before intercourse and then use the constriction device to trap the blood in. The ED cylinder does not have a flange, but The Whopper does. If you use The Whopper to get erect before sex, use the adjustable lasso. It will easily slide over the flange to the base of your penis to trap the blood for 30 minutes. Be careful not to over tighten. You can damage your penile tissue constricting too tightly. That's why I love this lasso.

Unlock Additional Members Only Content
Please login or register for a Free Membership to view this content.
I've read about the Gainswave and the P Shot and I'd definitely consider those but the budget won't support those options at the time, maybe down the road.
You can add the GAINSWave acoustic healing treatments anytime.
Unlock Additional Members Only Content
Please login or register for a Free Membership to view this content.
Start pumping now. Try and get off of your pharmaceuticals through exercise and nutrition. Save up for the GAINSWave in a year when you're healthier. Set yourself a goal.
There is also a new app that comes with the pump where you can track your gains.
So I guess I'm asking your opinion on whether you feel it would be beneficial to spend the money for a good pump and do you think I'd get results?
A cheap pump is a waste of money. You can get the regular Metal Hand Pump System or the
Unlock Additional Members Only Content
Please login or register for a Free Membership to view this content.
with the electric pump and stick to it for at least 13-weeks, you'll see a world of difference.
You can also use this during foreplay and include your partner. It's fun for her to see you grow!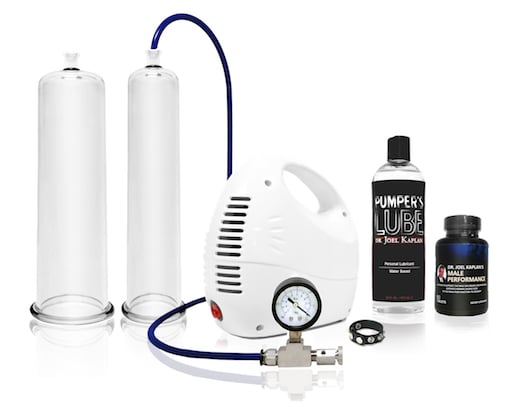 You can keep pumping for as long as you'd like. And you can pump anytime before sex. But read my Pumping Guide regarding ejaculation and pumping before proceeding.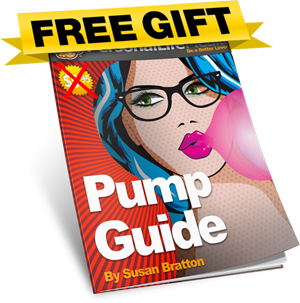 Any suggestions you have Susan would be deeply appreciated. I'm not dead yet, LOL and I'd like to be able to perform sexually for a few more years anyway.
With this pumping strategy, you can have great sex for the rest of your life.
And I'm hoping I can get some length and girth back using a product like this.
You will regain lost tissue from pumping.
I know I'm not going to get like I was in my younger years with above average length and girth but anything would help.
Think positively and keep pumping! The body is amazing at healing.
Thank you very much for your time, I hope you actually get my email because I need the opinion of a professional.

Respectfully,

Peter
Lancaster, Pa.

P.S. I think I'm from the same area you grew up in, been here all my life.
I'm from Kennett Square. But my Dad and Step Mom live in Lancaster now. It's so beautiful there!
NOTE: Due to some items being discontinued and other new items becoming available, these are the tools Susan recommends now. If you see a tool in a video or article but do not see it linked, most likely it is no longer available. All of the tools here are current and recommended. Thank you for taking care of your prostate health.