My gosh! These videos on penis enlargement techniques have been popular! I've become a major advocate for men to have the package they desire. There ARE things you can do to increase your size — both girth and length — and overall firmness and ability to get hard, go soft, and get hard again.
Your penis is more than just a tool for lovemaking.
A solid man-hammer makes you feel powerful, dominant, confident, and in control. And if you know how to use it, it becomes all the more effective.
And there's no denying the sheer impact of a solid unit in the bedroom. This is why I'm giving you my entire video playlist on Penis Enlargement.
Watch All My Man-Cannon Boosting Videos Here ⇐ Bigger, Harder, Stronger
STRONG AND POWERFUL
Here are some of the videos you'll find on my Penis Enlargement Playlist:
How To Make Your Penis Bigger
5 More Ways To Make Your Penis Bigger
Blow And Grow Penis Growth Blowjob Technique
How To Measure Your Penis Size
How To Use A Penis Pump
Do Penis Pumps Make Your Penis Bigger?
How To Choose A Penis Pump
Do Penis Pumps Work For ED?
Best Lube For Penis Pumps
P-Shot And Penis Pumps
And more!
You will love each of these fun videos. Go watch them, take lots of notes, and put them to good use.
Click Here To Watch My Penis Enlargement Playlist ⇐ Bigger, Stronger, Harder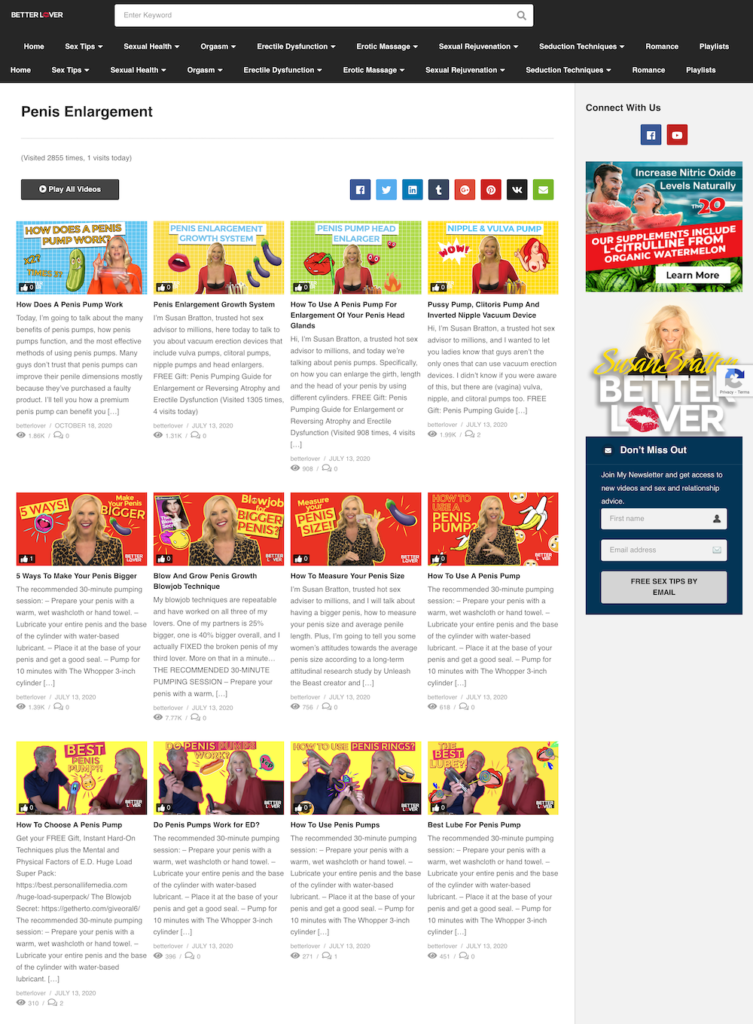 PENIS ENLARGEMENT VIDEOS
I also want to give you my FREE book called, Pump Guide. Almost 30,000 men have downloaded this book. And more than 3,000 men are now using a pump for enlargement due to this tutorial.
You'll discover how to accurately use a penis pump to maximize harder, longer-lasting, lengthier and thicker erections safely, in the least amount of time — with permanent gains.
Anyone of any age can pump. You can pump to reverse softness, make your penis bigger, and simply get a rock-hard erection like a young man.
Unlock Additional Members Only Content
Please login or register for a Free Membership to view this content.
Click Here For The Download ⇐ Susan Bratton's FREE Pump Guide
The Whopper Is On SALE ⇐ Click Here For 1-3" Increase In Length, 25% Thicker Girth, And BIGGER Erections. (Paypal Credit Available)
I highly recommend taking my Nitric Oxide supplement BEFORE pumping.
Get Up To 33% OFF On FLOW Here ⇐ 3 Bottles Every 3 Months Option (For All Customers Worldwide)
I highly recommend taking my vitamin mineral complex daily while doing penis enlargement activities. You need the minerals for freeing testosterone which helps with penis growth.
Click Here For The Libido Trio ⇐ Complete Multivitamin Multimineral Supplement With Libido-Boosting Superherbs