Charles writes: "Hey there! I am loving your content right now, but there is a reoccurring thing, TMJ, that my girlfriend has issues with. I'm naturally pretty lengthy and girthy. And she always talks about jaw pain. Is there any way around this? Thanks!."
Here's the perfect workaround for a lover with jaw pain who WANTS to go down on a man….
It's a little known fact that the jaw muscle is one of the strongest muscles in the human body.
According to one of my favorite yoga teachers, relaxing your jaw signals the entire body to "let go." Now that's what I call a powerful mind-body hack!
But people with TMJ are essentially unable to relax their jaw. Their teeth are pretty much permanently clenched. And that can make giving a blowjob a real pain in the neck. Literally!
Not to worry… !
HOW TO GIVE A BJ IF YOU HAVE TMJ! ← Watch now (PROBLEM SOLVED!)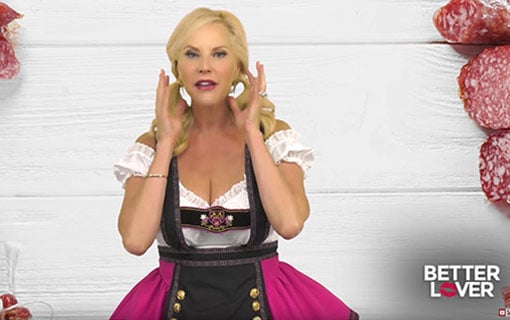 I am, as always, all about giving you workarounds to those sexual concerns that become stops for most people.
You really can have your FULL MEASURE OF PLEASURE.
To my way of thinking, having a great sex life falls into the "no matter what" category. It's a special category reserved for those essentials that make for a fulfilling life, regardless of your age or socio-economic status.
The best things in life really are FREE. And for guys, feeling confident about the size of their tool is right up there with having a lover who LOVES giving head.
So be sure to watch all the videos on these two playlists on my BETTER LOVER youtube channel:
GROW YOUR PENIS and BLOW JOB EXPERTISE.
BLOW JOB AFFICIANANDOS UNITE! ← Watch now (Your man will love you for it!)
Sexuality is a fascinating topic and there is always more to discover. That's the WHY behind my Better Lover YouTube Channel. Subscribe here today. You can always develop more sexual skills and learn to be a better communicator. Your intimate life is worth the investment of your time. Enjoy the unlimited pleasure that's your birthright as a human being. Subscribe today! It's totally free. You won't get an avalanche of emails, just a notification in your Youtube account when I release a new video once a week.