Woman who want more sex from their partner click here.
If you want your wife or girlfriend to want more sex with you, read on.
I lovingly created, "Revive Her Drive," out of my own personal marital struggles with Tim (my hubby of 25 years). After about 5 years we were like friends —cohabiting, raising our daughter —but we'd lost our sexual intimacy.
Sex had become mechanical. Sporadic.
In retrospect, I was dying for touch, connection, sensual joy and my man's PRESENCE.
But somehow, over time, I had turned a cold shoulder to him.
I got bored.
Same-o, same-o. Needed spicing up but we didn't realize it and we simply drifted apart sexually.
We were both miserable but it didn't register for ME that it was because we'd stopped having juicy sex.
Tim knew.
But he withdrew, after trying quite a few things that just didn't get me going again.
It's embarrassing to admit all this.
But I am motivated to share my experience, because I know that the large majority of my married friends (or friends who live together for more than a few years) are secretly miserable. Whether they know it or not, they are dying a little inside every day because they are not getting the intimacy and the raw sexuality that, as humans, we all deserve.
Tim and I knew we couldn't do any better than each other as far as spouses. All we could do was divorce and trade each other in for a "fresh model."
We wanted to get inside, underneath, to dissect what happened to our sex life. And fix it, if possible.
Why didn't it get better and better the longer we were together? Doesn't practice make perfect?
He wanted to leave me because he was essentially in a sexless marriage. I wanted him to leave because he was checked out of the relationship.
It was a circuitous FAIL from hell situation.
But Tim and I are of the mindset that we can design our lives. That we are, in large part, in control of what happens and how we react to opposition and opportunity.
We got honest, brutally honest, with each other.
Raw honesty.
Truthiness.
WHEN is the time to come clean with your partner? When you have EVERYTHING TO LOSE.
We didn't want to sell our house, break up our marriage, split up our crap, destroy our daughter's childhood, cleave our family apart… but we were miserable.
So, instead, we took matters into our own hands. We tried two therapists. We healed some of my past trauma that was preventing me from being fully present during our lovemaking. And we took sex classes.
We went to a Tantra class. We learned the incredible practice of Expanded Orgasm from Dr. Patti Taylor. We participated in multiple levels of the Human Awareness Institute's "Love, Sex and Intimacy" program.
It was REALLY HARD for me to go to these workshops. I'd have a meltdown right before every one. Even though when I left, I felt better than ever.
We did Tony Robbins' series, the best of which was Date With Destiny, which helped us honestly express to each other what we really wanted out of a marriage.
It was different for both of us. Tim wanted passion and I wanted security as our top needs. (I created a workbook called Relationship Values™ and put it in Revive Her Drive for you so you can easily figure out your Relationship Values with each other.)
Through all the things we learned about each other during this process, we started to understand and support each other in a way we'd been simply too ignorant to know in the first 11 years we were together.
Sometimes you have to hit bottom. That's where the phone with the wake up call is located, right?
The good news is, we've been going strong for the last fifteen years since our "revival," having ever juicier sex and becoming so deeply connected to each other in a soul-satisfying way that it's made me happier than I've ever, ever been in my whole life.
Tim too.
Happy. Satisfied. More creative. More grounded. He's just GOOD. (being well "sexed up" will do that for a guy, ya' know?)
When our friends saw our transformation, they were impressed, to say the least.
Jealous too.
"I want what you guys have!"
"You two are the model for the kind of relationship I want."
"What's your secret ?????"
It was simple. We worked on having good sex together. Through trial, education and honesty.
We worked on my resistance issues… I thought sex was pretty boring, so we spiced it up. We put a lot of effort into arousal and engorgement, by practicing Expanded Orgasm (we now sell a couples program called Expand Her Orgasm Tonight because it had such a powerful effect on making our sex feel so good together.) I dealt with some abuse from my childhood that had always driven a wedge between me and sexual abandon. I put a lot of energy into increasing my sexual skills and knowledge.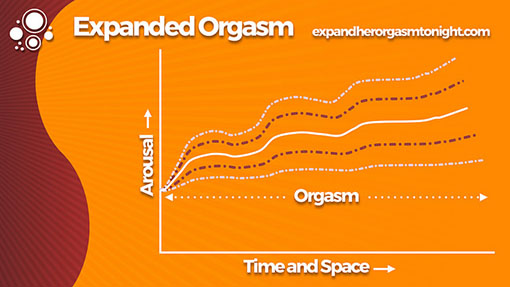 He worked on his masculinity within our relationship. If you know us, I'm a steamroller and he's Mr. Easy Going. With a powerful wife on his hands, Tim had to learn how to be dominant in the bedroom. Sexual leadership is impossible for a guy if his woman controls the sex. I let go. He took up the mantle.
He also honed his sexual skill set, his seduction techniques, his Expanded Orgasm stroking mastery and our energetic, intimate mental connection.
We "did the work."
And saw the results.
When I think back to how we used to make love (stiff and quick) and what our relationship was like then (feeling separate, almost abandoned in our own marriage) versus NOW that we have skills and honesty that keep our connection burning like a bright, oxygenated fire, not a flickering flame, a dying ember or tiny spark.
Life just feels easier, richer, more gratifying.
The work we're doing together and our marriage together are rewarding.
We have ease together.
It's
F
U
N
!
I wanted to bottle up our solution and say, "Drink me!" to all my married friends.
If we can do it, you can do it too. You can have what we have.
That's when I got on this idea of putting my money where my mouth was.
I'd create a step-by-step revival program for my friends and customers.
But I'm not a therapist. And you'd have to have thousands of dollars and a lot of time to go to all the workshops we attended in our return to sexy love.
So I decided to create a program where I'd get the best advice from my favorite experts and package it up into a step-by-step revival program anyone could follow.
I focused on men. They feel the lack of sex more than women. They are more motivated to fix this problem. Biology dictates that the longer woman goes without sex, the less she cares. Yet the longer a man goes, the more it bothers him. (typically, not absolutely)
I conducted nearly 50 intimate interviews with men.
I fielded over 600 online surveys.
I read nearly 50 books on love, sex, seduction and intimacy in relationship.
And I chose the dozen specialists I believed had a diversity of approaches and advice for creating a systematized plan any man could use with any woman who filled the following criteria:
⇒ You are healthy (no major mental or physical disorders that would require a medical professional).
⇒ You did, at one time, have a good sex life.
⇒ You don't want to cheat or divorce, you want to have great sex and intimacy with the woman you have NOW.
⇒ You are willing to agree that it is not YOUR fault, not HER fault and can let go of any resentment, frustration, anger, blame –lose any negative resistance and move toward a solution.
⇒ You are self-determined. Willing to learn a solution and try it.
And I wanted to create the turn-around plan in a way that a guy could start DOING and BEING a different way in the relationship to move her toward her sexuality, even without telling her he was doing it.
Sometimes it's easier to get a little positive momentum, some good results, before you bring up the painful issues of a sexless or sex-lite problem.
Who wants to go poking that hornet's nest unless you have to?
With Revive Her Drive, you can turn-around your sex life without any conversation! (My goal is for her to one day just start desiring you again sexually.)
The positive female psychology seduction strategies are things you just do. And she responds.
So I made sure there was a Stealth Turn-Around option so more men would try the program.
And when I interviewed my dozen experts, I distilled their advice into clusters and saw the pattern…
There are Four Elements of Revival.
Polarity –the guy needs to lead so she can surrender to his sexual vision (that may sound sexist, and it's NOT, as you'll see).
Overcoming Resistance –why is she holding back? There are nine typical reasons and sometimes she has multiple reasons that change from day to day. So we teach you how to defeat these demons.
Seduction Techniques Built on Positive Female Psychology –the stuff you guys try backfires. I show you what women respond to.
Advanced Sexual Mastery Skills –women need variety and trust to hand over their nervous system to you. Want more sex? Become an erotic genius by knowing the most important concepts that help her feel delicious and have plenty of orgasms so she'll want you again and again.
Then I assessed all the research and in-person interviews and realized there are four common scenarios that happen in relationships that blow up the sex.
So I applied these Four Elements of Revival to fixing those four unique situations.
And I'm sure you're thinking right now that your situation is worse, or totally unique, or not like the others.
Well, darling. Trust me. I think I gotcha close enough here that you can find your way back with this plan. Hell, I don't care. Just cherry pick stuff outta the product and give it a shot.
That's going to be more efficacious than what you're doing now.
You are in control. Not I.
You decide to take action. You decide to trust me. You decide that your sex life, your intimate world, your relationship could be waaaaaay better and make your move.
You may prefer to go see a marriage counselor.
Or try a heart-to-heart with your lady and figure it out together.
Or you could give Revive Her Drive a chance.
I know you will gain valuable insights, impressive wisdom and sexy nuggets to use.
And I know that if you listen to the interviews you'll feel:
less alone
more positive
more hopeful
more knowledgeable
Inspired.
Alex Allman's riff on lifelong passion may bring you to tears and it will move you.
Sheri Winston's giggling soliloquy on erectile tissue and 'loving the Yoni you have' is a priceless reminder that we are just silly creatures making the most of our time on earth and we'd better go for it.
Destin Gerek's moan track is singularly and humorously unique. He teaches us how to make noise during sex that sounds so macho and hot if you only did THAT she'd probably want sex with you every night.
So much of what we captured here brings the zest and fun back into a situation that oftentimes is filled only with exasperation.
I notice that a lot of single men buy our advanced sexual mastery programs in preparation for the hot woman they seek. They want to be amazing lovers whenever they get the chance.
I wonder if married guys will take Revive Her Drive just to enhance their seductive skills in a relationship where the sex is already good? I bet so, because I could have just as easily positioned the product toward getting MORE sex, instead of getting SOME better sex.
But I told you, my mission is to help other couples get to where we are now, with a plan they can follow, instead of feeling their way through the dark by themselves, wondering if they are doing the right things, guessing at next steps, not understanding the macro-concept of how to revive a flagging sexual relationship.
Phew.
That's my story.
And my vision for you is that you will buy Revive Her Drive. You'll listen to the fascinating, motivational, educational interviews with my dozen specialists answering the question, "What can a man do to restore his sex life, even take it to new levels of pleasure and connection when it's gone downhill over time and she doesn't seem interested, even shuts him down?"
Send me an email if you have any questions about the product or about how it works or how it can work for you.
And if you are reading this, thank you. I know it took a few minutes to get here and I'm appreciative of your time and consideration.
If I can help you, will you please give me the honor of allowing me to support you?