Arousal master plan.
If you did all five of these free sex techniques in one single sex date here's the order I'd go in: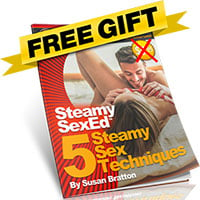 First I would do one of the 8 playful bedroom adventures to get the juices flowing.
Next I'd have my guy give me the breast massage. Nipple play always gets my Yoni warmed up.
Then I'd do the 4-step butterfly warm up while he rubbed his hands all over my body and I kinda writhed around on top of him. He could definitely still be playing with my breasts or even helping me with the butterfly warm ups. They are so sexy. Him just watching me do them is going to make him like a mad man, wild-eyed with passion and pawing to get at me.
I'd make out with him next and then do the Sweet Spot oral sex position as soon as my Yoni was aching for his mouth.
Then I'd go down on him because turn about is fair play.
And finally, when he's plunging inside me, making me thrash from side to side, moaning in pleasure I'd do one of the sex position stimulators —depending on what position we were in.
BUTTERFLY WARM UP
Now I don't expect you'd be able to instantly do all five sex techniques in a single sex date. Then again, you could.
It's up to you which of these appeal to you. Take one. Take them all. They are free. No catch.
These are the free sex techniques we give away so people can get to know us.
You can click and see all the free techniques:
1. Butterfly Warm Up (4-Step Foreplay)
2. Orgasmic Breast Massage Master Plan
3. 8 Playful Bedroom Adventures
4. The "Sweet Spot" Oral Sex Position
5. 4 Sex Position Stimulators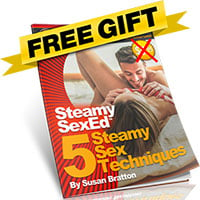 Each sex position or technique is in article format and you can get to the by clicking the links below. We also took just the techniques out of each article and put them in one PDF document you can download for free.  (We even put the pictures describing the "Sweet Spot" Oral Sex Position in the little free ebook.)
Every technique is a free sample from or inspired by my Steamy Sex Ed® Video Collection I created where it show heart-connected lovemaking techniques that any couple could comfortably watch together to learn ways to have more pleasure.
There is no commitment to purchase anything. I'm giving you free samples because you know what happens when you have a delicious taste of sex…