Real Talk: How Many Women Are Squirting In Real Life?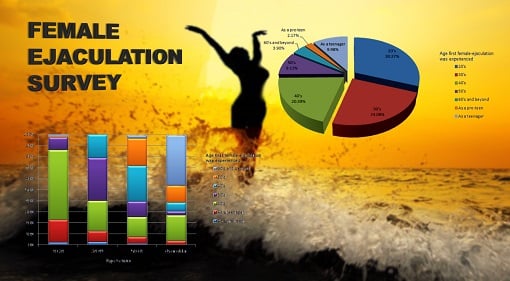 Let's talk about female ejaculatory orgasms.
"She-jaculations" for short.
You've probably heard me say that it's every woman's birthright to experience these wet, wonderful bodily miracles.
But the question on a lot of people's minds was…
"How many women really DO experience them in the real world?"
That's what we here at Personal Life Media wanted to find out. So we teamed up with our wonderful friends over at the Intimate Arts Center to do a survey asking women of varying age groups on their experiences with "she-jaculation."
Here's what we found out after surveying over 1,700+ women from different age groups.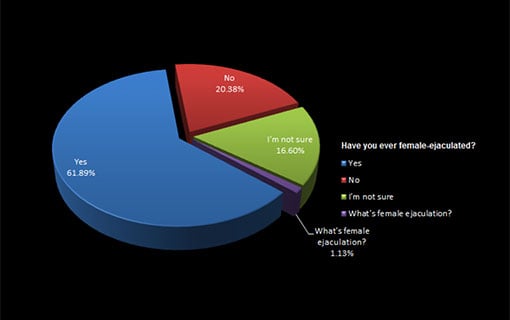 "She-Jaculation" On My Mind
Of all the respondents, only 1% didn't know what female ejaculation was.
That means more and more women today already know, or are learning about squirting… and that they know it's their birthright to experience such a wonderful gift.
Yet only 62% of women have experienced it themselves.
62% of the women in the age groups 34-49, 50-64 and 65 and older have already enjoyed it, and 50% from the 20-24 age group claimed they too have tried she-jaculating.
However, Not Enough Women Are "She-Jaculating"
Only 6% of women said they "always" she-jaculated, and 41% said they "usually" experienced it, which is roughly less than half of the women who answered the survey.
A huge chunk of women (roughly around 42%) said it's a hit-or-miss for them as they only she-jaculate "sometimes," while almost 23% said they "rarely" she-jaculate.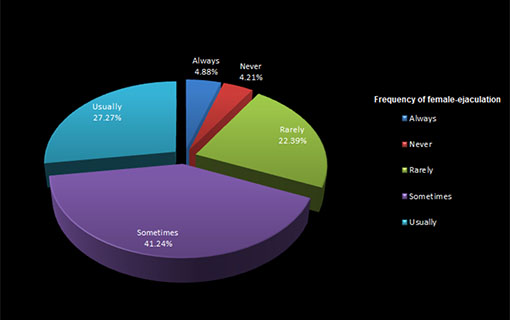 So we've learned that women know about she-jaculation, they want to experience it, but a lot of them still don't know exactly how to achieve them… yet.
Holy moly we gotta fix that fast!
One thing that helps is to get to know more about female ejaculation and how to get to that level of pleasure.
Not Even During Sex
Now you'd think that women experience she-jaculation more when they're having hot, sizzling sex, especially when their lover is involved to help out.
But these numbers tell a different story.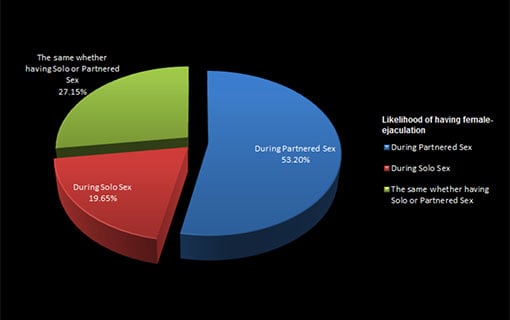 Only 41% of women said they "usually" she-jaculate during intercourse, and only a tiny 6% claimed they "always" do.
That means more than half of the women who took the survey don't always achieve splashing, gushing orgasms even during sex. Not even with the help of their men.
This could be because these women don't fully know how to achieve female ejaculation just yet, or their men don't know how to take them to that level of pleasure.
Now For Some Exciting Results …
53% of the "she-jaculators" say they are more likely to achieve wet nirvana when having sex with their partner, while only 20% during solo sex.
Of those women who do experience she-jaculation, their men are doing a good job at making them feel extra special and extra gooood.
Here are more juicy numbers.
The Wet, Wetter And Supersoaked Details…
When I say wet and juicy details, I'm not kidding!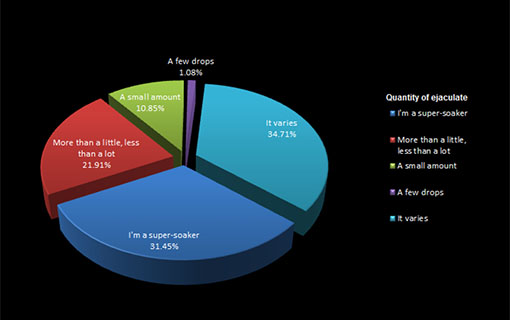 31% of she-jaculators say they produce such a considerable amount when they ejaculate that they consider themselves to be super-soakers! Sounds like a superpower, and in a way it is!
And with regard to the manner the liquid emerges, 47% said that is "varies" from time to time, while a whopping 35% said that "it floods!" Amazing!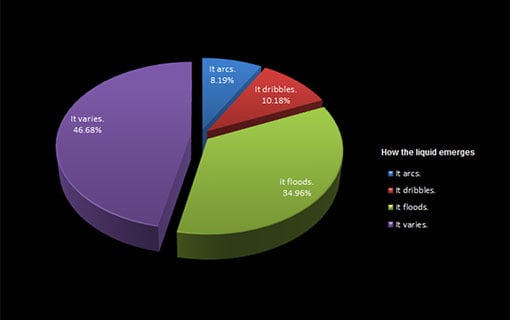 Squirting Orgasms vs. Non-Squirting Orgasms
Lastly, we asked women how often they she-jaculated for both during orgasms, as well as when they're not having orgasms.
Only 6% answered "always", and almost 24% said "usually."
And with regard to having she-jaculations without having orgasms, only 5% said "Always", and 14% said "usually."
The greater majority answered "sometimes" and "rarely" for both scenarios, which I find fascinating.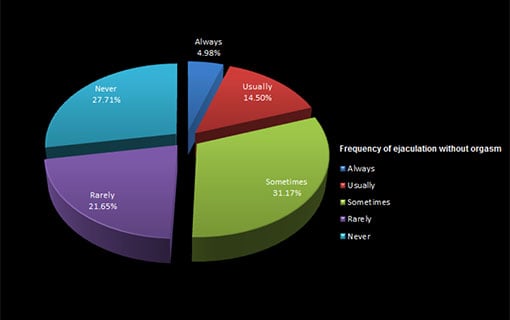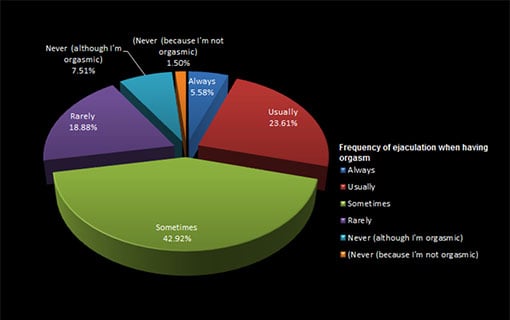 Just like men can separate their orgasm from ejaculation… so too do women.
Just because a woman squirts does not mean that they automatically have an orgasm at the same time.
It turns out that the term, "female ejaculatory orgasm" is actually a misnomer. If you're squirting but not orgasming, you're still enjoying the sweet release of squirting, even if it doesn't feel like other orgasms you may experience.
More good news that so many more women today are having amazing orgasms, even if they are still not squirting. And if they are, they're not experiencing it as often as they might like.
What This All Means To Me…
Personal Life Media has been helping men and women, singles and couples achieve better and more fulfilling relationships and sex lives for over a decade, and I love that we're able to change the lives of so many of our readers by publishing research. Yet there's so much more work to do.
And this proves it.
So many women still have not had ejaculatory orgasms… but they crave it. And so do their partners. For many men, they equate "she-jaculating" with "the ultimate orgasm."
I imagine that for most men, when they can see the proof of her womanly waters, they believe they are giving her the most pleasure possible.
Ejaculatory contractions are a beautiful release… and they can be orgasmic… but the bottom line is that they are distinctly nurturing and healing for a woman.
Women are becoming familiar with their pleasure potential as excellent research like this is released. They know what they're capable of, and they want to experience all of it.
From full engorgement, to body-shaking orgasms, to "flooding" she-jaculations… women want to have it all. And that for me is exciting!
This only strengthens my resolve even more.
As always, Dr. Patti, Sloane, Tallulah and myself will continue to help you the best way we can.
And that is by continuously sharing our knowledge and experience with relationships, intimacy and sex.
For the wonderful women who have yet to experiencing the holy-grail of female orgasms, otherwise known as the she-jaculation, check out our free book, "The Truth About Female Ejaculation."
I can't wait for you to share your amazing she-jaculation story in the comments below. That would be absolutely wonderful!