Totally different if you're single vs. IN a relationship!
Why "text conversations" Annoy Her… (and what to do instead)
Most people —whether they're single or married —use text messages in COMPLETELY the WRONG WAY.
Totally boring (and even annoying) the object of their affection by sending dry, logical, and un-original texts.
Capture their attention but then lose their interest and squander the amazing opportunity for intimacy texting affords.
Or spend months playing games but not moving toward a passionate relationship.
Here is a true but unfortunate fact:
When a guy or gal either gives you their phone number or you decide to try texting some pleasure back into your current relationship, you have a small window of opportunity to use texting to get closer.
Every second that goes by… that window begins closing and your chances of ever getting them out on a date or getting them in bed begins to quickly disappear.
She'll be a thirstybear again, drinking in your texts!



He'll be a bucking bronci, pawing at your texts!

Another Fact about Romantic Texting:
The next step can only come in person.
This is where the majority of single's mess up.
You might think that having a handful of  "text conversations" is helping your cause…
But it's not, if you're single.
It's just the opposite if you're married – you want to engage with your partner in appreciations, compliments, curiosity texts, the "text massage" and digital foreplay.
There is a tiny little voice in every person's head that tells them "If YOU were "THE ONE" then it would have happened already…"
We humans desperately want to believe that when there is "chemistry" we'll be swept away…
This is why when you engage in "logical" back and forth conversation with a prospective partner over text…
You're kissing your chances goodbye. (Poof! gone)
So what should you do instead?
It's pretty simple.
After sending a couple "radar" or "bait" texts just to get them thinking about you…
Each of your following texts should then be specifically designed to lead toward a connection.
There's a specific sequence of texts you send to your prospective girlfriend to accomplish this over and over again.
Click on "Girlfriends" to see a video explaining exactly how it works and discover the "Key Lock Sequence" now.
The video also explains an

"attraction loophole"

you can exploit to your advantage.
Knowing how to take advantage of this loophole will lead to more dates, and

more women back to your bedroom.

It will also make darn sure you don't text your way into  the friend zone.
Husbands, if you want to spice up your current relationship, click on "Wives." 

And if you're a woman who wants to reel in her guy, click the women's link

We will GIVE YOU Sloane's "Sensual Texting" Free eBook If You Pick Up One of the Texting Programs Above
[Classically Romantic, Flirty and Naughty Texts Already Written for You To Woo]
Special Guide: "Sensual Texting" by Sloane Fox
With 135 copy & paste classically romantic texts that make women swoon. (Ladies, GIVE THIS to your guy! Help him love you up.)
[Gift with Purchase]
Sensual Texts Free eBook Offer Details:
Unlock Additional Members Only Content
Please login or register for a Free Membership to view this content.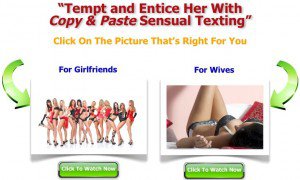 Simply email [email protected] your receipt and ask us to send you the 40 page ebook with over 100 classically romantic texts she'll love.
These texts go from flirty to naughty and are copy and paste easy to delight her! Lots of ideas inside for women to use with men too. Gives you an idea of how POWERFUL texting can be!