Sensual Texting Made EASY
Texting is an excellent way to make love to your partner all day, even when you're apart.
And it arouses her even before you touch her.
SHE'LL THRILL TO YOUR WORDS… SHE'LL JUMP IN YOUR ARMS AND SMOTHER YOU WITH KISSES WHEN YOU GET HOME



AROUSE HER ALL DAY
She is like a fire. You are like a light switch –ready on command. She needs tinder and kindling (sweet little texts that get her started first), her flames fanned, embers stoked, wood added to her fire (more romantic texts) – until she's burning hot and bright for you (sexy texts).
Texting stokes her fires through the day.
"Don't try to close the deal all at once."
Like this JOKE:
I got a blank text from my wife the other day.

I asked, "Why did you send me a blank text?"

She said, "Because I'm not talking to you."
"The typical guy moves in on his wife and tries to drive his foreplay all the way to home to intercourse in one pass, and that's not how you do it."
What should he do instead?
She'll burn hot and bright, hoping for your texts!



It will get you much better results with your woman if you move her toward a sexual encounter, and then suddenly drop your interest and move away as if you've just lost all your desire for sex.
That gives your woman a chance to chase and pursue you.
Don't require that your lady responds to you by texting back. Don't get upset if your texts don't get a response at first. Don't text overtly sexual content to her at first, start with romantic texts. She may be uncomfortable with the concept at first until she sees it's a fun, safe new way to create intimate connection.
One guy told me,
"I texted her and she didn't respond, but when I got home I got a very hot kiss that night!"
In order to create the energy of desire, you must enter into this strategy with a playful loving approach and escalate from there.
Sexting Escalation goes like this:
Playful>Romantic>Sensory>Sensual>Seductive>Sexual
Don't skip steps or she'll get upset, feel pushed or manipulated and you'll be leaving a lot of pleasure on the table.
Enjoy the journey.
Start very small.
Begin with playful and then loving texts like these first before you intensify your ardor:
Good morning my tender little love bird. Thanks for a wonderful evening. You feelin' good today?
Lao Tzu said, "Being deeply loved by someone gives you strength, while loving someone deeply gives you courage." I get strength and courage from loving you, darling.
What do I love about you most? Honestly, your intelligence and personality. I have never met a woman as full of life as you.
You have been nothing but a blessing to my life, as I hope to be to yours.
Good morning my sweet darling.
My sweet honey buttercup.
You were created to love and be loved…  and to spread love all around…
My heart is a rose that has blossomed in your light.
If those sound too hard for you to write yourself, watch this video:
FLAME HER FIRE WITH YOUR TEXTS



We will GIVE YOU Sloane's "Sensual Texting" Free eBook If You Pick Up One of the Texting Programs Above
[Classically Romantic, Flirty and Naughty Texts Already Written for You To Woo]
Special Guide: "Sensual Texting" by Sloane Fox
With 135 copy & paste classically romantic texts that make women swoon. (Ladies, GIVE THIS to your guy! Help him love you up.)
[Gift with Purchase]
Sensual Texts Free eBook Offer Details:
Unlock Additional Members Only Content
Please login or register for a Free Membership to view this content.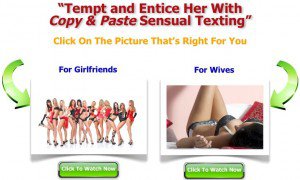 Simply email [email protected] your receipt and ask us to send you the 40 page ebook with over 100 classically romantic texts she'll love.
These texts go from flirty to naughty and are copy and paste easy to delight her! Lots of ideas inside for women to use with men too. Gives you an idea of how POWERFUL texting can be!