"I adore you, darling.."
Texting Reinforces All 5 Pillars of A Passionate Relationship
You can reinforce ALL FIVE of the pillars of a passionate relationship with texting.
Plus, texting is a very efficient means of intimate communication – a quick, "I adore you, darling," can make your lover happy all day long.
It's fast, easy and you will both enjoy the romantic novelty.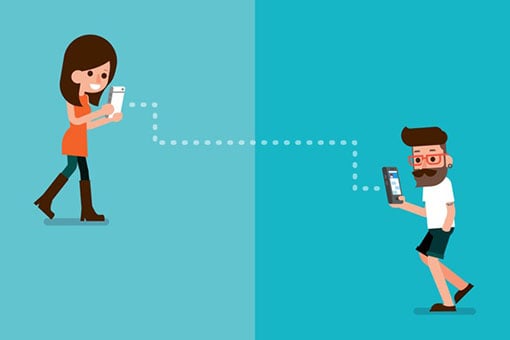 TINY LITTLE TEXT BOMBS!
PLAYFUL
One of the most delightful things about texting each other is the joy you get from simply playing around through SMS.
You can text goofy jokes, silly pictures, photos of yourself during the day to lift your partner out of the doldrums of their day.
"What animal is always trying to catch it's breath?"
"A panther."
("Baby, you turn me into a panther, you are breathtakingly beautiful to me!")
MINDFULNESS
Putting your attention on your partner is the first step in a mindful, proactive relationship. Your lover wants your presence, your affection and you can give it to them from anywhere you are in the world.
"Sweetie, I just want you to know you are on my mind today.
Remembering your sweet smile at dinner last night warms my heart."
Honesty and vulnerability —hallmarks of mindfulness that make a relationship passionate —can be communicated via text.
"Last night when I held you while we watched TV made me remember why I love you so dearly.
You are my woman, my lady, my love. (my man, my rock, my everything)
I will love and take care of you forever, my darling."
DECLARATIONS
You can text your undying love.
You can acknowledge special occasions.
This is very important to strong relationships.
Even have a little ritual together through texting – perhaps telling your partner one thing you love about them every single day.
You can send pictures of the two of you on your last romantic outing. Images of you two together create meaning in your lives.
Imagery grounds your partner in your relationship.
Think about texting silly and loving pictures often.
SENSATE CONNECTION
You can even create sensate connection – touching, having your lover experience their sense of smell, of vision, of aural pleasure – with texting.
First of all, when they feels the vibration of your incoming text, they'll get a thrill running through their body. She might have butterflies in her stomach or a moment of excitement knowing you are thinking about her. He might get a little aroused wondering what you wrote. Moreover, you CAN and should use sensory words in your texts. Describing textures, colors, smells, sounds, images all increase the value of your texts.
EROTIC COMMUNICATION
Romance, sensuality, seduction, intimacy and lovemaking are enhanced through erotic communication. When you want to seduce your partner, one of the most effective channels available is erotic communication.
That's why poetry and love songs have been written throughout the millennia. We love to be aurally pleasured.
For example, this text is a twist on an Edgar Allan Poe poem called, A Dream Within A Dream.
"Take this kiss upon the brow. And in parting from you now.
Is everything we see or seem. But a dream within a dream?
Good night light of my life."
Women: Erotic Stuff To Send
Men: She Will Want ONLY You
A woman's feeling of passion is ignited through her heart and mind first, and then through the sensual arousal of her body. Though a guy may not write her poetry or sing her love songs, he can approximate this thrill through romantic text messages.
A man loves to know he is adored. Men can't seem to ever get enough affection. They just LOVE knowing you want them. Texting sends those tiny little text bombs that explode in the heart of your lover.
We will GIVE YOU Sloane's "Sensual Texting" Free eBook If You Pick Up One of the Texting Programs Above
[Classically Romantic, Flirty and Naughty Texts Already Written for You To Woo]
Special Guide: "Sensual Texting" by Sloane Fox
With 135 copy & paste classically romantic texts that make women swoon. (Ladies, GIVE THIS to your guy! Help him love you up.)
[Gift with Purchase]
Sensual Texts Free eBook Offer Details:
Unlock Additional Members Only Content
Please login or register for a Free Membership to view this content.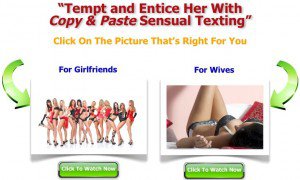 Simply email [email protected] your receipt and ask us to send you the 40 page ebook with over 100 classically romantic texts she'll love.
These texts go from flirty to naughty and are copy and paste easy to delight her! Lots of ideas inside for women to use with men too. Gives you an idea of how POWERFUL texting can be!