I want connection to The Inner You.
"It is not the opposite of macho, and it is definitely not wimpiness"

"Recognize that one of the "everythings " that your lover wants to consume is the real you, with real feelings, needs, and desires".
But Vulnerability must always be structured!
Allowing yourself to be vulnerable enough for your lover to see and feel The Inner You turns lovemaking into a profound experience.
When you let yourself be known in a non-defensive way your partner becomes willing to connect with you in a full-being, intimate, and very turned-on way.
When you let go of the performance-driven promptings of your ego and focused on your mutual pleasure it expands.
Being vulnerable means you admit to and move through any shame for your desire and begin to appreciate your hunger for connection instead of quashing it.
Vulnerability is one of the most powerful tools you can acquire as a sexual being, because it unlocks a lover's storehouse of arousal and feeling.
These feelings of arousal quickly fuel the feminine's passion and turn-on, and lead to the hottest make-outs imaginable. Let's look at why this happens.
A WOMAN CRAVES A MASCULINE SEXUAL LEADER
Especially as the masculine sexual leader, your willingness, and even eagerness, to be vulnerable with her will show your courage and she will see that it is safe for her to open to you and to feeling.
(A good woman knows how to make it safe for her man to reveal his inner self. Women can learn as much about seduction as men from The Seduction Trilogy.)
In addition, listening and learning about her, and sharing how her wonderfulness turns you on are different facets of vulnerability.
It is not the opposite of macho, and it is definitely not wimpiness. Vulnerability is about being courageous, and it's also about self-disclosure.
Recognize that one of the "everythings" that she wants to consume is the real you, with real feelings, needs, and desires.
But Vulnerability must always be structured!
UNSTRUCTURED VULNERABILITY
Unstructured vulnerability can lead to emotional stormy weather. Or overly long conversations that don't end up in lovemaking.
Women have an advantage in discussing emotions. So you need boundaries around vulnerability that include structures for "Responsible Communication."
This is one of the most wonderful aspects of The Seduction Trilogy.
You get some simple but powerful communication tools that allow you to wend your way through the emotional conversations that inevitably come up when you are involved in affairs of the heart.
A woman's heart is especially connected to her genitals. Orgasms can release emotional feelings. Sometimes you have to work through issues on the fly.
So having solid skills helps to quickly absorb upset and move into more emotional and physical release together.
By connecting with your feelings and needs, and staying grounded (by being very specific in your requests), you integrate (energetically line up) yourself and your partner. That is, both of you become present in this moment, with your body and mind more "centered" and harmonized, and that in itself is a turn-on. Then turn-on again becomes a possibility for her.
TAKE THE NEXT STEP
When you combine The Four Keys to Seduction, it's effortless to seduce someone and to have them surrender to their pleasure with you.
You don't have to feel uncertainty… you know what to do.
You don't have to worry about rejection… you know what to offer that will be graciously accepted.
Using The Four Keys drives your win rate through the roof! You just have much better sex knowing these skills.
Now it is time for you to go to the website and thoroughly check out the program.
Learn more about The Seduction Trilogy <=== All The Details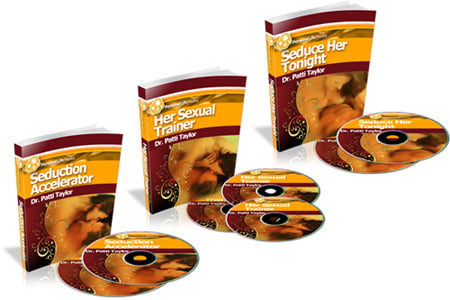 Don't feel rushed, just learn more about it. You can go buy this program anytime. It's called, "The Seduction Trilogy." It's three eBooks with companion audiobooks to which you listen so as to quickly and easily integrate the model and start using it immediately.
This multi-modal learning approach makes the model sink in quickly so you can apply it efficiently without any learning curve. OMG! If you like to listen to audios, Sloane Fox reads these books so sexily that you'll get turned on listening to her!
We sell this program every day, all the time, so it will be there if and when you're ready to want to add this foundational skill to your lovemaking communications toolbox.
One important note… This program is as effective for the masculine as it is for the feminine and anywhere in between. It's for people to create more fun experiences together of any kind.
Here is the link to go to The Seduction Trilogy website and learn more.  If you sign up for the free eBook, More Sex More Often, you will begin getting emails about seduction from Dr. Patti. This book will teach you about Making Small Offers, one of the four keys to seduction. If you're ready to delve more into the amazing world of seduction skills that mature, respectful lovers utilize to have way better sex than 95% of the people on this planet, go get the free ebook now or simply place your order on the site. Your choice. We are here for you. When you're ready, we're ready to support your sexual growth and learning.
The Seduction Trilogy <=== Go To The Website