"I'm struggling right now with a couple of nasty problems."
Discover the ONE detrimental thing everyone automatically does when faced with major obstacles that guarantees your suffering.
When life knocks you down this 3 step proven formula helps you bounce back quickly.
Happy new year, Dearest!
If you want to make 2016 the year you finally solve problems that have been plaguing you then pay attention to this email.
BOUNCE BACK BIG
I'm excited to announce that "Bounce Back" expert and my personal friend Sonia Ricotti, will be teaching you how to Bounce Back Bigger Than EVER in 2016 with her upcoming (free) webinar workshop titled:
"The 3 Step Proven Formula to Bounce Back Quickly (and Higher Than Ever) When Life Knocks You Down"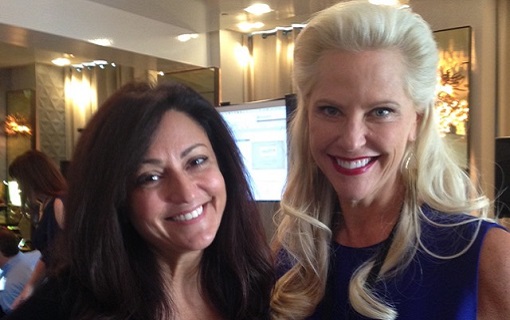 SUSAN AND SONIA TOGETHER
Bounce Back Big in 2016!  Register Now and Reserve Your Spot
If you're going through a difficult time in your life right now (with health, money, family, or more), then make sure you attend this life-changing (free) webinar workshop.
No matter what your current situation is, whether you're experiencing financial problems, going through a breakup, just lost your job, suffering from health issues, or maybe you're just feeling "stuck" in your life — you CAN turn things around really quickly and bounce back higher than ever!
In this (free) webinar, Sonia will reveal to you the most powerful and most successful three-step formula for turning adversity in your life, into opportunity, greatness, and success — in the fastest way possible!
All you have to do is master the 3 steps in this webinar and it WILL transform you life — in ALL areas of your life (finances, relationships, health, career, etc).
UNSINKABLE!
Get ready to Bounce Back BIG in 2016!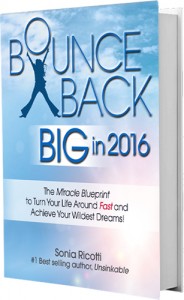 What you've been doing has gotten you where you are now, so it's time to do something new!
Register Now!
Jump start your year with this inspiring webinar and bounce back instantly.
Here are some of the things you'll learn in this phenomenal webinar:
Sonia's proven 3 step formula for lightening speed recovery from any and all of the challenges and obstacles life throws your way.
Your 3 sentence statement that will turbo-charge your confidence.
The ONE detrimental thing everyone automatically does when faced with major obstacles that guarantees your suffering.
The 10-fold "Maverick" goal-setting method that will dramatically accelerate your results to ensure that 2016 is your best year ever!
Unlock Additional Members Only Content
Please login or register for a Free Membership to view this content.
<=== I PERSONALLY Recommend This Webinar