10 Most Nutritious Leafy Greens And Recipe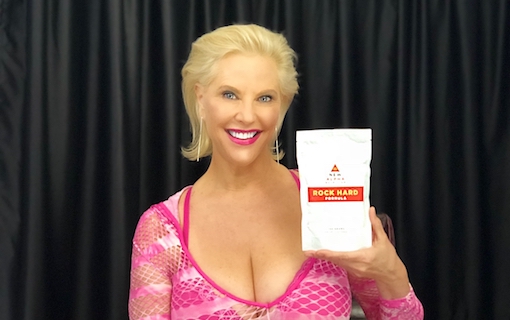 Here's a roundup of the 10 leafy greens that researchers say pack a greater nutritional wallop. Tea for testosterone!
(PLUS! 10 Superfoods Healthier Than Kale below.)
Feed your manhood (and yourself) everything you need to stay healthy, strong, and massive. All in one tea for testosterone package right here!
My wishes for you…
Eat well and have more sex.
Today, I'm going to give you a way to achieve both at the same time. It's like hitting two birds with one stone.
One of the easiest ways to have a healthier diet is to start your day with a healthy breakfast smoothie—no more cooking. Just put the ingredients in a blender, press a button, pour it into a glass, and drink to your health!
Now for MORE sex, you'll need rock-hard erections that can last for as long as you want.
There are a ton of different ingredients you can add to your smoothie, like Maca, Schisandra, nut milk, Polyrachis ant powder, Cordyceps mushrooms, and more.
You can go out and buy all these ingredients, but some of them are hard to find, and some are even harder to pronounce.
Here's a way to make it much easier for you.
Unlock Additional Members Only Content
Please login or register for a Free Membership to view this content.
It's a done for you package of all the most important ingredients that give you rock hard erections and huge loads… for when you want to explode all over your lover.
So you won't have to find and buy these ingredients on your own. Just add Rock Hard Formula (Tea For Testosterone) to your healthy breakfast smoothie, mix them both, and you're done!
Health and some mighty good sex in one drink. Now that's efficient if you ask me. Pump it up by drinking tea for testosterone.
For the "healthy breakfast smoothie" part, here's a list of the 10 most nutritious leafy greens you can blend with your favorite fruits.
10 Superfoods Healthier Than Kale
A recent report published by the Centers for Disease Control ranked 47 "powerhouse fruits and vegetables," kale placed only 15th! (with 49.07 points out of 100 for nutrient density) Here's a roundup of the 10 leafy green cousins that researchers say pack a greater nutritional wallop. Read 'em, eat 'em, and reap the benefits.
Watercress
Chinese Cabbage
Chard
Beet Greens
Spinach
Chicory
Leaf Lettuce
Parsley
Romaine
Collard Greens
The Detailed Super
Greens

List:
SUPERFOOD #10

Collard Greens


Nutrition Score: 62.49
Collard greens have cholesterol-lowering benefits, especially when steamed. Studies have compared the effectiveness of the prescription drug Cholestyramine to steamed collards. They have stated that collard greens improved the body's cholesterol-blocking process by 13 percent more than the drug.
SUPERFOOD #9

Romaine Lettuce


Nutrition Score: 63.48
Romaine lettuce has high folic acid levels, a water-soluble form of Vitamin B that's proven to boost male fertility. Studies have found supplemental folic acid to increase sperm counts significantly. Folate also plays a role in battling depression, so eat some Romaine and improve your mood!
SUPERFOOD #8

Parsley


Nutrition Score: 65.59
Parsley is a superfood packed with nutrients. Even that one sprig can go a long way toward meeting your daily requirement of vitamin K.
SUPERFOOD #7

Leaf Lettuce


Nutrition Score: 70.73
Two cups of lettuce provide 100 percent of your daily vitamin K requirement, good for strong, healthy bones. A recent study suggests that women who eat a serving of lettuce every day cut the risk of hip fracture by 30 percent compared to eating just one serving a week.
SUPERFOOD #6

Chicory


Nutrition Score: 73.36
Chicory is a family of bitter greens, one of the best dietary sources of polyphenols — powerful micronutrients that play a role in preventing disease. A study in the Journal of Nutrition found that people who consume 650 mg of polyphenols a day have a 30 percent chance of living longer than those who consume less.
SUPERFOOD #5

Spinach


Nutrition Score: 86.43
According to the United States Department of Agriculture, a 180 gram serving of boiled spinach provides 6.43 mg of iron, which is more than a 6-ounce hamburger patty! Recent research also suggests compounds in the leaf membranes called thylakoids may serve as a powerful appetite suppressant.
SUPERFOOD #4

Beet Greens


Nutrition Score: 87.08
A cup of beet greens has nearly 5 grams of fiber. Researchers at the University of Leeds found that cardiovascular disease's risk was significantly lower for every 7 grams of fiber consumed.
SUPERFOOD #3

Chard


Nutrition Score: 89.27
Chard is regarded as a good defense against diabetes. Recent research has shown that chard leaves contain at least 13 different polyphenol antioxidants, including anthocyanins, anti-inflammatory compounds that could offer protection from type 2 diabetes.
SUPERFOOD #2

Chinese Cabbage


Nutrition Score: 91.99
Chinese cabbage (also called Napa or celery cabbage) is a rich source of calcium and iron. Cruciferous vegetables like cabbage have the ability to "turn off" inflammation markers thought to promote heart disease.
SUPERFOOD #1

Watercress


Nutrition Score: 100
Watercress may be a true anti-aging food. Gram for gram contains four times more beta carotene than an apple and 238 percent of your daily recommended dose of vitamin K per 100 grams – two things that keep skin youthful. It might also fight cancer. A recent study in the American Journal of Clinical Nutrition suggests that about two cups of raw watercress per day could reduce DNA damage linked to cancer by 17 percent.
Written by Dave Zinczenko for Huffington Post. Author of Eat This, Not That.
TEA FOR TESTOSTERONE
Eating healthy is the #1 most important thing you can do to have a great sex life. If you're not healthy, your parts won't work.
Eat leafy greens with healthy protein for lunch and dinner.
Drink Rock Hard Formula as a sexually-minded add-on to your healthy breakfast smoothie or mix with hot water and drink like a tea.
Big Pharma tells you to take dick pills for more rigid erections, but many of the men I've helped over the years tell me they want a healthy alternative.
Rock Hard Formula is made from all-natural ingredients. Plus, take it as an add-on to your daily healthy smoothie or mix it with hot water, and you'll pack enough erection power to last as long as you (or she) wants you to.
When you order Rock Hard Formula today, not only are you getting a safe, natural way to boost your testosterone and supercharge your sex drive and erection quality…
You'll also get the following Bonus Package worth over $200!
Bonus #1: 5 Sex Positions Sure To Drive Any Woman Crazy In Bed
#2: The Get Ripped Quick – In 30 Days Or Less – Workout Plan
#3: How To Give Any Woman Intercourse Orgasms
#4: 17 Dirty Talk Phrases That'll Make Any Woman Hot, Dripping Wet, And Horny
#5: Ancient Taoist Secrets For Health And Longevity
Unlock Additional Members Only Content
Please login or register for a Free Membership to view this content.
(3 votes, average: 3.00 out of 5)

Loading...