This is the last of a three-part series for men to understand the female arousal system, but it's just as crucial for women to know what WE need from our partners to have orgasmic intercourse.
Once you get into her world and realize how different her sexual operating system is from yours, you'll know she needs YOU to start the party.
The typical woman is simply not biologically programmed to be the sexual leader in setting up opportunities for making love. When you hone this skill and realize it has nothing to do with how desirable you are to her, you will get more great sex together.
Understanding how different she is from you sexually will give you the empathy to meet her where she is and move her toward pleasure with you.
First, we talked about slowing down your pace. Last week, we talked about not going straight for the "target" and instead meandering during lovemaking… to get lost in the intimate, sexual bliss.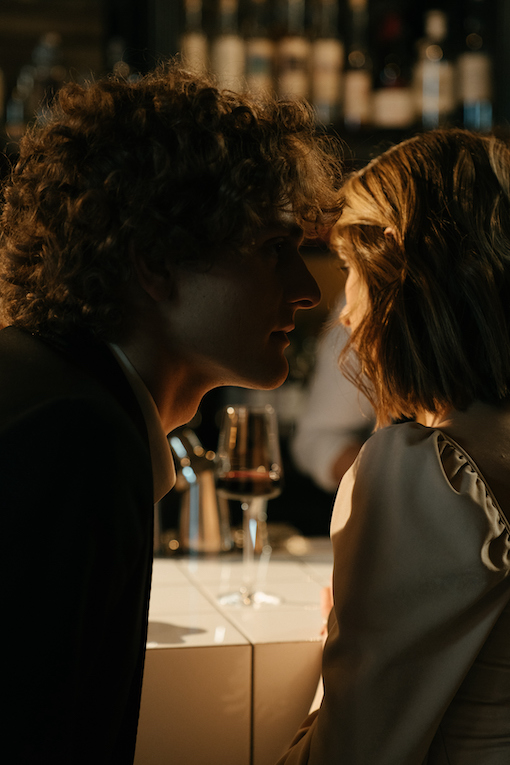 Here's tip #3: Use words to amplify pleasure.
Sexy speak during lovemaking is incredibly overlooked.
Verbal encouragement is beneficial to women for getting us turned on. As you are touching each part, tell her what you are doing. This helps increase her mind-body connection to her Yoni.
As you play with her clitoris and vaginal opening, it will accelerate her desire for your penis to be inside her — as long as you've taken time to get there.
In addition to encouraging her to relax, and letting her know you love and adore her, give her a lot of compliments about how sexy and beautiful she is. Be as specific as possible. She needs to feel desirable, and generalities don't cut it. She wants to know precisely what it is about HER that drives you wild with desire.
Offer her oral pleasuring and make your penis available for her pleasure. Don't be in any hurry, and just keep making her little offers of more joy.
Don't just assume what she wants.
Use your words and ask her.
And if she says she wants it… tell her you're going to give it to her.
Then give it to her.
It's no secret that getting her to orgasm a few times before you penetrate her will significantly increase her ability to orgasm from intercourse. And let me make something obvious.
All women can orgasm from intercourse. ALL WOMEN.
Penetration orgasms are a learned skill. The most significant barrier I've seen to women being anorgasmic during intercourse is their own limiting belief that they can't.
She can! She can! She can! And your belief in her, along with your slow, sexy warm-up, the engorgement of her genitals, and while you're also verbally worshiping and encouraging her… these are the conditions she needs to orgasm from your penis inside her. (Of course, knowing HOW to use your penis inside her is the #1 skill you must continue to improve as you walk your path of sexual mastery.)
You can find out when she's ready for more from that foundation. And if today is not the day she wants penetration, you can just end it there and hold her.
Getting lucky and getting laid more often is just a result of slowly taking your lover up the arousal ladder so she can catch up with you. You don't need the luck of the Irish to be a masterful lover. All you need is slow, connected love.
There's one more thing.
I want to meet up and hang out with you! Let's get together at KetoCon Austin 2023.
This annual gathering is an incredible opportunity to connect with like-minded individuals seeking to optimize their health and wellness through nutrition and lifestyle.
There's no limit to attendees. Anyone and everyone are invited!
Meet me in person from 1:50-2:30 on 4/22 on the KetoCon conference floor. I'll have giveaways and hugs for you! Celebrity guests will be joining me, including Dr. Aime Hornamen, The Thyroid Doctor, and Justin Peters, host of "The Struggle is Real" podcast. Come and meet all of us.
Grab your ticket… use my promo code for a $50 discount… then reply to this letting me know you want to hang out with me.
Unlock Additional Members Only Content
Please login or register for a Free Membership to view this content.
⇐ Join My Meet & Greet And Let's Hang Out!
(
Use The Promo Code "
SUSAN"
To Get $50 OFF On The 3-Day Conference Pass
)
— Susan Bratton, "Intimacy Expert to Millions
" is a GAINSWave and FemiWave spokesperson, and author of 44 books and programs that offer passionate lovemaking techniques. Her free videos at BetterLover.com include "How To Give A Yoni Massage," "Passionate Love Making Step-by-Step," and "How To Give Her Orgasms From Intercourse." You can also download her new free ebook and video with more female arousal secrets at ArousalSecrets.com. Follow Susan on Instagram for more sex tips.