So here is a way you can get the best of both worlds… a delicious clit, loaded with blood flow and sensation and a satisfying man hammer filling you up. Live the fun sex date life.
Happy New Year, Cutie Pie!
I have a super fun sex date scenario for you to ring in 2022. This is part of my "Making Whoopee 3.0" series, where I share advanced intercourse techniques.
You know how I joke about sex for most people being like, "squeeze her boob and stick it in?" I rail against the lack of foreplay and engorgement from hurried penetration. It robs women of their pleasure, and then she and her partners don't think she can come from intercourse. Of course, she can! All women can come from intercourse. We need to learn how and conditions need to be correct. Penetrating too fast prevents her from having all the pleasure he does because she takes longer to get an internal clitoral erection.
But sometimes you CAN'T WAIT to get it in!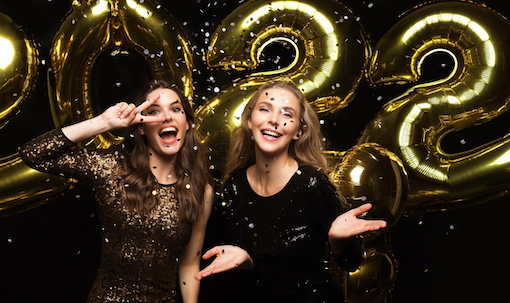 2022 Sex Date Scenario
So here is a way you can get the best of both worlds… a delicious clit, loaded with blood flow and sensation and a satisfying man hammer filling you up.
I shared the Everted Clitoral Erection technique a few weeks ago with you. "When her vagina wants you so bad, she sucks you in…." I told you about how to get her turned on from the inside out in it. This scene I'm about to describe to you gets her turned on fast.
The idea I'm going for here is FLOW. Think of sex as an array of erotic moments rather than a lead-up to penetration. I'm describing the opposite of how I envision all the muggles who don't use Susan Bratton's sex advice: They stick it in and pump away until he comes.
A FUN SEX DATE
Instead, I'm outlining a hop, skip, jump through all sorts of fun, short sexy moments that slowly build excitement so she can keep up with his ardor. This is a 3.0 advanced move because it takes PRACTICE to feel comfortable doing many things during a sex date. It's most common to do one or two things, and that's it. So what I'm saying is that you'll become more orgasmic during intercourse by doing a little as you go, rather than just building up to it and making it go on and on at the end. You can go as long as you want at the end, but you're going to use his penis, in the beginning, to awaken her vagina, not jump right into deep penetration.
First, snuggle together and hold each other. Use my Soulmate Embrace melting hug technique to relax and connect. Arousal begins in relaxation. The slower you go, the harder she comes.
Then start kissing. Kiss slowly and sensually.
She rubs her body on his, and he plays with her breasts and nipples.
They continue kissing while she strokes his manhood, and he wakes up her vagina and clitoris with nipple stimulation. Use some organic nut oil, like avocado, sweet almond, or jojoba, for stroking and breast pleasuring.
She goes down on him after wiping off any excess oil — giving him a few licks, and sucks once her mouth is warmed up from kissing. The more she sucks on his penis, the more her vagina will lubricate, and contractions will begin.
She can squirt on more oil and slide down on his penis at that point. She can do a few strokes and then dismount. Then, she can return to his penis with her vagina… The whole idea here is that you can go back and forth and back and forth from one thing to another. You don't have to do a lead-up to intercourse and then come and be done. When you do that, it is often too soon for her. She rushes because she wants to feel him inside her. He runs because intercourse feels so good to him too. When you stop the rushing and do a few strokes and then back off, it helps engorge her vulva to have lots of orgasms during penetration.
He can flip her on her back, wipe off any excess oil, and go down on her for a few minutes. They can do 69 where they give oral to each other simultaneously. Simultaneous oral is also a learned skill. At first, it can seem overwhelming. But when you take away the pressure to orgasm and enjoy the sensations, it becomes more orgasmic! You can toggle between giving and receiving and take your pleasure from both.
He can enter her from behind, doggie-style next. If he makes sure to tease her and go in very slowly, using the Heart Tongue technique, orgasmic contractions will begin getting more pronounced. Do doggie for just a short time, and then go back to kissing, nipple play, and penis stroking.
What you are doing is building desire and giving her a chance to get as internally erect as he is external.
Try another sex position. Perhaps off the edge of the bed or woman on top. Then do more oral. Try a vibrator on her clitoris while you're fingering her G-Spot.
When you flit from one intercourse position to another, punctuating it with turns are giving and receiving oral, adding in a clitoral vibrator or G-Spot wand, giving a hand job to him, and fingering her, she's going to have a lot more orgasms when she's being penetrated.
Skipping around like this takes sex from a penis-in-vagina sexual centerpiece strategy to more fun, playful romp where you're connecting in different ways.
Great sex is intimate. It's playful. It's relaxed. It builds. And when you learn new ways of making love together, you keep the recent relationship energy firing! Try this dope sex date scenario and email me what you did and how it went.