Sexual Renaissance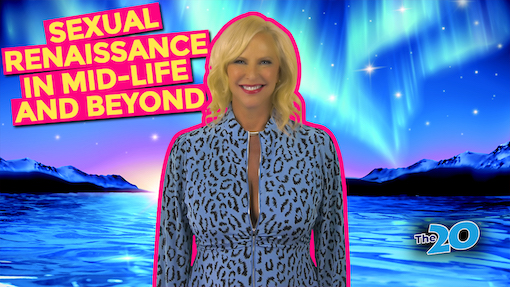 Sex is super healthy for you. It keeps you young. It stimulates your hormones and neurotransmitters. Sex calms you down and reduces your stress levels. Sex makes you feel alive. It's a vascular event that is great for oxygenating your heart, brain, and organs. Sex is also a use-it or lose-it proposition. Your genitals atrophy without use. Is monogamy a hot affair?
The best part of great sex is that you get better at it as you age. Older people make the best lovers! Many couples well into their 60s, 70s, and 80s have the best sex of their lives (including Sir Tim and me). 
And you don't have to be in a relationship to have fantastic sex. You can experience it all on your own.
Today's video presents 15 erotic playdates that will uplevel your sex life.
Click Here To Watch My Video ⇐ 15 Erotic Playdates For You
LET'S GET IT ON
I talk about hot monogamy and hot solo sex for your midlife and beyond.
I also bust myths about senior sexuality so you, too, can have your sexual renaissance.
Sex is fantastic, especially in your midlife and beyond. Thinking your sex life is over when you turn 50 is total bull, baby! You are just beginning!
It fills you with fantastic neurotransmitters like dopamine, serotonin, and oxytocin. 
You experience vascular pleasure explosions that are healthy for your body and brain.
And the act itself can help you build stamina and strength.
Click Here To Watch My Video ⇐ Hot Monogamy And Senior Sexuality
MONOGAMY A HOT AFFAIR
I also want to give you one of my FREE books, 7 Stimulating Sex Positions.
In this book, you'll discover how to incorporate sex toys into partner play, as well as pleasure multiple erotic spots at the same time.
Click Here To Download 7 Stimulating Sex Positions ⇐ Pleasure Multiple Erotic Spots At The Same Time