"I cannot orgasm without a vibrator!" All women can have amazing orgasms. They are just a learned skill.
However, not everyone can ease into it smoothly as others.
I received an email from a reader about her struggles with achieving peak pleasure.
Touch and toys are essential. Check out her email and my response below.
Get Up To 33% OFF On FLOW Here ⇐ 3 Bottles Every 3 Months Option (For All Customers Worldwide)
Unlock Additional Members Only Content
Please login or register for a Free Membership to view this content.
Read My Book ⇐ 7 Stimulating Sex Positions For More Exciting Fun For Lovers
HEALING IDEAS
"Hello, Susan,
I have recently started following you! I'm going through significant healing, and my husband is doing a lot of g spot massage/vulva massage to help me heal from a lifetime of sexual abuse from my Dad.
I can ejaculate but have never orgasmed unless I add a vibrator to my clit. I'm concerned that I for sure won't learn to orgasm without it if I use it. BUT I go for three months at a time without using it and without orgasm.
Would you suggest I add the vibrator back in?
Thank you for any suggestions you may give me. I'm so glad I can now follow you! I want to heal from my past so bad. Fifty years! Beyond happily married. But I need help." — Michele (not her real name)
========================
Dearest Michele,
So glad you are having your husband spend a lot of time loving your vulva and giving you beautiful massages. The more you receive nurturing, healing, and sensual touch, the more your body will feel safe to allow your orgasms to come up from inside you.
And the more you have vulvar pleasure, the more you activate your neural pathways to build more sensitivity to all kinds of stimulation. This will lead you closer to orgasm on your own without the use of vibrators. However, vibrators will accelerate your goal of orgasming without a toy.
My journey from sexually traumatized to massively orgasmic included vulva-healing, g-spot release, and the use of several toys to improve my orgasmic response and satisfaction. I've never been more easily orgasmic. I've never used more toys with more pleasure. And I find that my vulva is becoming more exquisitely sensitive internally and externally. Even with all the toys I test and use, my sensitivity and pleasure are off the charts these days. I can respond to a lighter touch, and everything is feeling orgasmic.
Don't give up! You are so close, girl! I promise!
Using touch and toys together will help you increase your overall orgasmic response and get orgasmic faster. The more orgasms you have, the more quickly you'll orgasm from any stimulation. Sex toys improve your pleasure; they don't make you dependent or mess up your body's natural response. Different toys stimulate different parts. And there are many kinds of toys for a direct clitoral orgasm that provide varied types of stimulation. One might be better for you at first than another.
I suggest you get a couple of different kinds of toys to increase your orgasmic response and have your partner use them on you as well as using them yourself during solo pleasuring. I gathered up all my recommendations and made this picture for you.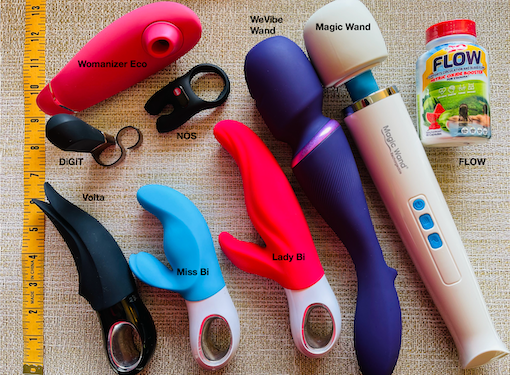 ORGASMIC CROSS-TRAINING
My #1 sex toy recommendation is the Lady Bi and Miss Bi (The Miss is shorter, but the same excellent concept). This tool stimulates the clitoral glans and arms and inside the vagina, getting that internal system activated so you can come from intercourse. Since you're in a heterosexual relationship with a penis owner, learning how to come from penetration will serve you both well over the years.
If you only use a clitoral vibe, you are not engaging all of the vulvar tissue, and achieving orgasm on your own will take longer.
The second toy in your pleasure chest should be the Magic Wand. No toy offers more powerful stimulation. Rubbing it on your mons, outer labia, and the clitoral hood will get the blood flowing throughout your external vulva in a way that nothing but the other Wand by WeVibe can do. The WeVibe Wand is prettier, quieter, and slightly less loud and strident if you want something that doesn't rattle your teeth when you use it. WeVibe is a gem.
The following toy is the Womanizer. I like the new Eco made from sustainable materials. This toy offers air stimulation rather than vibration. It sucks your clitoris for you. OMG, so good! And after my O Shots or Orgasm Shots improve my clitoral sensation, this sends me to the moon.
Unlock Additional Members Only Content
Please login or register for a Free Membership to view this content.
You might consider an O Shot and taking FLOW to improve your sensation. Here are my videos on the O Shot. The Journal of Sexual Medicine* just published a study on PRP efficacy for erectile dysfunction. It was male-focused, but women have as much erectile tissue in their vulva as our partners do in their penis. 69% of the patients in the PRP group got improvements in sexual satisfaction compared to 27% in the placebo. The O Shot has worked for hundreds of my female fans to restore sensitivity as we age or suffer trauma.
The next vibrator I want to tell you about is the Volta. The Volta licks your clitoris between two little "tongues." So instead of vibration or air, it uses fluttering. You don't need to get on their email list to get the 10% discount. Just use Promo Code Susan. The Volta is my best friend's total favorite. This is why trying these types of technologies can improve your overall orgasmic ability.
And finally, for a vibrator during intercourse, I love the DiGiT. It's like a ring pop. You wear it on your finger, and you can vibrate your clitoris while he's inside you. It is low profile, so it doesn't get in the way.
And if you are good at cowgirl sex position, try the NŌS vibrating cock ring. This gives you a hands-free ability to grind and thrust on top of him and take yourself to orgasm—the only way to learn how is to do it. Just get on him and flail around a little. Try things. Squeeze. Slide. Pump. Listen to your body. She knows what she wants. You'll begin to get better movement and muscle control the more you ride him.
Unlock Additional Members Only Content
Please login or register for a Free Membership to view this content.
CANNOT ORGASM WITHOUT A VIBRATOR
Men love it when you go crazy on them. But BE CAREFUL of his penis. You do not want to bend it or hurt him. Many men have permanent injuries to their penis that cause them a lifetime of pain and embarrassment.
With cowgirl, you can try my version, called Headboard Daddy. It's one of the 7 Stimulating Sex Positions in my free, illustrated guide. This way, he can play with your breasts and kiss you while you ride him. When he's stimulating your breasts, nipples, and mouth while he's inside you and you're using a vibe, you might be able to cross the 'gasm chasm.
You can also hold the DiGiT on your clitoris while you do this. Or you can put the NŌS cock ring on him and grind on the vibration.
The NŌS is excellent for when you've gotten an O Shot because it wraps around each side of your shaft, giving you incredible pleasure! O Shots increase your overall clitoral size, from the glans to the shaft to the arms and legs. Bigger clitoral meat gives you more pleasure signals to your brain. That makes coming easier.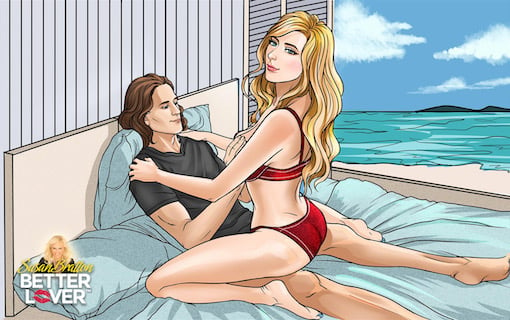 HEADBOARD DADDY
Well, there you go—lots of great ideas. Let me know what you decide to do and how it works out.
Get Up To 33% OFF On FLOW Here ⇐ 3 Bottles Every 3 Months Option (For All Customers Worldwide) 
Unlock Additional Members Only Content
Please login or register for a Free Membership to view this content.
Read My Book ⇐ 7 Stimulating Sex Positions For More Exciting Fun For Lovers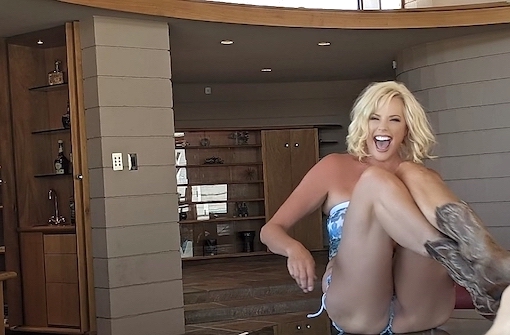 *The Journal of Sexual Medicine, Platelet-Rich Plasma (PRP) Improves Erectile Function: A Double-Blind, Randomized, Placebo-Controlled Clinical Trial