Suz's Skinspiration Protocol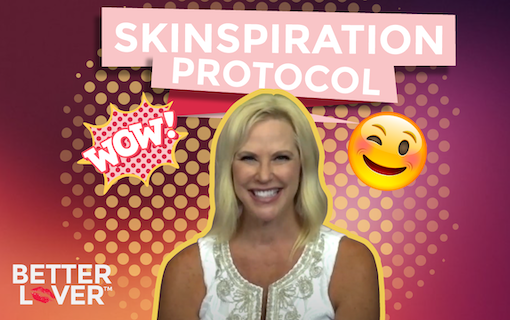 Looking after your skin is the key to looking and feeling younger. Read on to learn how to take care of your skin.
You must protect your skin from the sun and toxins around us. And not only that, our bodies atrophy as we age. When you see wrinkles and spots, it's not just on the skin surface.
It's happening all over. Inside and out. Your engorgement and sensation are affected. Hormone levels are either tanking or all over the place.
Staying young, beautiful, and sexually vibrant is a way to make sure we enjoy life, relationships, and sensuality.
That's why today I want to show you a video where I reveal my secret Skinspiration Protocol. What is it?
Check Out My Video Here ⇐ Susan's Secret Skinspiration Protocol
NOURISH YOURSELF
I make sure I choose only nourishing and strengthening skincare products free of skin-corroding chemicals.
And I'm spilling the beans today.
Because no matter how good of a communicator you are with your lover, how amazing you are in the bedroom, or even how successful you are in life…
If you're not taking care of yourself inside out, you're missing out on a LOT of life-giving and life-prolonging things.
My routine includes creams, butter, homemade yogurt, moisturizers, smoothies, vitamins, digestive enzymes, toys, wellness devices, and so much more.
I'll also give you specific links to where I get my choices so you can get the ones you like for yourself and your loved one.
This is truly special.
Unlock Additional Members Only Content
Please login or register for a Free Membership to view this content.
Check Out My Video Here ⇐ Susan's Secret Skinspiration Protocol (Learn How To Take Care Of Your Skin)
I also want to give you a NEW video about Libido And Arousal Secrets.
Inside, two sexperts share their extra-juicy secrets on how you can increase your sex drive so you can feel more desire and arousal.
She explains the differences between masculine and feminine concerning:
Libido, the urge in your body
Desire, the emotional connection
Arousal, how to get more turned on
Anatomy, how blood flow and erectile tissue are the keys to pleasure for both sexes
Biohacking to maintain ageless sex
How to make love to a man VS a woman
This is just the kind of sex ed that you've been missing.
Libido, Desire, And Arousal ⇐ Watch This Fantastic Video For FREE