The 11th Commandment of Oral Pleasuring
I hope this gorgeous day finds you perky and chipper. Read on to learn about the joys of oral sexual pleasure.
I'm going for a bike ride to town today to get some groceries. Tim put panniers on my electric mountain bike. Now I can keep my car at home and exercise while I pick up fresh food for dinner.
Over the last two weeks, I sent you Susan Bratton's 10 Commandments of Oral Pleasure. The first 5 oral pleasure commandments are here, the second 5 are here.
I realized there is one more vital commandment to share with you. 
You know how I always say, "arousal begins in relaxation?"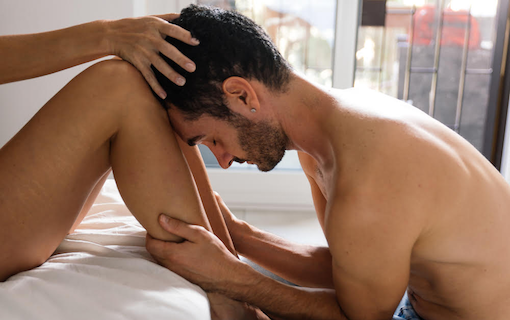 WORSHIP YOUR LOVER
The movies depict passionate sex where the guy throws the woman down, rips off her panties, and either plunges right into her or jams his face in her crotch. Every time I see this in a movie, I rail at the media industry for showing the WORST example of sex possible.  
Wouldn't it be better if he lovingly peeled off all her clothes, laid her down on a pillow under her head, pillows supporting her legs, and gave her a little blankie to keep herself warm as gave her oral sexual pleasure?
When we can completely relax, instead of holding up a leg or having our bra still on, we can follow the 10 Commandments of Oral Pleasuring, which include important components to optimal pleasure such as "riding the sensations."
Here is my Sweet Spot Oral Sex Position, which includes the Pillow Plan. I recommend it for surrendering to long, pleasurable oral experiences:
Consider this the bonus commandment!
Comment below if I've inspired you to take your oral loving to new heights of ecstasy. I love your success stories and aha moments.