Here's a replay of a live event I did with JoyLux, the creators of the Vfit vaginal restoration device I so dearly love and recommend.
Watch Suz Answer Midlife Women's Questions ⇐ Click Here
YOUR MOST PERSONAL Q'S
I answered 11 questions ranging from their husband's impatience with foreplay, dating in her 60's, painful sex to lack of orgasmic sensation, and more.
Here are the questions and some of the resources I recommended. You can hear my answers when you watch the video. We went in order of the following list, so you can shuttle forward or backward if there's an issue that resonates.
Tune in now to learn more about why I love and highly recommend the VFit and see my answers to these excellent and classic questions.
Here is the link to the particular package JoyLux made for me. You get their $65 ReVitalizHer vaginal moisturizer FREE with your purchase.
Unlock Additional Members Only Content
Please login or register for a Free Membership to view this content.
⇐ VSculpt Gold Vaginal Rejuvenation (Use Promo Code SUSAN to get CAD 50 OFF — It's Called VSculpt Gold In Canada)
If you live outside the US and Canada and want to consider purchasing a VFit, reply to this email, and we will get you to the reseller in your area.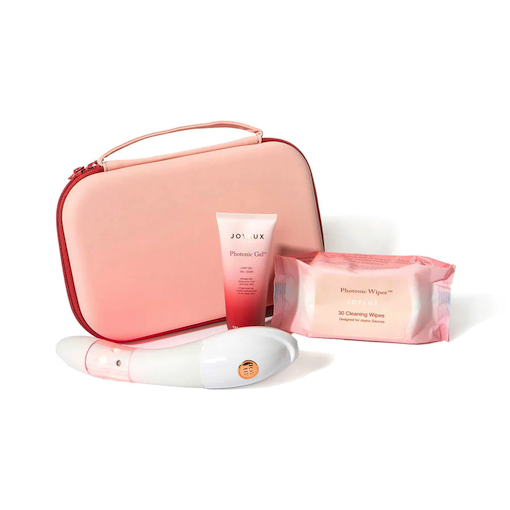 Self-Care Happy Hour WITH SUSAN BRATTON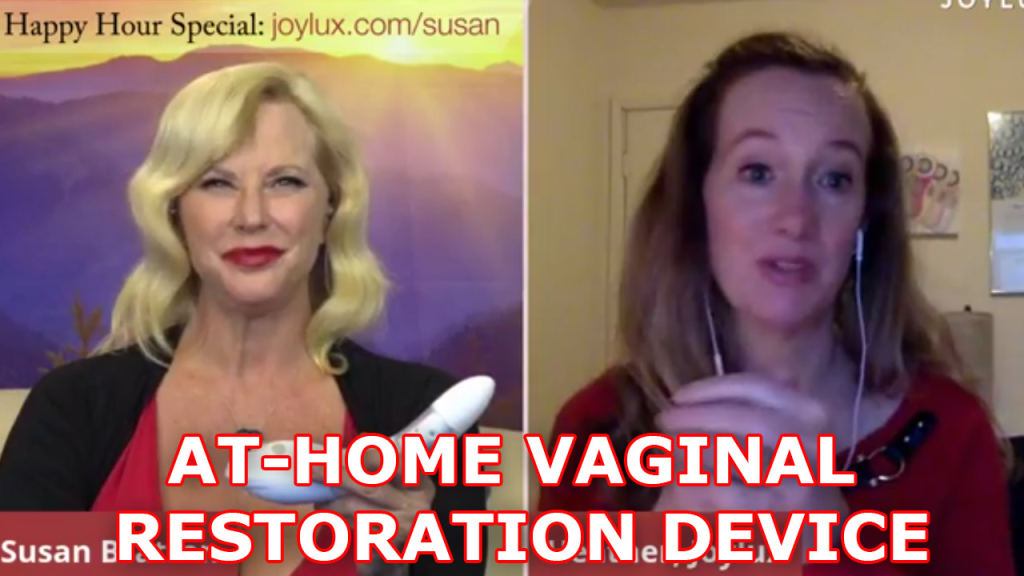 I'm newly post-menopausal, and my husband's libido has slowed down, but not nearly as much as mine has. Sometimes I think I'd be okay with never having sex again, but I love the closeness I feel with my partner when we're intimate. What can I do to get in the mood when sex is often the last thing on my mind?
Download The Soulmate Embrace Book For FREE Here ⇐ Easy And Simple Technique Melts Lovers In Each Other's Arms 
Libido, Desire, And Arousal ⇐ Watch This Fantastic Video For FREE 
When we were younger, my partner and I had a great love life, but now I feel like we've fallen into a routine, and sex is always kind of… the same. What can we do to switch things up and make it more exciting again?
Click Here To Download 7 Stimulating Sex Positions ⇐ Pleasure Multiple Erotic Spots At The Same Time 
Download My FREE Dirty Talk Book Here ⇐ Talk Dirty To Me 
I'm 58 years old, and the wrinkles and extra pounds I gained during menopause have lowered my body confidence a lot. I know this is the body I've got, and I try to take good care of it – but how can I feel sexier and more confident in my skin?
Rewriting Your Libido Story (VIDEO) ← Watch Or Download Now Before It's Gone 
Hot To Trot Book ⇐ 38 Fascinating Facts To Supercharge Your Sex Drive
I'm in perimenopause and feeling so moody! How can I help my partner understand how I think and get his support through this emotional roller coaster?
Click Here To Download The Sexual Soulmate Pact ⇐ The Two-Word Phrase That Ignites Passionate Lovemaking  
We're in our early 50s, and my partner has occasional erectile dysfunction. So far, it's affected our sex life a little bit, but I'm worried it might get worse as we get older. Do you have any recommendations?
Click Here For The Pump Guide ⇐ UPDATED 2nd Edition
How To Pump For Enhancement, Enlargement, ED Reversal, and New Pumping Protocols Include the Penis Extender and Red Light Sleeve Plus How To Stack With Acoustic Wave and PRP.
I'm a single mom, and my kids are out of the house now. I'm starting to think about dating again (once it's safe to go out and mingle, of course), and I'm nervous! What do you recommend for an older woman who hasn't been on a first date in decades?
Click Here To Watch My Video ⇐ Dating In Midlife 
Vaginal dryness is making sex uncomfortable for me. I've tried a whole host of lubes, but most of them get tacky after a couple of minutes, and the dryness returns. How can I bring back the moisture and enjoy intimacy again?
Get Up To 25% OFF On FLOW Here ⇐ Save By Getting A 6-Month Supply (For All Customers Worldwide)
I used to have no problems reaching orgasm during intimacy, but lately, it takes much longer to get there if it happens at all. It's so frustrating! What can I do to bring the "Big O" back?
Check Out These Videos ⇐ PRP For Sexuality, O-Shot, and P-Shot 
I have vaginismus, and intercourse is uncomfortable and sometimes impossible, but I miss the pleasure and closeness with my partner. What can we do to keep the connection alive without intercourse?
Click Here To Expand A Woman's Orgasmic Potential ⇐ Couples That Play Together Stay Together… Especially In The Bedroom 
I'm single and dating in my 60s. Since I'm post-menopausal, I don't have any worries about pregnancy, but should I still use protection during sex?
Check Out My Videos On This Subject ⇐ Avoiding STIs While Still Enjoying Sex 
My husband is impatient with foreplay, but lately, it takes me a while to get turned on. How can I make the warm-up to sex more enjoyable for both of us?
Butterfly Warm-Up Technique ⇐ This Sensual Self-Pleasuring Practice Is A Lot Different From What You Think… Yet So Much More Rewarding