3-Step Sensual Massage
This week I want you to set aside ample time to exchange sensual massages with your partner, or if you're flying solo, give yourself one. This will rejuvenate you so that you have more internal resources to deal with the coming week. Learn how to give a sensual massage…
HOW TO GIVE A SENSUAL MASSAGE
Here's how.
First, make sure you create a relaxing environment: Consider temperature, lighting, a scented candle, organic oil, soothing music, a glass of water, soft towels, a clean room, and privacy. Your loverspace must be conducive to relaxation.
Next, take a shower and groom yourself. Fingernails, toenails, scrub your face, wash your hair, trim your privates. Get shined up. It always makes one feel better.
If you're single, give yourself a full-body rub down with an emollient oil.
Sing along with the music. Singing activates your vagus nerve, which is calming. Breath deeply in through your nose and out through your mouth to increase your Nitric Oxide. This will improve your immune function and vascular system, so you get better blood flow. If you breathe in and out for a count of five in both directions, it will calm you down even more.
Think about how grateful you are to be alive in the most exciting time in history. Look out the window at the furthest vantage available to you — look at nature if possible.
Think about your bright future. What brings you joy? Where are you going with your life? What about the future excites you?
As you rub the oil into your body, make sure you cover every square inch from your face and neck to your toes. Take your time. Work the oil into your skin. Feel your skin. Feel the muscles and flesh under your skin. Are there spots that need an extra deep touch? Hold your hand on your heart when you get to your chest. Remember that you are precious, meaningful, and worthy of love, appreciation, and respect.
Practice using loving touch on yourself. If you find spots that feel good, linger there.
The "goal" of this massage:
Hydrate your skin
Enliven your proprioceptive cells
Feel pleasure
Relax your nervous system
Ground yourself
Reconnect with your essential YOU
When you are done, if there is more self-pleasure to create, do so now.
If you are lucky enough to have a partner, create your loverspace, and groom yourselves. This is the best brand for a home-folding massage table, and it's available on Amazon.
Having a massage table that is easy to set up and tuck away is fantastic for sheltering at home for the next few years.
Decide who gets to go first.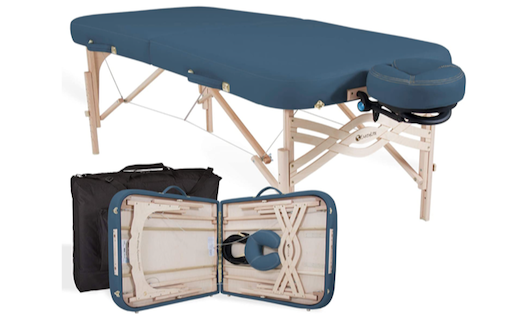 MY FAVORITE MASSAGE TABLE
When you are the giver, take your time to pleasure your partner's entire body lovingly. While you're massaging them, tell them why they are so special to you. Use a loving, warm, deep voice. Speak to them in a way that lulls them into joy. Ask them to tell you when something you do feels right or if they need you to adjust pressure or tempo.
As you stroke, knead and rub them, pour love from your hands into their body.
After you finish, help your partner sit up and regain their equilibrium. Bring them a glass of water. Thank them for being in your life.
When you are the receiver, give your partner plenty of good feedback to know what feels right. Moans and sighs are fuel for the masseuse.
After you are done, if you want to take your intimacy to the next level, it will feel even better.
Do everything very slowly. Start with my beautiful Soulmate Embrace holding and being held technique because arousal begins with relaxation. Getting in the groove of your bodies coming together takes time. Allow yourselves the gift of that time.
Because when you get down to it, what else is greater than the love of your partner, family, friends, and yourself?
That's the 3-Step Sensual Massage:
1) Set your Loverspace
2) Prepare your body to receive
3) Receive touch all over your body to center yourself
If you do this, email me back and let me know your favorite part of this experience ♥