"Lovers' Whispers"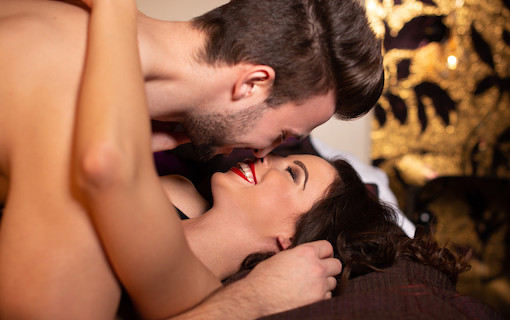 Soothing sounds…
Whispered appreciations…
Kim and Rob had been dating once a week for a few months. Kim was recently separated from a decade-long marriage. Her husband was "old school" and didn't care much about Kim's pleasure behind closed doors.
Rob was the first lover who showed her how to get into and stay in states of bliss.
Yesterday when she showed up, she was on the first day of her menses. Rob said, "That's no problem, Kim. I have plenty of dark towels, and the fitted waterproof sheet is already on top of my bedding with another clean sheet over that. You just relax. It doesn't bother me at all. I'll just pat, pat, pat as we go to keep the flow contained. Just let go and don't worry about a thing."
He gave her an Expanded O date first to relax and then begin taking her up her arousal ladder.
At one point, he said, "Here, honey, pick up your butt and let me readjust the towel under you. Don't worry. I've got you."
As she succumbed to her pleasure, moans began escaping.
He listened to the sound of her sighs, noticing that since they became lovers, she had transformed her strained sounds to expressing effortless waves of pleasure under his well-trained hands.
Rob was an expert at giving women Expanded O dates. There simply wasn't a woman he couldn't take to new levels of bliss because he followed the Expanded O stroke patterns.
He encouraged Kim to relax. He told her she was beautiful. She was doing great; she was so sexy… He expected nothing from her and welcomed all of her expressions.
Giving her pleasure was as great a gift to him as it was to her.
When they transitioned into lovemaking, she told him how good he felt inside her, when he hit the right spots, when she needed him to slow down or speed up…
Their bedroom conversations were deeply connected, mutually supportive, and encouraging to each other.
They whispered. They moaned. They expressed joy verbally throughout the entire hour and a half they were intimate.
If you'd been sitting quietly in the next room, your heart would have been touched by the sounds of pleasure and the loving conversation that flowed effortlessly between them.
Rob made it safe for her to slow down, receive and feel completely comfortable making any sounds her body wanted to make or saying anything that she needed or felt.
He created what I like to call "a safe container." A room of love where all responses are welcome, where there is no need to be embarrassed, where the body is celebrated in all of its glory, and where pleasure is encouraged.
Kim's face looked ten years younger after that lovemaking date. She was refreshed, rejuvenated, and realized that she was out from under a husband who never encouraged her, wouldn't be intimate when it was her time of the month, didn't give her pleasure… and she knew that she was on track to expand her potential as a sensual woman.
For this, she was eternally grateful to Rob.
And for Rob, it made him feel like the luckiest man in the world to heal the past wrongs Kim felt, to open her to her pleasure and to assure her that her body was just perfect in all its phases.
Rob is an incredible lover. He has mastered the Expanded O practice and learned hundreds of sensual and erotic massage techniques from our Steamy Sex Ed® Video Collection.
We've digitally remastered the Steamy Sex Ed® Video Collection of over 200 heart-connected, passionate lovemaking techniques. It will go on sale soon at 60% off for everyone who reads our email newsletter.
As always, when we update any of our programs, existing customers get free digital upgrades. There will be a small charge for any customers who want a newly remastered set of DVDs shipped to their home. We will have more on that soon.
For Now: Get On The Steamy VIP Notification Email List
You will be notified one day in advance, so you are sure to get a copy of our DVD's on sale if you want one. We print 500 copies for each sale, and they always sell out. Our customers get first dibs when you're on our VIP list.
Don't miss our Summer Lovin' Giveaway. You can enter to win some of my very favorite toys and products for free.