This ancient Taoist Thrusting Technique for modern couples solves two big issues. The first is stamina for him. The second is her ability to achieve climax through penetration.
If you think as I do, you will realize that "Sheltering At Home" is probably a great time to work on your relationship and sex life. That's why for the next few days I'm sending you three of our latest books on steamy sex positions… for FREE! 
You Can Download Her NEW Book Here ⇐ Thrust In Time Technique (FREE For A Limited Time Only)
What's the deal with Taoism and sex techniques?
Why do you often hear them together?
Practitioners of these techniques believe that by performing these sexual arts, you can stay in good health, attain longevity, or spiritual advancement.
All I know is that these techniques work great.
So great that even my close friend, and trusted hot sex advisor to millions, Susan Bratton, created a NEW book all about a powerful Taoist Thrusting technique…
That gives men the sought-after ability to give a woman incredible, earth-shaking orgasms from intercourse.
You Can Download Her NEW Book Here ⇐ FREE For A Limited Time Only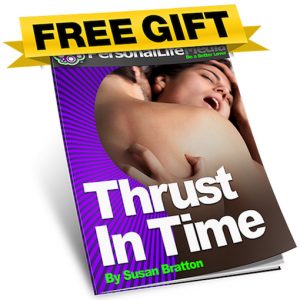 A TAOIST THRUSTING TECHNIQUE
There's a reason why it's so hard to get a woman to come purely through intercourse.
That means no finger-stroking, no toys, and no weird activities.
This is a pure body-based thrusting technique that you've never heard of or seen before.
And when I tried it with my woman the first time, sure enough, she reached an amazing climax at the exact time Susan said she would in her book.
That's because this thrusting technique not only feels incredibly good for a woman, but it's done at the pace her body craves…
And it helps the man control his arousal so he won't go overboard and ejaculate too soon.
You can literally just do this ONE thrusting technique and keep at it for hours…
If your woman can handle it…
And if you're patient enough to do it with her for hours (which I know you are).
Click Here To Download Susan's NEW Book ⇐ Thrust In Time (Contains A Taoist Thrusting Technique)
That's why it's imperative to understand how to give and have orgasms from intercourse.
The longer you go without, the less likely frequent sex happens. I'm here to tell you that intercourse orgasms are a learned skill. Intercourse is also a learned skill.
Yes, anyone can figure out how to make a baby.
Being a great lover comes from learning new techniques.
Most men are woefully inadequate at penetration.
They push in too fast or they have tight hips. They bang like a piston. Or they watch too much porn which models NOT what women want but merely what men like to see. And they come too fast.
Susan believes this technique is the perfect step to making a woman orgasm through intercourse.
"Couples who play together, stay together… especially in the bedroom."
These three freebies will give you some fun things to try while you're sheltering in place.
If you try any of them, let me know how it went for you. I always love to hear couples' real experiences.
Click Here To Download Her NEW Book ⇐ Thrust In Time (FREE For A Limited Time Only)